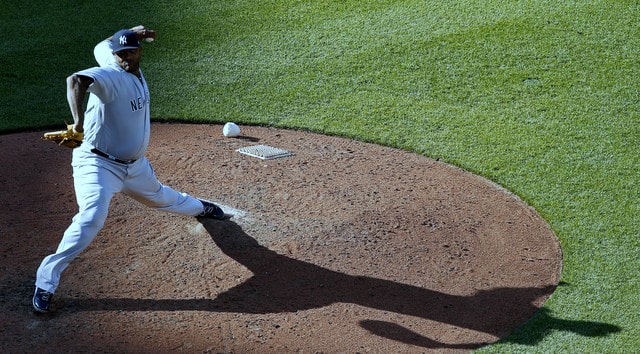 The seven-game winning streak against the Indians — that dated back to Game Two of last year's ALDS — was snapped last night, and tonight the Yankees are sending former Indians ace CC Sabathia to the mound in the third game of this four-game series. Sabathia has made more starts (272 vs. 237) and thrown more innings (1,752 vs. 1528.2) with the Yankees than the Indians, though I'm sure going back to Cleveland is still special to him.
Anyway, there are two games remaining before the All-Star break and it sure would be swell to go into the break at 63-32 rather than 62-33 or 61-34. All great records, of course, but the Red Sox keep winning, so the Yankees have to keep pace so they can make a run at the division title in the second half. Here are tonight's lineups:
New York Yankees
1. LF Brett Gardner
2. RF Aaron Judge
3. SS Didi Gregorius
4. DH Giancarlo Stanton
5. CF Aaron Hicks
6. 1B Greg Bird
7. 3B Miguel Andujar
8. C Austin Romine
9. 2B Tyler Wade
LHP CC Sabathia
Cleveland Indians
1. SS Francisco Lindor
2. LF Michael Brantley
3. 3B Jose Ramirez
4. 1B Edwin Encarnacion
5. RF Brandon Guyer
6. DH Francisco Mejia
7. C Yan Gomes
8. CF Rajai Davis
9. 2B Erik Gonzalez
RHP Mike Clevinger
It is cloudy, hot, and humid in Cleveland this evening, and there is rain in the forecast later tonight. More like early tomorrow morning, really. Shouldn't be any trouble getting this game in. First pitch is scheduled for 7:15pm ET and you can watch on FOX. Enjoy the game.
Injury Updates: Gary Sanchez (groin) is leaving to join Triple-A Scranton tonight. He'll catch seven innings tomorrow, DH on Monday, rest Tuesday, then catch Wednesday. If all goes well, Gary will rejoin the Yankees for Friday's second half opener … Gleyber Torres (hip) will continue his rehab during the All-Star break, then travel to Tampa for rehab games next weekend. The hope is he'll rejoin the Yankees for the second series of the second half, which happens to be against the Rays in Tampa.