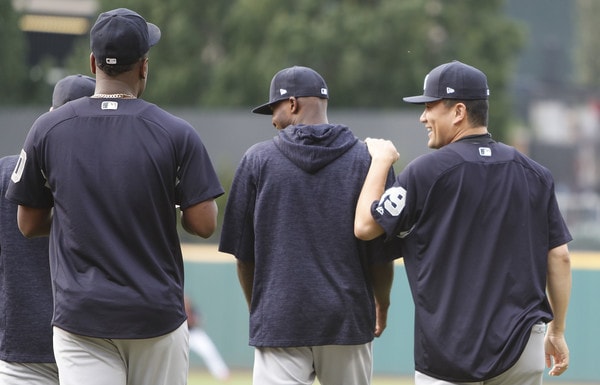 Today is the final game before the All-Star break and, at 62-32, the 2018 Yankees already have more wins in the first half than any other team in franchise history. It's true. That said, the All-Star break is really late this year for whatever reason. Their current .660 winning percentage is "only" ninth highest in the first half in franchise history in the All-Star Game era.
The Yankees have played well pretty much all season — you don't get to 30 games over .500 on July 15th by accident — but the Red Sox have played slightly better, so the Yankees are guaranteed to go into the All-Star break in second place. No big deal. It's not where you are on July 15th, it's how you finish. Win today, enjoy the All-Star break, then get ready to feast on a weak second half schedule. Sounds like a plan. Here are today's lineups:
New York Yankees
1. LF Brett Gardner
2. DH Aaron Judge
3. SS Didi Gregorius
4. RF Giancarlo Stanton
5. CF Aaron Hicks
6. 1B Greg Bird
7. 3B Miguel Andujar
8. C Kyle Higashioka
9. 2B Neil Walker
RHP Masahiro Tanaka
Cleveland Indians
1. SS Francisco Lindor
2. LF Michael Brantley
3. 3B Jose Ramirez
4. DH Edwin Encarnacion
5. 1B Yonder Alonso
6. 2B Jason Kipnis
7. C Roberto Perez
8. RF Tyler Naquin
9. CF Greg Allen
RHP Trevor Bauer
It rained overnight but it is nice and sunny in Cleveland this afternoon. A good afternoon for a ballgame, it is. This afternoon's series and first half finale will begin at 1:10pm ET and you can watch on YES locally and TBS nationally. Enjoy the game.
Injury Updates: Gleyber Torres (hip) has started taking batting practice in addition to on-field agility drills. Trainer Steve Donohue is on the AL All-Star Game staff, apparently, so he'll work with Torres in Washington during the All-Star break this week. Gleyber is traveling to Tampa on Wednesday to continue his rehab and then play rehab games … Gary Sanchez (groin) begins his minor league rehab assignment with Triple-A Scranton today.
Rotation Update: The rotation coming out of the All-Star break will be, in order, Domingo German, Sonny Gray, Masahiro Tanaka, Luis Severino, and CC Sabathia. That's three games at home against the Mets before a trip to Tampa to face the Rays. Severino figures to pitch in the All-Star Game at some point, though he's still going to get a nice ten-day break between starts for the Yankees.