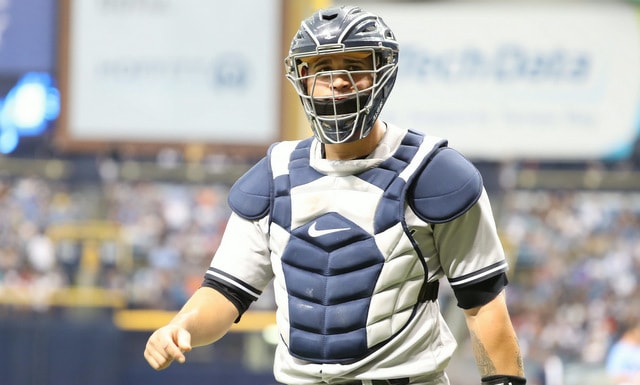 Turns out that, after all the hoopla last night and earlier today, Gary Sanchez reaggravated his groin during last night's loss to the Rays. The Yankees announced this afternoon they have placed Sanchez on the 10-day DL with a right groin strain, the same injury that recently sidelined him for three weeks. An MRI confirmed the injury.
As you know, Sanchez has been skewered all day for not hustling after a passed ball last night, and again on the game-ending ground out. Jon Heyman says Sanchez reaggravated the groin injury during the first inning passed ball, which means he stayed in the game and caught eight innings while hurt, and ran the bases several times as well.
"An injury is never an excuse. If I'm on the field, I'm good to play. My answer is the same as yesterday. I could have done a better job," said Sanchez to Erik Boland this afternoon. "It's not unusual for someone who plays the position I play to be banged up. It's something you learn to cope with. Playing with aches is just part of being a catcher. I've played with pain before many times."
Both Sanchez and Aaron Boone said Gary was over the groin injury following last night's game, though it's possible Boone was not yet aware Sanchez's groin was barking again. Gary might not have said anything yet. He certainly wouldn't be the first player, nor would he be the last, to get hurt, play hurt, and not say anything until after the game.
If you've been reading RAB long enough, you know I hate hate hate players playing hurt. Hate it. While I understand the macho gut it out mentality that exists in sports, guys who play hurt are often a determent to their team, and they risk a more serious injury. I really wish Sanchez would've said something last night rather than continue to play hurt. Might've helped him avoid the disabled list.
I've already seen some Gary Sanchez Injury Truthers out there, but no, this is not a fake injury. They didn't put him on the disabled list to let him save face or to discipline him. I can't believe I had to write that. How stupid we've all become. A team fighting for a division title doesn't put the best power-hitting catcher on the planet on the disabled list with a fake injury.
The Yankees have not yet announced a timetable for Sanchez's return, though groin strains usually take weeks to heal, not months. Plus this is a reaggravation of a previous injury, so I imagine the Yankees will be extra cautious with his rehab and recovery, and make sure Sanchez won't be in position to suffer another setback once he does return.
However long Sanchez is out, it's a significant blow to the Yankees because he is a demonstrably more talented player than Austin Romine and Kyle Higashioka, who will presumably be called up to serve as the backup catcher. Gary has been slumping hard for a few weeks now, but he's not going to snap out of it while on the disabled list.