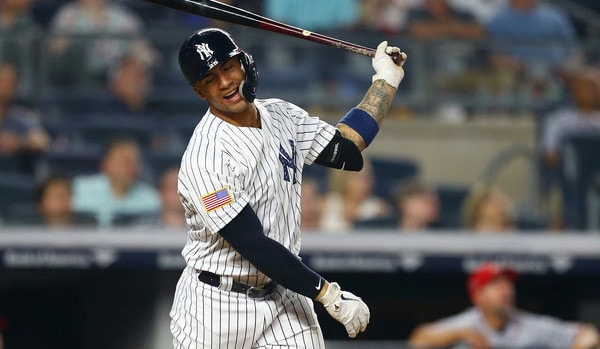 4:59pm ET: The Yankees have placed Torres on the 10-day DL with a "mild" right hip strain, the team announced. They did not give a timetable for his return. Torres is eligible to be activated the day before the All-Star break, though I'd bet on him remaining on the disabled list through the break even if he's healthy. Gives him that much extra time to recover.
The Yankees have not yet announced a corresponding roster move, but with Torreyes on the Triple-A temporary inactive list, Wade is the obvious call-up candidate. They need to get a backup shortstop on the roster. Aaron Boone said Neil Walker is going to get the majority of playing time at second base while Torres is sidelined. Playing without Gleyber and Gary Sanchez the next ten days is suboptimal.
3:49pm ET: Torres exited the game with right hip tightness, the Yankees say. He's going for a precautionary MRI. Ronald Torreyes is currently on the Triple-A temporary inactive list because he's home with his wife, who has a medical issue. If the Yankees need to call up another middle infielder, chances are it'll be Tyler Wade.
Here's video of the injury:
2:47pm ET:
Gleyber Torres was removed from this afternoon's game after the fourth inning with a possible injury. Torres did not start yesterday's game due to right hip tightness, and YES cameras caught him flexing his right leg and hip out during an at-bat today. I assume that's why he was removed from the game, but the Yankees have not yet announced anything. They will soon enough.
Yesterday Aaron Boone said Gleyber's hip tightness "happens every now and then to him … it's something he maintains pretty well," and he didn't seem overly concerned. Torres did enter last night's game as a defensive replacement in the eighth inning. Neil Walker slid over to second and Brandon Drury took over at third base after Torres was removed from the game.
The Yankees have an off-day tomorrow, so Torres will get at least one day's rest before the next game. Gleyber is really important and I'd like to see the Yankees err on the side of caution here. A little 10-day DL stint to make sure this hip thing goes away would be a-okay with me. Better to be without Torres for a few games now than a lot of games later, you know?