A suboptimal finish to the first half. The Yankees let a winnable game slip away Sunday afternoon — that happened far too often on this road trip — to finish this four-game series with a split. Normally I'd be okay with splitting four games with the Indians in Cleveland. This was frustrating though. The final score was 5-2 and the Yankees go into the All-Star break at 62-33 with a +131 run differential.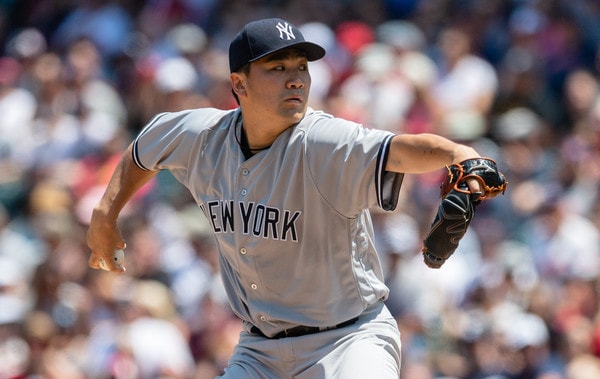 Strong Tanaka
An excellent outing for Masahiro Tanaka. Too bad the #obligatoryhomer happened to be a game-tying two-run shot by Edwin Encarnacion. Just yesterday I was saying to myself it seems like Encarnacion has done nothing against the Yankees since leaving the Blue Jays. So blame me for that home run, guys. Encarnacion's two-run blast came on a hanging slider and knotted things up 2-2 in the fourth inning.
Other than that, Tanaka was fantastic. Five strikeouts in 6.1 innings and ten ground ball outs compared to four in the air. His average exit velocity allowed was 82.9 mph and that includes the 100.9 mph home run. Tanaka got a lot of empty swings with his splitter and slider, and he was peppering the bottom of the zone with those pitches: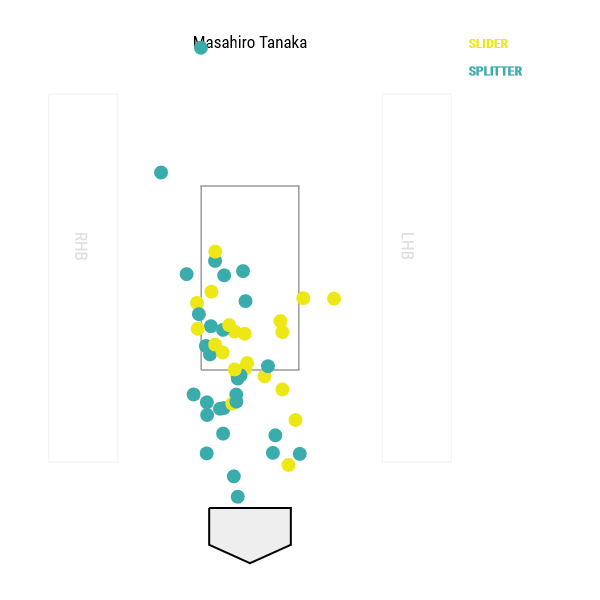 The Yankees need another starting pitcher before the trade deadline. There's zero doubt about that. Getting Tanaka to pitch well down the stretch — he had a 3.77 ERA (3.41 FIP) in the second half last year, remember — would be a rather significant boost. Sunday's outing against a good hitting Indians team was quite encouraging in his second start back from the hamstrings injuries.
Building A Lead
Stranding the bases loaded in the first outing proved to be costly. I suppose that's obvious. Aaron Judge and Giancarlo Stanton singled — as usual, they were rockets — and Aaron Hicks drew a walk to load the bases with two outs against Trevor Bauer. Alas, the red hot Greg Bird grounded out to end the inning. Really tough to string together four baserunners to score a run against good pitching, you guys.
The Yankees scored their first run on three singles in the fourth inning. Brett Gardner stroked a leadoff single, Didi Gregorius moved him to third with a one-out single, and Hicks brought him home with a two-out single. Too bad the rules don't let them try for a three-out single. Neil Walker added a second run with a fifth inning solo homer for a 2-0 lead. Go Neil. He actually had a pretty good road trip, going 6-for-23 (.261) with four runs driven in.
And thus ends the run-scoring portion of the afternoon for the Yankees. Sixteen of the final 18 batters they sent to the plate made outs, and the two baserunners came with two outs in different innings. Cleveland's bullpen is terrible, but Bauer was able to complete seven innings, and they went to Carlos Carrasco on his throw day for the eighth inning. Indians manager Terry Francona showed a big time sense of urgency despite a comfortable division lead.
Eighth Inning Meltdown
For the second time in as many appearances, Chad Green allowed a crucial late home run. Last time out it was a Manny Machado game-tying two-run shot. This time it was a Michael Brantley go-ahead solo homer in the eighth. I had no trouble whatsoever with Aaron Boone sending Green back out for the eighth — he needed eight pitches to escape a first-and-third jam in the seventh — but I have a problem with this pitch: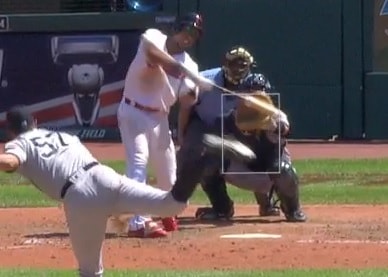 Bad. Bad bad bad. The Machado home run came on a center-cut fastball as well. Green has already allowed more homers this year (six in 46 innings) than last year (four in 69 innings), which is a problem. Also a problem: Green remaining in the game. A single and a hit-by-pitch followed the homer, as did a parade of stolen bases. Three of them. The Indians added two insurance runs on a wild pitch to the backstop and a sacrifice fly. Gross.
I thought Green should've been out after Jose Ramirez followed Brantley's homer with a single. The first two batters of the inning squared him up pretty well, and Green's location was not good. I suppose you could argue Green had the best chance among available relievers to get out of that mess — David Robertson pitched a bunch last night and bringing Dellin Betances in with a fast runner on first is no bueno — but nah. I don't buy it.
Another problem: Three steals in the inning. My goodness. Assuming Gary Sanchez returns Friday as scheduled, runners went 18-for-21 (86%) stealing bases against the Yankees in the 20 games he missed. That is far, far more damaging than nine passed balls in 53 games behind the plate. The Indians knew they could run with impunity and it helped create two insurance runs. Green stunk, and he was also hung out to dry by his manager and catcher.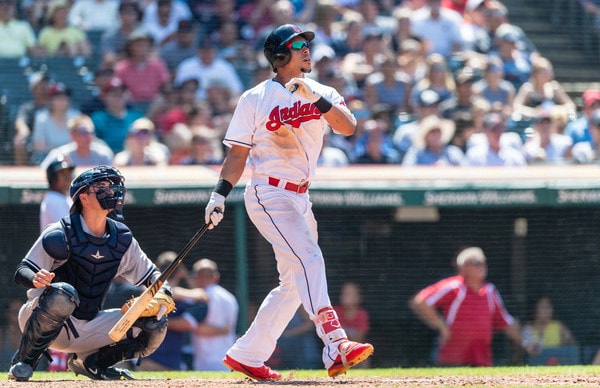 Leftovers
The 1-2-3-4-5 hitters: 6-for-19 (.316) with a walk. The 6-7-8-9 hitters: 1-for-15 (.067) with the one being Walker's homer. Leaving the bases loaded in the first inning really stunk. Bauer was going to throw 100 pitches hell or high water, but they had him on he ropes there. Alas.
And finally … that's it? Not much else to say about this one. Losing a battle of the bullpen to the Indians stinks to no end.
Box Score, WPA Graph & Standings
Head on over to ESPN for the box score and updated standings, and MLB for the video highlights. Here's our Bullpen Workload page and here's the loss probability graph:

Source: FanGraphs
Up Next
The All-Star break. The Yankees have zero Home Run Derby participants and four All-Stars (Aroldis Chapman, Aaron Judge, Luis Severino, Gleyber Torres). Chapman (knee) and Torres (hip) will not play in the All-Star Game itself, so it's just Judge and Severino. The Yankees open the second half with a three-game series against the Mets at Yankee Stadium. Domingo German and Noah Syndergaard are the scheduled starters for Friday night's opener.