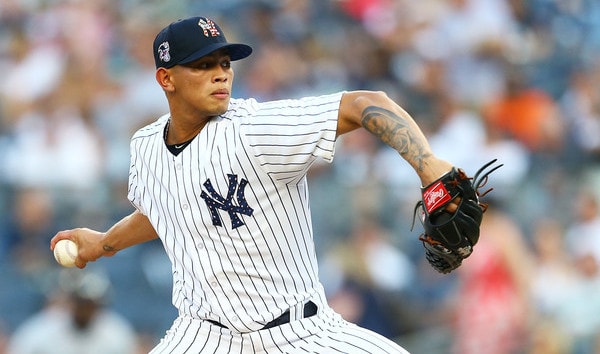 Last night neophyte right-hander Jonathan Loaisiga made his fourth big league start, and he labored but didn't crumble. In two of his four starts he pitched very well and put up zeroes. In the other two he ran long counts and struggled to put hitters away. He looked like an inexperienced kid making the jump straight from Double-A, because that's what he is.
Following last night's game the Yankees sent Loaisiga down to Triple-A Scranton — A.J. Cole will be activated off the disabled list to fill the roster spot — which is a pretty good indication Masahiro Tanaka will rejoin the rotation soon. Overall, Loaisiga looked impressive in his four-start cameo, though I think the need for more minor league seasoning is fairly obvious. He'll be back soon enough.
The good news is Loaisiga showed that, if (and, inevitably, when) the Yankees need another spot starter later in the season, he's up to the task. The bad news is Loaisiga doesn't have many innings to give this season. Prior to yesterday's game Aaron Boone told Jack Curry that the Yankees think Loaisiga can give them "north of 100 innings" this season. That's not much! His workloads over the years:
2013: 68.2 innings
2014-15: Did not pitch (injured, released)
2016: 2.1 innings before Tommy John surgery
2017: 32.2 innings after Tommy John surgery
2018: 63 innings and counting
The "north of 100 innings" comment is kinda vague. Did Boone mean 100 innings total? If yes, Loaisiga doesn't have many more to give! Did Boone mean another 100 innings? In that case Loaisiga and the Yankees are in good shape. Given his injury history and career workload to date, pushing the kid to 160-ish innings this year doesn't seem like something that will happen.
My hunch is this is more of a play it by ear situation. The Yankees will monitor Loaisiga's progress and look for signs of fatigue — that includes velocity loss, a decline in spin rate, those sort of things — and adjust his workload as necessary. Putting a hard (and arbitrary) innings cap on a player is an outdated player development plan. Teams are smarter these days. They monitor the pitcher and act accordingly.
Maybe Loaisiga handles 160-ish innings like a champ this year and the Yankees don't have to sweat his workload. I'd bet against it though. The injury history is ugly and his velocity has faded in each of his starts, suggesting his stamina isn't where he needs to be. At some point the Yankees will likely have to pull back the reins. We don't know when it'll happen but odds are it'll happen.
And whenever the Yankees do have to begin scaling back Loaisiga's workload, there are three ways they can approach it:
Keep starting him, then shut him down at some point.
Keep starting him, but give him extra rest whenever possible to ensure he's able to pitch later in the season.
Move him to the bullpen.
No. 1 doesn't seem like much of an option to me. The Yankees are a World Series contender and Loaisiga has shown he can help them at the MLB level, even as a spot starter. A contender shouldn't just max out a pitcher's workload and shut him down. No. 2 is a better plan but it can be difficult. That's what the Yankees tried to do with Jordan Montgomery last year. Space out his starts, things like that.
Personally, I am a big fan of No. 3, the move him to the bullpen option. Save those last 20 or so innings and let Loaisiga air it out as a one or two innings at a time guy in September. He could be a real weapon in that role. I'm not saying leave him there forever! I absolutely think Loaisiga has the tools to start. I'm just saying that, when he starts to run out of innings, I think it'd be best to use that final few innings out of the bullpen.
This is a decision that will probably be made for the Yankees. They may need a fill-in starter in August or September and have no choice but to keep Loaisiga in the rotation. Ideally, Loaisiga would stay in the rotation as long as possible so he can develop in that role, then finish off the season throwing fire out of the bullpen. Maybe he'd even make the postseason roster in that capacity. That's a topic for another time.
For now, Loaisiga has made a hell of a climb this season, essentially going from rookie ball to the big leagues and handling it about as well as the Yankees could've hoped. Because he is so young and because he has a scary injury history, the Yankees will have to be aware of Loaisiga's workload the rest of the season, and chances are they'll have to figure out the best way to handle him in August or September. They'll have to strike a balance between Loaisiga's development and maximizing the team's World Series chances.