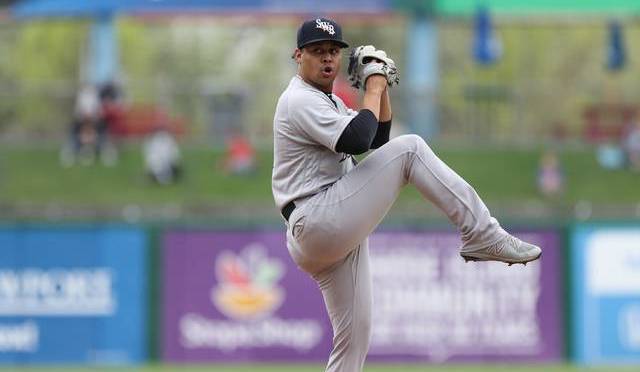 The 2018 Futures Game rosters won't be officially announced until tomorrow, but Triple-A Scranton manager Bobby Mitchell let the cat out of the bag today. Mitchell told reporters that left-hander Justus Sheffield will represent the Yankees and pitch for Team USA in the Futures Game later this month.
"It's awesome. I'm excited. I'm pumped," said Sheffield to DJ Eberle. "Just the experience, getting to play with guys from all around — different leagues, different teams, meeting guys, getting to play in a big league stadium. I think it's just going to be awesome."
Sheffield, 22, is the Yankees' top prospect now that Gleyber Torres has graduated to the big leagues. He's pitched to a 2.49 ERA (2.99 FIP) with 27.2% strikeouts and 11.1% walks in 79.2 innings split between Double-A Trenton and Triple-A Scranton this season. Baseball America (subs. req'd) and MLB.com rank Sheffield as the 22nd and 39th best prospect in baseball, respectively.
Teams do have a say in the Futures Game rosters and I thought there was a chance the Yankees would hold Sheffield out in case they're planning to call him up — that's what happened with Luis Severino in 2015 — but that's not the case, apparently. That doesn't mean we won't see Sheffield at some point this season! It just indicates a call-up isn't imminent. Not surprising, I don't think.
It's unclear whether the Yankees will have any other representatives at the Futures Game. Teams do typically send two prospects, though not always. Torres and Miguel Andujar have graduated, Estevan Florial and Freicer Perez are hurt, and Chance Adams hasn't pitched all that well this season. Maybe someone like Dillon Tate or Trevor Stephan will sneak onto the roster? We'll see.
Florial and Domingo Acevedo represented the Yankees at the Futures Game last year. It was Jorge Mateo and Gary Sanchez in 2016, Sanchez and Aaron Judge in 2015, and Severino and Peter O'Brien in 2014. The 2018 Futures Game will be played Sunday, July 15th, at 4pm ET at Nationals Park.