Only — "only" — nine questions in the mailbag this week because I made a quick trip out of town and forgot to bring my laptop charger. Send all your mailbag questions to RABmailbag (at) gmail (dot) com and I'll get to as many as I can each week, pending laptop battery life.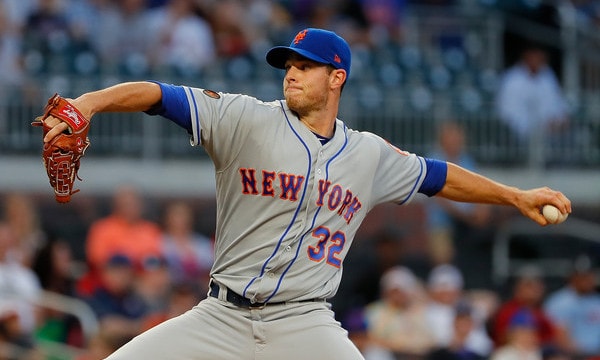 Several asked: What about Steven Matz?
For all the talk about Jacob deGrom and Noah Syndergaard, it doesn't appear either is a realistic trade candidate. It's unclear whether the Mets will even trade Matz or Zack Wheeler. One team official told Joel Sherman the Mets will "only move the free agents," which means guys like Asdrubal Cabrera and Jeurys Familia. All their starters are under team control through at least next season.
Matz is a real interesting under-the-radar option. He just turned 27, he's under control through 2021, and he's a lefty with a history of getting strikeouts (career 21.3%) and grounders (career 49.8%). Matz went into last night's start with a 3.31 ERA (4.65 FIP) with 21.4% strikeouts and 52.0% grounders. There are three red flags with Matz:
He's walking too many (9.3% this year) and he's always been homer prone (career 1.30 HR/9). Walks and dingers are a bad combination for Yankee Stadium.
His injury is very ugly. Matz has had all sorts of arm problems in his career, including a three-year (!) recovery from Tommy John surgery back in the day.
He isn't very pitch efficient. This season Matz is averaging 92 pitches and 5.1 pitches per start. Lots of pitches for not a lot of outs.
I think Matz has the tools to be great. Even after all those injuries, he sits low-to-mid-90s with his sinker and has three quality secondary pitches in his curveball, changeup, and slider. The curveball and changeup are his go-to secondary pitches.
The Mets are obviously very bad and they're a bit dysfunctional too. I wonder whether Matz — or any of their starters, really — would benefit from a move to an organization that has its head screwed on straight. Look how Matt Harvey improved after going to the Reds, for example.
Given the quality curveball and changeup, Matz could be a candidate for the Yankees' anti-fastball lifestyle — he's throwing his sinker roughly 60% of the time — but, either way, the tools are there. Good sinker, good secondaries, left-handed, the ability to miss bats and gets grounders. What will it take to get him? I dunno. Matz's injury history is scary and I assume that would be reflected in the price.
Jeff asks: The Washington Nationals are currently a game under .500. Wouldn't have expected that, but if they really fall out of it as we near the deadline do they match up with the Yankees as trade partners? Do they have any useful pieces for the Yankees excluding Bryce Harper?
I would be very surprised if the Nationals sell. They're 46-45 right now and five games back of a postseason spot, but, even if they collapse these next two weeks and change, I still can't see them selling. I think they're more likely to retool and gear up for a run next season, with or without Harper. Too much money and too much talent on the roster to tear it down. They'll still have Max Scherzer, Stephen Strasburg, Anthony Rendon, Trea Turner, and Juan Soto even if Harper leaves. That's a pretty excellent core.
Hypothetically though, if they do sell, the Nationals figure to move the impending free agents. That means Daniel Murphy, Gio Gonzalez, Ryan Madson, Shawn Kelley, Mark Reynolds, and the just acquired Kelvin Herrera. Gonzalez has crashed back to Earth the last few weeks, though he could certainly help the rotation needy Yankees. The relievers, particularly Herrera, would fit too. Gonzalez is one of the most frustrating and enigmatic starters in baseball and I would hope the Yankees look for a starter elsewhere simply because I don't want to watch him pitch every fifth day. Would he help? Sure. Would I enjoy watching him? No. No I would not.
Michael asks: So is A.J. Cole a keeper or what? 26 years old, former top prospect, apparently controllable until 2024 (?!), and absolutely shoving as a Yankee. Could slot right into the famed Adam Warren role in the pen.
Magic 8-Ball says … ask again later. Cole's been great but he's thrown 18.2 innings with the Yankees. That's 18.2 innings spread across three months in almost entirely low-leverage situations. The Yankees have Cole throwing a ton of sliders …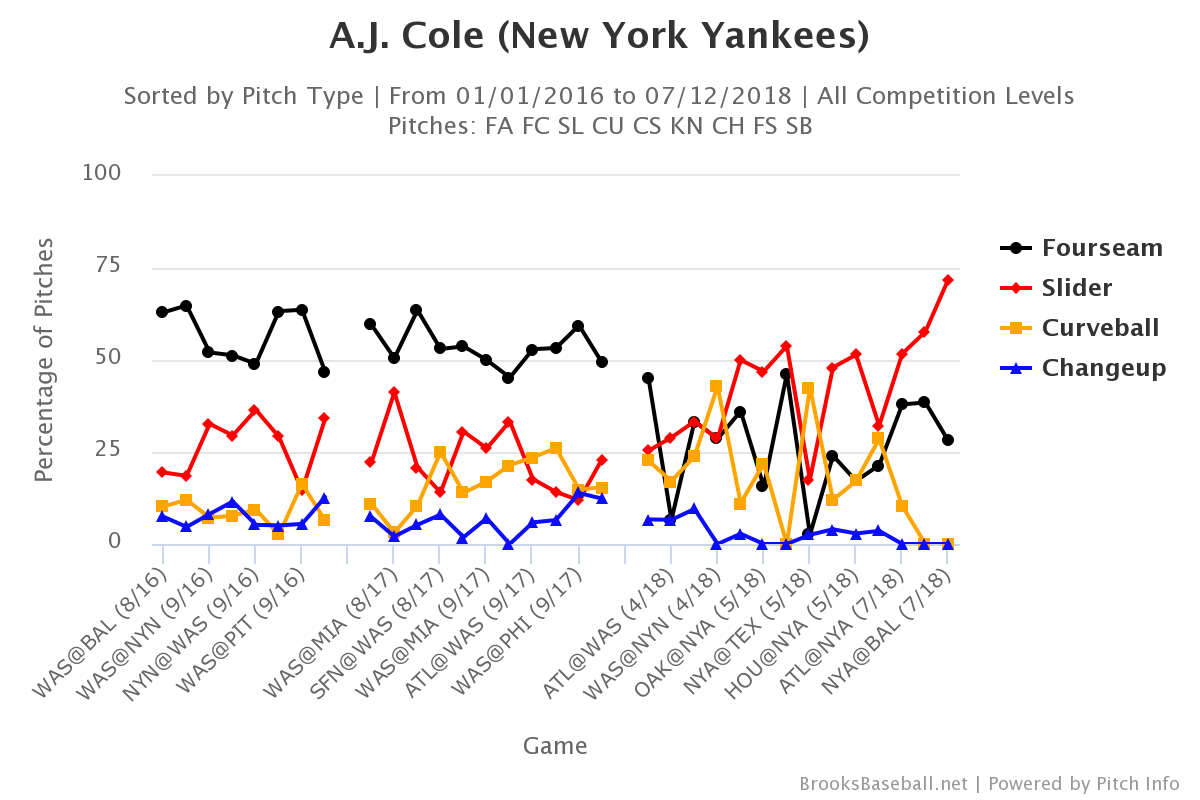 … and he's struck out 24 with a 45.0% ground ball rate in those 18.2 innings, which is encouraging. He is a former top 100 prospect, the stuff is pretty good, and the results can't be ignored. I just think we need to see more before worrying about where he fits long-term. We've seen countless guys come in on waivers or a small trade, pitch well for a bit, then crash back to Earth. Tommy Layne did it last year. I'm encouraged by what Cole's done and the change in pitch selection is a reason to believe his improvement is not luck. Hopefully it continues. If not, no big deal. He's already justified the trade.
Aaron asks: If the game 162 vs Boston is winner gets division, loser gets wild card, do you use Severino in that game, or save him for the playoffs? Is the reward of winning the division, worth the risk of getting eliminated, without your best pitcher pitching a playoff game?
Absolutely start Luis Severino in Game 162. Do all you can to win the division and avoid the one-and-done Wild Card Game at all costs. The easiest way to win the World Series — the best way to improve your odds of winning a championship — is by playing as few elimination games as possible. I know that if Severino loses Game 162 you'd have to roll the dice with someone else in the Wild Card Game, but so be it. If Severino doesn't pitch well enough to win Game 162, accept it and move on. We saw last season that even the best pitchers aren't guaranteed to pitch well in that Wild Card Game, so do all you can to avoid it.
Chris asks: Should the Yankees regret putting Chad Green in the bullpen? Seems like with German and Loaisiga likely to hit innings limits and the starting pitching market imperfect, Green would be useful as a starter. Would it be too late in the season to stretch him out?
Nah. Green is right where he belongs. He is essentially a one-pitch guy — he has a slider but it isn't very good — and he's an extreme fly ball pitcher (career 32.0% grounders). As a starter in 2016, Green's fastball averaged about 95 mph. These last two years as a reliever it's been closer to 97 mph. Maybe if he'd stuck with it he could've developed his secondary pitches to the point where he could start, but I don't think Green has the tools to turn a lineup over multiple times. Some guys are just made for the bullpen. The fastball plays up big time in the bullpen.
Anonymous asks: Miles Mikolas. Cardinals fading in tough NL Central. Team friendly contract. Decent numbers in his return to MLB from Japan.
Mikolas is an All-Star this year! The 29-year-old flamed out with the Rangers and Padres a few years ago, went to Japan, had some success, then signed a two-year deal worth $15.5M with the Cardinals this past offseason. He'll be arbitration-eligible for another three seasons beyond that too, though he might've had it written into his contract that he has to be released after the two-year deal so he can re-enter free agency. That's a common courtesy granted to veterans from Japan.
Anyway, Mikolas has a 2.65 ERA (3.20 FIP) in 115.1 innings this season, and he does it unconventionally. Few strikeouts (17.6%), few walks (3.6%), lots of grounders (50.4%). He's a bit of an old school pitch to contact guy, which can be fun in its own way.
I'm not sure the Cardinals will trade Mikolas, even as they kinda flounder in the NL Central and look increasingly dysfunctional given
the Dexter Fowler stuff
and
the Bud Norris/Jordan Hicks stuff
. Like the Nationals, the Cardinals strike me as a take a step back now and try to make a run next year organization, not a tear it down team. Mikolas is a fun outside the box trade candidate though, even though he may not even become available.
David asks: When Giancarlo Stanton first came up in 2010 he was known as Mike Stanton (I did a search on MLBTR and saw a story by the great Mike Axisa that he was referred to as Mike as late as 1/15/2012). Do you know the story behind the name change?
His full name is Giancarlo Cruz Michael Stanton and, when he decided to make the change from Mike to Giancarlo a few years ago, he said everyone at school called him Mike growing up because no one could pronounce Giancarlo. His friends and family all call him Giancarlo, and he signed all his contracts and legal documents Giancarlo, but people who didn't really know him called him Mike. Once he became a famous ballplayer, he decided it was time to go by his real (and preferred) name, so he made the switch in 2012. Plus Giancarlo is a way cooler name than Mike. I'm speaking from experience here.
Dan asks: The next time the Yankees need Scranton reliever, should it be Carroll instead of Gallegos?
It depends. If it's just an up-and-down "we need a guy for a day or two or someone to be the 26th man for a doubleheader" situation, just called up Gallegos. It's not worth adding Cody Carroll to the 40-man roster for that. If the Yankees need a reliever and that player is going to stick on the roster for an extended period of time, then go to Carroll. For now Gallegos is the "we only need a guy for a day" reliever and he's fine in that role. Carroll will get his opportunity soon enough.
Nathan asks: I was thinking about Sheffield's name being thrown around in the trade rumors and was wondering what trades almost included Severino?
I'm sure there are plenty of trade scenarios we don't know about, but, going through the MLB Trade Rumors archives, here are the most notable Severino trade rumors:
2014-15 offseason: Braves wanted him in a potential Jason Heyward/Andrelton Simmons deal.
July 2015: Phillies wanted him in a potential Cole Hamels deal.
July 2015: Padres wanted him a potential Craig Kimbrel deal.
July 2015: Tigers wanted him in a potential David Price deal.
That Heyward/Simmons trade was going to be massive ten-player blockbuster that would've sent prospects Luis Severino, Aaron Judge, Gary Sanchez, Ian Clarkin, and Manny Banuelos to Atlanta for Heyward, Simmons, Melvin Upton, David Carpenter, and Chris Johnson. The Braves approached the Yankees about that trade, just to be clear. The Yankees had been trying to get Simmons for a while, so the Braves took their shot. Can't say I blame 'em. You'll never get Scott Kazmir for Victor Zambrano if you don't ask. Brian Cashman said no and thank goodness for that.