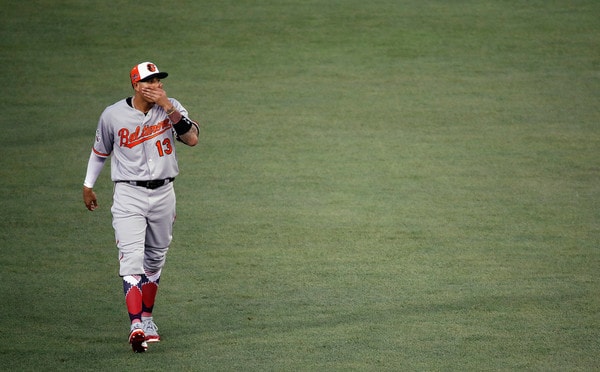 9:21pm ET: The trade has been announced by both teams, so it is officially official. Machado goes to the Dodgers for outfielder Yusniel Diaz, third baseman Rylan Bannon, righties Dean Kremer and Zack Pop, and utility man Breyvic Valera. The Yankees equivalent is probably something like Estevan Florial, Brandon Wagner, Garrett Whitlock, Phil Diehl, and Ronald Torreyes. Not perfect, but ballpark.
9:30am ET: It always felt like a long shot — it did to me, anyway — and we can now rule out the Yankees trading for Manny Machado. According to multiple reports, Machado is being traded to the Dodgers for a package that includes as many as five prospects. An official announcement and a press conference is expected either today or tomorrow. He'll be a Dodger before the regular season resumes Friday.
Earlier this month it was reported the Yankees had interest in Machado, though apparently they were unwilling to part with Justus Sheffield or Clint Frazier, and maybe even other top prospects as well. Yeah, Machado is a rental, but he's a great rental, and it always stood to reason the Orioles would get a pretty good prospect(s) for him. It should hurt to acquire a player of this caliber.
Had the Yankees acquired Machado, they presumably would've moved him back to third base in deference to the defensively superior Didi Gregorius. That would've push Miguel Andujar to Triple-A or led to him being traded for a pitcher. The Yankees aren't exactly hurting for offense, but it's okay to add to a strength, and Machado would've been a considerable short-term upgrade over Andujar. And I say that as someone who loves Miggy.
Reports indicate the Dodgers are giving up outfield prospect Yusniel Diaz (MLB.com's No. 84 prospect), right-hander Dustin May, outfielder Errol Robinson, and possibly two others for Machado. A comparable Yankees package would've been something like Estevan Florial, healthy Freicer Perez, Billy McKinney, plus two others. It's not a perfect equivalent, obviously, but it's probably in the ballpark.
Anyway, the Machado trade means two things for the Yankees. One, they don't have to face him anymore! Thank goodness for that. Machado is 15-for-41 (.366) with six home runs in ten games against the Yankees this season. Good grief. He was literally the only good player on the Orioles team and the Yankees still managed to get beat by him time and time again. The Yankees still have nine games remaining with Baltimore this year. That's nine fewer games against Machado. Phew. (The Red Sox also have nine games remaining with the O's.)
And two, the Yankees can now can focus all their time and resources on improving the rotation and maybe adding a reliever. I mean, Brian Cashman and his staff can walk and chew gum at the same time. I don't think they were focused so intently on Machado that they missed out on potential pitching opportunities these last few weeks. But now Machado is off the table completely. It's one less thing to worry about, you know?
The 2018 non-waiver trade deadline is 13 days away and the most attractive trade candidate — Machado has to be one of the best players ever traded as a rental, right? — is off the board. The Yankees were said to be in the mix, but they missed out. So be it. The rotation is the priority going forward and oy vey, the pitching market looks bleak. Part of me expects an out-of-nowhere trade addition rather than one of the guys known to be available. We'll see.