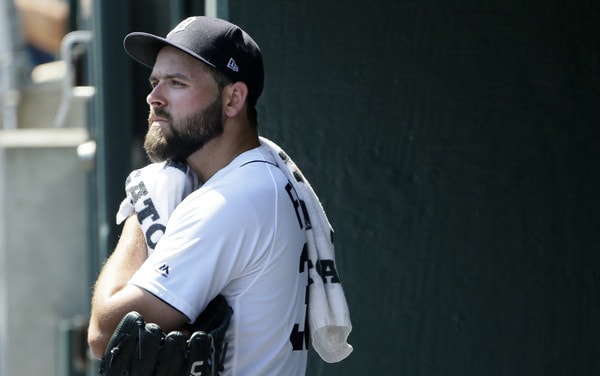 The Yankees and Red Sox will wrap up their three-game weekend series later tonight on ESPN's Sunday Night Baseball. First pitch is scheduled for 8pm ET and I reckon the game will end around midnight. That's usually how these games go, right? Anyway, here are some notes to check out in the meantime.
Yankees scouting Fulmer
According to George King, the Yankees had scout Jay Darnell on hand to watch Michael Fulmer's most recent start. Darnell is one of Brian Cashman's most trusted scouts. For what it's worth, a rival executive told Jon Heyman he thinks the Tigers will keep Fulmer for the time being. "They are treating him like a No. 2 starter," said that rival executive. If nothing else, the Yankees are doing their due diligence prior to the trade deadline. They'll scouts lots of guys in the coming weeks.
Fulmer, 25, started Thursday and allowed four runs on nine hits and no walks in eight innings against the Athletics. He struck out five. For the season he owns a 4.20 ERA (4.03 FIP) with 20.4% strikeouts and 46.3% grounders in 94.1 innings. Fulmer is under team control through 2022 but he has been a little worse with each passing season. I was a big Fulmer guy in the past. I love the stuff. But I wonder if he's a Michael Pineda type who is more hittable than the stuff would lead you to believe.
Cashman has talked to the Mets
With their season spiraling out of control, Mets assistant GM John Ricco said he will indeed consider trade offers for Jacob deGrom and Noah Syndergaard. Ricco is essentially the club's acting GM after Sandy Alderson stepped away to receive treatment for cancer. "We'll have to consider (trading them). For me, everything has to be on the table. But you have to look long and hard before you move a game-changing, top-of-the-rotation pitcher," said Ricco to Tim Healey.
Cashman confirmed to King and Ken Davidoff that he has spoken to the Mets, and while he didn't name names, I think it's safe to assume deGrom and/or Syndergaard were the focus of his attention. From King and Davidoff:
"I've been engaged with all clubs, including the Mets. It's the job," Cashman said at Keens Steakhouse in Manhattan, where he helped promote a new venture called New York Sports Tours. "And if you can ever match up, you make ownership recommendations on both ends and see if it takes you anywhere.
Either deGrom or Syndergaard would be a tremendous get for the Yankees, both short and long-term. Syndergaard has more team control remaining and the higher upside, I think, but I prefer deGrom. His injury history isn't as scary — Syndergaard is out with a finger issue right now and has thrown only 95 innings since the start of last season due to lat and finger trouble — and I think he's just flat out better. deGrom's been ridiculous this year.
Of course, the chances of a significant Yankees-Mets trade are remote, even if it makes sense for both teams. The Yankees can match (and beat) pretty much any prospect offer, and if they make the best offer, why wouldn't the Mets take it? Who knows. I guess the thought of potentially seeing deGrom or Syndergaard leading the Yankees to postseason glory is enough to make the Wilpons squeamish. I like that Cashman is talking about this openly. Puts pressure on the Mets. Everyone knows the Yankees have plenty of good prospects to offer, and if they trade deGrom and Syndergaard for a bunch of lesser prospects, lots of Mets fans will not be happy.
MLB bans teams from signing players out of Mexican League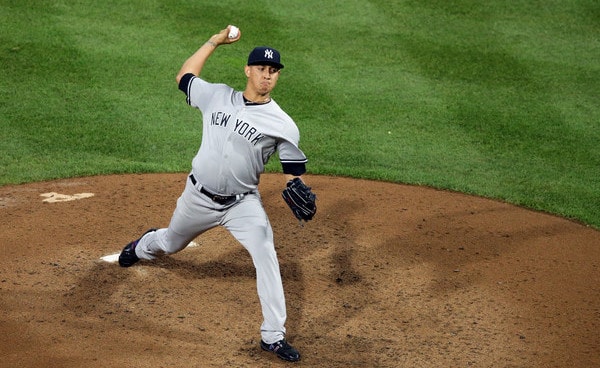 According to Jeff Passan, MLB has banned teams from signing players out of the Mexican League, citing "fraud" and "corruption" with the league's transactions. Mexican League teams control a player's rights indefinitely and they sell those rights to MLB teams. Generally speaking, the player only gets 25% of his signing bonus with the rest going to his Mexican League. MLB wants a system similar to their posting arrangements with Japan and Korea, where most of the money goes to the player.
Mexico does not produce as much talent as the Dominican Republic or Venezuela, though dozens of Mexican born players have played in the big leagues. Luis Cessa and Gio Gallegos both originally signed out of Mexico. Ten years ago the Yankees landed Manny Banuelos, Alfredo Aceves, and two others in a package deal with a Mexican League team worth $450,000. The process for signing players out of Mexico is incredibly unfair to the player and I'm glad MLB is trying to do something about it.
Yankees may buy back the YES Network
The Yankees are considering buying back controlling interest in the YES Network, reports Andrew Marchand. At the moment the team owns 20% of the network and 21st Century FOX owns the rest. A few years ago the Yankees sold a 49% stake in the YES Network at a valuation of $3.8 billion, and the deal allowed 21st Century FOX to purchase up to 80% of the network, which they've since done.
Marchand says the YES Network is part of a collection of assets 21st Century FOX is looking to unload. The Yankees could line up investors, buy back the network, and chances are nothing would change on our end (except streaming on the FOX Sports Go app, probably). If another entity buys YES — Marchand says Comcast and Disney are in on the action — there could be changes to the network as the new owner incorporates their branding and whatnot. Either way, the Yankees will still make gobs of money through the YES Network.