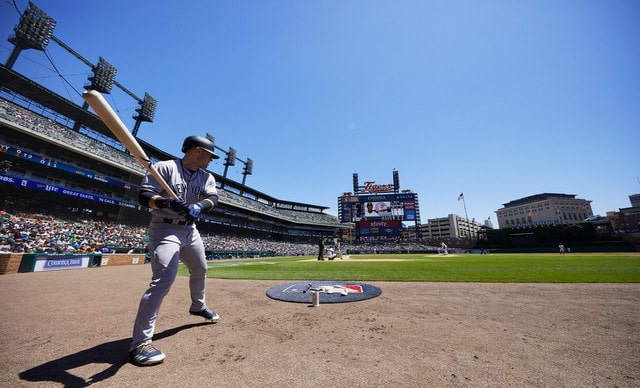 The trade deadline is less than three weeks away now, and earlier this week we examined three reasons the Yankees could make Miguel Andujar available. Andujar's awesome, I love the guy, but his lack of plate discipline and rough around the edges defense may limit his ultimate ceiling, plus the Yankees have a ready made third base replacement in Brandon Drury. I'm not saying the Yankees should trade Andujar. I just listed some reasons why they might.
Now it's time to look at another one of the team's top young players: Clint Frazier. Frazier is no stranger to trades and trade rumors. The Yankees got him from the Indians in the Andrew Miller trade and they reportedly pushed him on the Pirates as the centerpiece of their Gerrit Cole trade package over the winter. I imagine Brian Cashman has received countless calls about Frazier over the last 12-18 months.
"I didn't say he was off the table (but) I'd like to keep him," said Cashman to Laura Albanese recently. "He's going to be someone that's asked about a lot and understandably so … I have a lot of high-end talent that's taken a long time to acquire or cultivate, but it's going to cost something to get stuff, so we'll play that game here over the next month and see where it takes us."
Frazier has been an up-and-down guy for the Yankees this season — he's hit .312/.391/.577 (171 wRC+) in 47 Triple-A games around various big league stints this year — and it's easy to understand why the Yankees want to keep him. He's young, he's talented, and Brett Gardner isn't getting any younger. The young and talented thing also makes Frazier a valuable trade commodity. So, like we did with Andujar the other day, here are three reasons the Yankees should make Frazier available at the deadline.
The Yankees don't need another high strikeout righty bat
The Yankees strike out a lot. It's not a secret. Going into last night's game their team 23.5% strikeout rate was eighth highest in baseball and their 40 double-digit strikeout games were fifth most in baseball. The next closest AL contender is the Red Sox with 26 double-digit strikeout games. The Yankees strike out a bunch. It's who they are. They make up for those strikeouts by drawing lots of walks and hitting lots and lots of glorious dingers.
There does come a point where there are too many strikeouts in the lineup though. I'm not sure where that point is but it exists somewhere. Frazier, as talented as he is, will swing and miss and strike out. He has a super small sample size career 30.9% strikeout in the big leagues and, this season, he has a 23.7% strikeout rate in Triple-A. Not terrible. But a 23.7% strikeout rate in Triple-A translates to what in MLB? Something close to 28% in the short-term, maybe?
Frazer, like Aaron Judge and Giancarlo Stanton, has the thump and talent to make up for his strikeouts with power and overall offensive production. But adding Frazier to the lineup makes the offense that much more right-handed heavy and that much more strikeout prone, especially if he replaces Gardner. Maybe the Yankees don't care about the right-handedness and the strikeouts (if you can hit, you can hit), but the team's offensive diversity will take a hit if Frazier joins the outfield full-time next year.
The Yankees are loaded with outfielders
Positional need is a thing and the Yankees have no shortage of outfielders. Judge and Stanton aren't going anywhere. Aaron Hicks is under team control next year and, given the way he's played since Opening Day 2017, I see no reason to believe he won't be back. Gardner is in the final guaranteed season of his contract but his deal includes an option for next year. He remains productive and a key clubhouse leader. I would bet the farm on Gardner wearing pinstripes in 2019.
Furthermore, the Yankees have Frazier and Billy McKinney as quality call-up options, and don't forget about Jacoby Ellsbury. The Yankees could cut ties with him at some point, though I would not be surprised at all to see Ellsbury in Tampa in Spring Training next year, with Cashman and Aaron Boone saying they expect him to contribute and all that. The Yankees might want to see whether they can salvage Ellsbury's contract on the field before letting him go.
Even if the Yankees don't bring Gardner back next season, they'd still have a full high-end big league outfield thanks to Stanton, Hicks, and Judge. That leaves Frazier, McKinney, and possibly Ellsbury for what will be, at most, two bench spots. Probably just one bench spot since it doesn't seem the eight-man bullpen is ever going away. Point is, the outfield is a position of depth. The Yankees can afford to trade an outfielder without taking a hit at the MLB level, and that's a reason Frazier should be on the trade block this month.
Outfielders are always available in free agency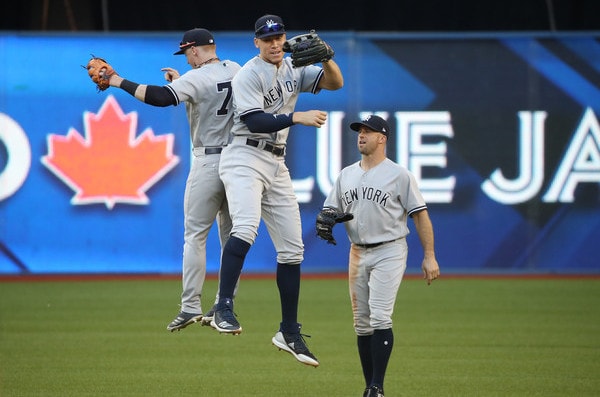 This is the other thing: There are always tons of outfielders available in free agency. The Yankees could trade Frazier, cut Ellsbury, and move on from Gardner and still have Stanton, Judge, Hicks, and McKinney in the outfield next year. And, if they want a more veteran outfielder to share outfield and DH time, guys like Michael Brantley, Andrew McCutchen, A.J. Pollock, Jon Jay, Denard Span, and Curtis Granderson will be free agents this winter. That Bryce Harper guy too.
Fast forward to next offseason and Marcell Ozuna and Nick Castellanos (and Hicks) will be free agents. There are always always always lots of outfielders available in free agency. All shapes and sizes. Want a power bat? A speed guy? A defensive specialist? There's something for everyone. The Yankees have the internal outfield depth to trade Frazier, but, even if they didn't, the free agent market always provides outfield options. And with the way teams are blackballing veterans nowadays, those free agent options can be pretty cheap too.
* * *
The Yankees have had so much success with young players recently that it's impossible not to want them to hang on to Frazier, and get him into the lineup full-time next year. Gary Sanchez joined the lineup as an impact bat in 2016. Judge did it in 2017. Andujar and Gleyber Torres are doing it in 2018. Frazier can do it in 2019. That said, the Yankees need another starting pitcher, and Frazier could help net them a pretty good one as a trade chip prior to the July 31st deadline. They'd be dealing from a surplus given their outfield situation and ostensibly subtracting strikeouts from the lineup.