Well, that was disastrous. The Yankees had many opportunities to tie or take a lead but they flat out allowed the Rays to inch away and, eventually, take the game. In a game where the bats fought back to keep the team in the game, a couple of Gary Sanchez's sluggish maneuvers cost the Yankees mightily. After this loss and a Red Sox win against the O's tonight, New York is now 6 games back for the AL East division lead.
The back-and-forth
Oh boy. This game did not get off to a good start. After getting two easy outs in the first inning, Luis Severino allowed a double to Jake Bauers. Facing the cleanup hitter Ji-Man Choi, Severino threw a slider that Sanchez failed to catch on an obvious cross-up. The ball trickled down towards the third base side of the foul territory and Sanchez jogged towards it. Meanwhile, Bauers easily took third and… started to sprint home. Bauers saw that the Yankee catcher wasn't really hustling to the ball and took advantage of that. Sanchez then started to act with sense of urgency, but his throw was off line. Bauers scored rather easily on a play where he should have ended up in third at best. That was an ugly, Little League-style error the Yankees committed and it's hard to not fault Sanchez for it.
Luckily, the Yankees got a run back in the next inning. Giancarlo Stanton led things off by hitting a double. Well, it was a double on paper, but it was really a pop-up that dropped in between the CF and RF. I'm guessing the case of Tropicana Field striking again. It does get really hard to track high flyballs in that ballpark because the baseball can blend into the white rooftop. Aaron Hicks followed it up with a walk. Hunter Wood induced a pop out from Sanchez and strike out from Greg Bird to make it two outs, but Miguel Andujar drove in the first Yankee run with an RBI single to center. 1-1.
The game stayed 1-1 for the next few innings. The Rays brought in Matt Andriese as a part of their #bullpening program of the day and on the other side, Severino was pitching well until the fifth inning. After striking out Jesus Sucre to open the frame, Severino allowed back-to-back singles to Kevin Kiermaier and Matt Duffy. On a 1-1 count to Jake Bauers, Severino uncorked a slider on the inside part of the zone that just didn't spin at all. You know what happens to hanging slider up the zone – it becomes a meatball. Bauers didn't miss any of it and drove it over the right field wall for a three-run homer. Severino usually throws much, much better breaking balls. He can get called and swinging strikes with that pitch. However, there's always that inherent danger with slider – it can induce some big dingers when not thrown carefully.
The Yanks got back two more in the next frame to make it a one-run game. Here's how it went: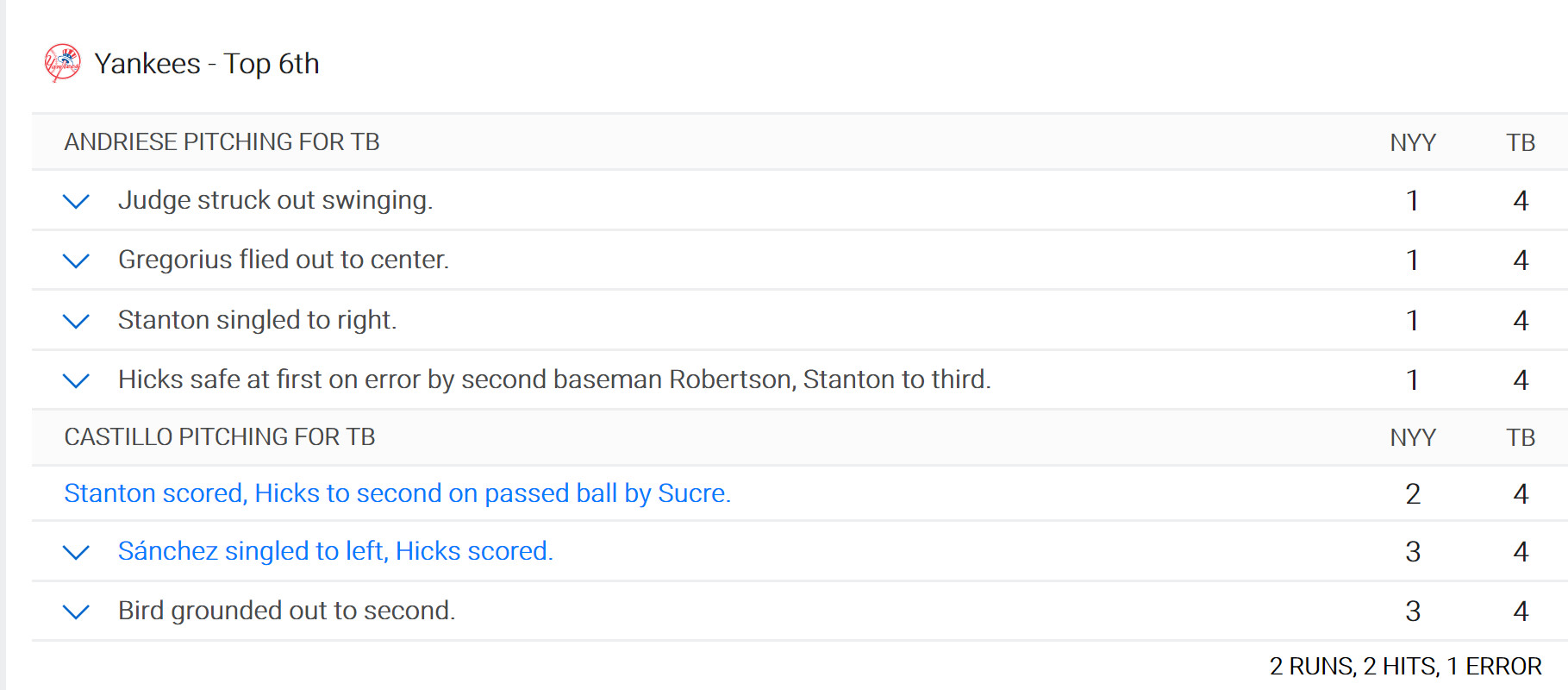 One thing of note: Stanton was really, really good today. Besides that pop-up double in the second, he was hitting solid line drives all over the field. You may know this, but Stanton leads the entire club with 108 base hits.
Right on cue, however, the Rays scored three in the bottom of sixth to make it 7-3. Daniel Robertson homered on the first pitch against Severino. Mallex Smith followed it up with a double and Willy Adames singled to center to knock Severino out of the game. Both of them scored off Chad Green and raised Severino's season ERA up to 2.63. It's Severino's third subpar outing in a row. Eye test-wise, I am not really concerned about him. Severino's velocity was there, he induced some ugly whiffs, but he did locate some pitches badly. I think his command is a bit off than how it was earlier this season and that's fixable, especially given the caliber of pitcher he is.
The Yanks got three back in the top of the seventh. They loaded the bases with one out by drawing three walks (Nel Walker, Brett Gardner, Aaron Judge) against two Rays pitchers (Castillo and Schultz). Didi Gregorius grounded into a force out at first to score a run and Stanton followed it up with a two-RBI single to clear'em up to make it 7-6 Rays.
So about that ninth inning
Usually, people don't really remember a loss to the Rays in the middle of a season, but this one is a little different. If there is such thing as "what if" in baseball, every team would be World Series contenders, but it might be something worth revisiting in tonight's game.
Down 7-6 in the ninth inning, the Yankees had top of the order come to the plate. The first two hitters – Gardner and Judge – did what the top of the order is supposed to do and got on base by infield single and walk, respectively. Up comes the first dicey situation of the inning: Didi Gregorius up before Giancarlo Stanton. First off, it's er, interesting how Judge and Stanton are still not hitting back-to-back. Secondly, Didi started the at-bat with a bunt foul. Interesting? The Yankees' greatest asset is hitting for power and they seemingly opted to play for one run. It remains to be seen whether that was Gregorius's or Boone's call, but never forget that the manager has previously shown an open distaste for a hitter trying to bunt in the situation he doesn't approve of it. My gut feeling says that Boone would have tried to squash Didi's attempt to bunt if he felt that way, but he didn't.
Anyways, Gregorius executed a successful sacrifice bunt to put both runners in scoring position. The Rays put the bat out of Stanton's hands by intentionally walking him, because that was the sensible thing to do to a hot hitter who just went 4-for-4. Up came Aaron Hicks, who got a breaking ball down the zone and grounded into to a force out at home. Looking back to Didi's bunt at this moment, while there was absolutely no guarantee that Gregorius would have walked or got a base hit, the Yankees' decision to let him bunt really put them in a position where they are down with two outs with bases loaded instead of one. If the score is tied, I'd be more okay with that strategy, but with one run down, giving away free outs is… not what you want.
After all that, the big knocker of the inning had yet to come. With bases loaded, two outs, Gary Sanchez came to plate. On a 1-1 pitch, Sanchez squared a hard grounder up to middle that 1) SS Willy Adames fielded 2) he tossed to 2B Daniel Robertson for a force out attempt 3) but Hicks's hustle slide kept the game alive… for that moment 4) Robertson immediately threw to first to get Sanchez out and end the game. Sanchez is not the fastest guy and he's coming off of a groin injury, but good grief, he didn't even pretend to hustle down the line to keep the Yanks alive.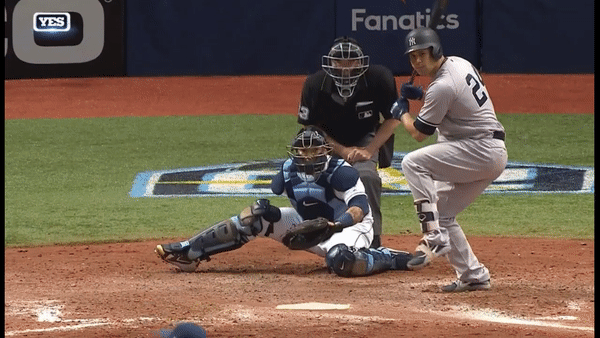 Look, I believe that Sanchez gets more flack than he deserves in general, but this was an inexcusable effort. Down by one in the ninth, bases loaded with two outs, the basic Baseball 101 tells you that one should hustle out of the box to avoid losing as much as possible. Sanchez didn't. My guess is that he saw the shortstop field the ball up the middle and assumed that he would make an easy force out to end the game.
Not only the lack of hustle might have cost the Yankees a run, but also Hicks's sliding effort on the second base to desperately keep the game alive. Not great, folks! Sanchez has to know better. As Brendan Kuty of NJ.com pointed, if you can squat for nine innings, you can run out a grounder. I assume management will order some kind of wake-up call. Sanchez does have a history of being disciplined for low-effort plays in the past.
Leftovers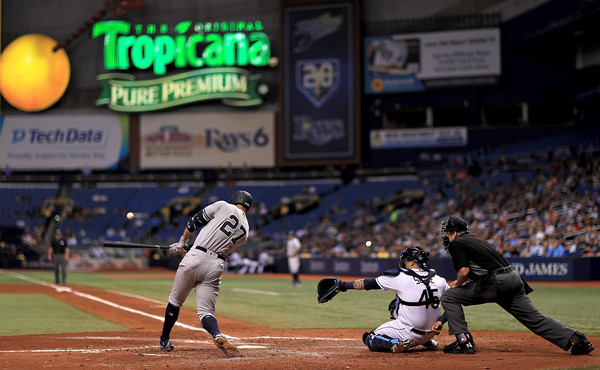 With the strikeout of Willy Adames in the second inning, Severino picked up his 500th career strikeout. Pretty neat. He's the third ever Yankee to get to such milestone before the 25th birthday. The other two are Al Downing and Lefty Gomez, which is a nice company to be with.
Adam Warren and A.J. Cole each threw a scoreless inning in the seventh and eighth, respectively. Had the Yankees won tonight, both of them would have gotten an ample credit for keeping the team in the game.
Box score, highlights, standings and WPA
Here's tonight's box score, video highlights, updated standings and WPA.

Source: FanGraphs
The Yankees will be at it again in the Tropicana Field tomorrow. Masahiro Tanaka will be on the mound against Yonny Chirinos.