That was dangerously close to a Very Bad Loss. Instead, it goes down as a 7-6 win with no style points awarded. The Yankees survived a near ninth inning meltdown Saturday afternoon to take the middle game of this three-game series from the Mets.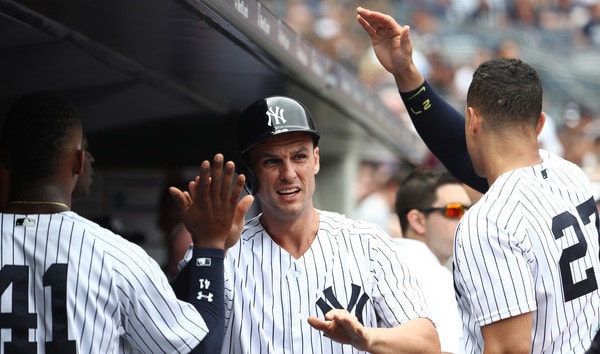 Four In The Fourth
The Yankees didn't do much against Steven Matz the first three innings Saturday. Aaron Judge had an infield single in the first and Aaron Hicks worked a walk in the third, but that was it. Matz was cutting them right down before the offense broke out for four runs in the fourth inning.
That four-run fourth inning featured two things the Yankees did not get Friday night: Extra-base hits and hits with runners in scoring position. They had two each Friday night. Two extra-base hits and two hits with runners in scoring position in nine innings. Yuck. They had three extra-base hits and three hits with runners in scoring position in the fourth inning alone Saturday. Let's recap that inning with an annotated play-by-play: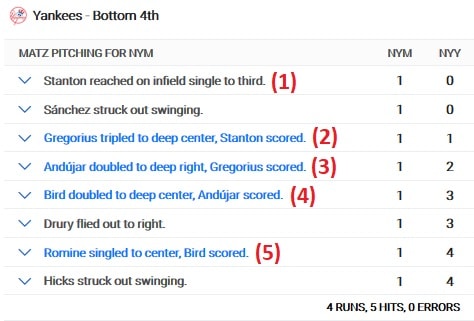 (1) Giancarlo Stanton, infield single king. It's kinda weird, isn't it? Stanton beat out a weak tapper to third base — it looked like thousands of other infield singles you've seen — to start that fourth inning rally. It was his 18th — 18th! — infield single of the season. His previous career high was 13 in 2014. Still more than a third of a season to play this year! Only Dee Gordon has more infield singles than Stanton this season. He has 20. Stanton and Andrelton Simmons are tied for second with 18 apiece. My theory: Infielders play deep against Giancarlo because he hits the ball so damn hard, which gives him more time to beat out those infield hits.
(2) Big shout out to Matt den Dekker. The Mets' center fielder contributed greatly to the rally with three defensive miscues. It's probably not fair to call them miscues because it's not like he screwed up and did something he should've have done. He just didn't make the plays. Too slow to the ball. Didi Gregorius ripped a line drive to center field that rolled to the wall after den Dekker missed the dive: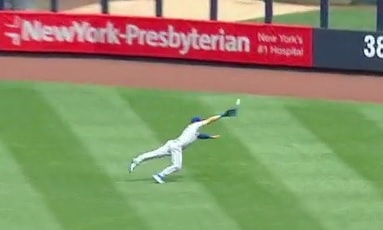 Stanton scored all the way from first and Didi was at third base with one out. The game was tied 1-1.
(3) The Mets' best defensive outfielder in that fourth inning was a fan. After the Didi triple, Miguel Andujar doubled to right field, and a fan reached over the wall Jeffrey Maier style to catch it. It was a rocket and it was going to be a double anyway, the fan didn't take the ball away from Tony Tarasco Brandon Nimmo, but maybe it could've been a triple? Not sure. Either way, Gregorius scored and Andujar was at second, and the Yankees were up 2-1. A nice catch by the fan, truly. He reached down quite a bit to grab it. Too bad it earned him an ejection from the ballpark.
(4) Excellent game for Greg Bird, who had two hits against the lefty Matz. Matz went into this game holding lefties to a .210/.330/.288 (.288 wOBA) batting line this season, but Bird squared him up well in that fourth inning, and drove a double over den Dekker's head in center field: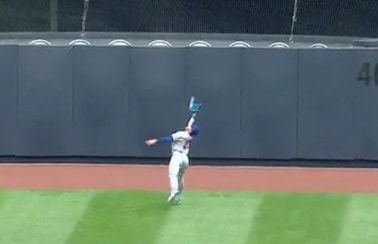 A well-struck ball, no doubt, but den Dekker ran a little too far toward left field and had to cut back to dead center at the last moment, which was enough to allow the ball to glance off his glove and land for a double. Another extra-base hit, another hit with a runner in scoring position. Bird's double stretched the lead to 3-1.
(5) To me, this was probably the most egregious den Dekker goof. Austin Romine lifted a weak fly ball to center field that should've ended the inning, but den Dekker kinda came around the ball instead of running directly to a spot, and that was enough to allow the ball to drop in: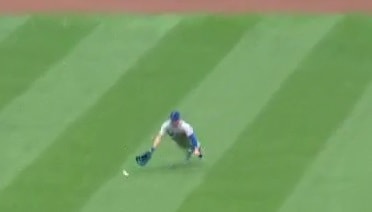 Maybe I'm just a giant homer, but I feel like Hicks catches all three of those balls, the Gregorius triple and the Bird double and the Romine single. Like I said, it wasn't like den Dekker did something wrong. It's not like he threw to the wrong base or something. He just didn't get there in time all three times. Romine's single plated the fourth run of the four-run inning and gave the Yankees a 4-1 lead. Hooray for outfield defense, or the lack thereof.
Sonny Saturday
All things considered, this was probably Sonny Gray's second best start at Yankee Stadium this season. Maybe third best. His May 5th performance against the Indians is clearly his best home start of the year (6 IP, 4 H, 2 R, 2 ER, 2 BB, 7 K, 1 HR). Does this game (5.1 IP, 3 H, 3 R, 2 ER, 3 BB, 6 K, 1 HR) beat his April 7th start against the Blue Jays (6 IP, 4 H, 3 R, 3 ER, 3 BB, 4 K, 1 HR)? It does by Game Score (54 vs. 51), for what it's worth.
Anyway, Gray allowed a second inning solo home run to Michael Conforto — Conforto ambushed a fastball on the inning's first pitch — and had to pitch around an infield single and a walk in the fourth, and an infield single and a hit-by-pitch in the fifth, but he got through five innings with just the one run allowed. Gray allowed three hits total. The Conforto homer and two infield singles.
With the Yankees up 4-1 and his pitch count at 79, the hope was Gray would get through the sixth inning, and maybe even start the seventh. It didn't happen. After a quick pop-up for the first out, Conforto and Jose Bautista drew back-to-back walks with one out to bring the tying run to the plate. Annoying. At least make them earn the baserunners, you know? The two inherited runners scored and were charged to Gray (more on that in a bit).
Given how poorly he's pitched at Yankee Stadium (8.25 ERA and 6.66 FIP) and overall (5.46 ERA and 4.35 FIP) this season, I consider Saturday's start a positive outing for Gray. Really would've like him to complete six innings, but one run in the first five innings? Sign me up for that. Interestingly enough, Gray went heavy on two-seamers and curveballs for the second straight start. His pitch selection by game this year, not including Saturday: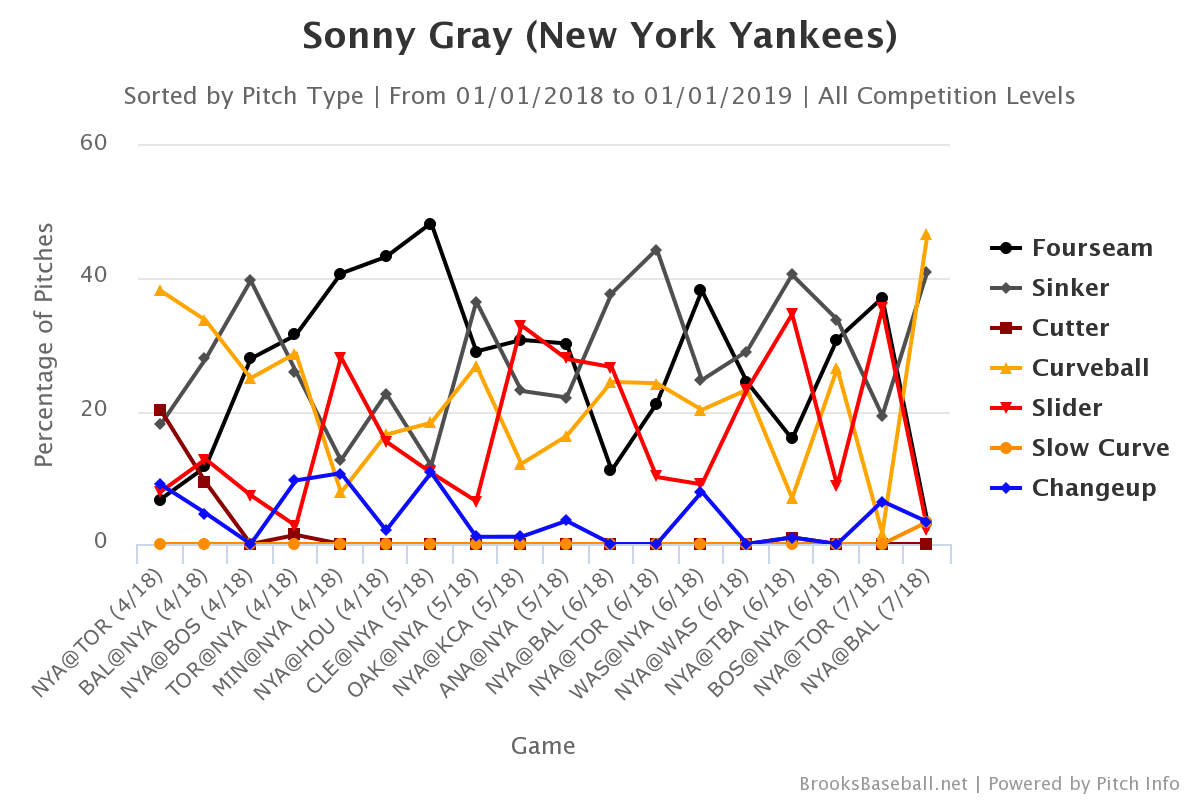 Very few sliders and four-seamers last time out. In fact, he threw 37 two-seamers and 42 curveballs among his 90 pitches last start, or 87.8%. On Saturday, Gray threw 46 two-seamers and 32 curveballs among his 94 pitches, or 83.0%. In his first 17 starts of the season, Sonny threw two-seamers and curveballs only 48.1% of the time. Hmmm. Gray has pitched too poorly for too long for me to believe this is the magic cure. He needs to do it again and again before I buy in. For now, he pitched well enough Saturday, and I'm going to leave it at that.
Tack-On Runs
Gray exited after his back-to-back walks in the sixth inning and David Robertson inherited the two runners with a 4-1 lead and one out. He struck out the first batter and that was cool. But then Amed Rosario poked a backup curveball into shallow right field to score a run, and Robertson hit Rosario with a pickoff throw at first, allowing Bautista to scamper home from third. The throw was well behind Rosario — Bird has no chance to catch it — and it hit him in the foot, and bounced away far enough for Bautista to score. A Metsian play, indeed.
Rosario's single and Robertson's pickoff throw got the Mets back to within 4-3. The Yankees started tacking on insurance runs — and hoooly cow did they need them — almost immediately. In the bottom of the sixth Andujar doubled to right on Matz's fourth pitch of the inning, and Bird got him home with a single two pitches later. Aaron Judge clocked a solo homer in the seventh, and, in the eighth, singles by Andujar and Brandon Drury put runners on second and third with one out. (Drury went to second on the throw to third.) Austin Romine got a run in with a grounder to second to give the Yankees a seemingly comfortable 7-3 lead. Hooray insurance runs!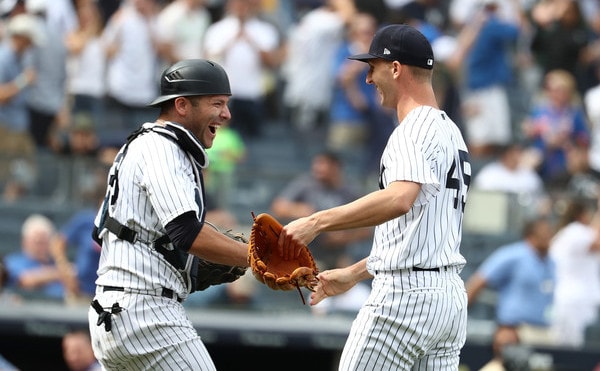 The Ninth Inning
Was this the first "OMG they might blow a big lead!!!!" ninth inning of the season? I'm pretty sure it is. Aroldis Chapman has been nails all year. Chapman was decided not nails on Saturday, however. He was warming up before Romine gave the Yankees a four-run lead, and because he hadn't pitched since last Saturday, Aaron Boone decided to get him some work. I had no problem with it whatsoever. Chapman, like Dellin Betances, can be awfully wild following a long layoff.
And wild Chapman was on Saturday. About as wild as we've ever seen him. He faced five batters in the ninth inning and did not record an out. The inning went walk (Kevin Plawecki), infield single (Rosario), walk (Ty Kelly), walk to force in a run (Jose Reyes), hit-by-pitch to force in a run (Nimmo). Chapman threw 19 pitches and three — three! — were strikes. Goodness. His pitch locations: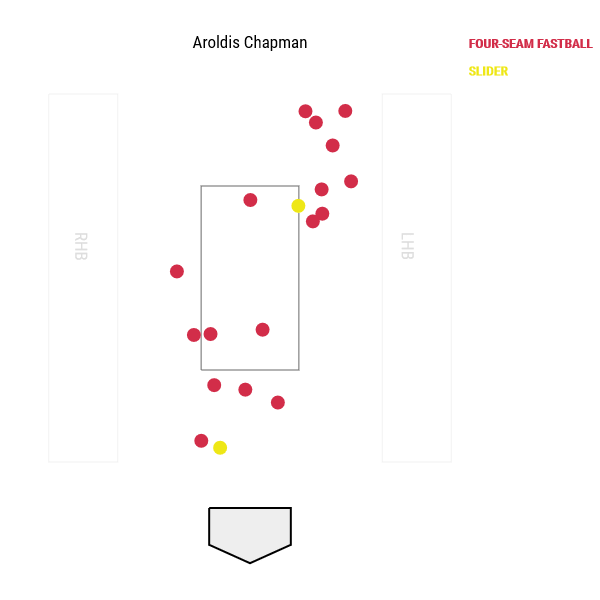 Chapman was not missing just off the plate. A few borderline calls didn't go against him. Chapman was very wild and nowhere near the zone. He threw ten straight balls at one point and the 11th pitch hit a batter, so yeah. Chapman was wild and his fastball velocity was down. His heater averaged 97.1 mph and topped out at 98.6 mph on Saturday. It is his lowest average fastball velocity in any game since June 2012. Oy.
After the game Chapman said his achy left knee — he's been pitching with tendinitis in the knee pretty much all year — was not an issue Saturday. He said the knee feels better than it has a while thanks to the All-Star break, in fact. I suppose that's good? Chapman and Aaron Boone chalked up the rough outing and wildness to rust. Hopefully that's all it was. As long as Chapman says his knee is okay, I'll chalk it up to rust too.
So anyway, that 7-3 lead became a 7-5 lead and the bases were loaded with no outs. Not good! Robertson, Jonathan Holder, and Betances had already pitched, and Chad Green threw a ton Friday night, so Boone's options were limited. He went to … Chasen Shreve? Chasen Shreve. Shreve was warming up alongside Chapman the previous inning in case the Yankees really blew things open, so he was able to get hot quick.
Before we get to Shreve, I should note I don't think Boone left Chapman in too long. Hindsight is 20/20 and yeah, he should've taken him out sooner — would be nice if the manager could predict the future, you guys — but I was okay with him staying him. The leadoff walk is whatever. We've seen Chapman do that and bounce back plenty. The infield single was dumb. Soft contact and Andujar slipped on the infield. The next walk to load the bases? Argh.
At that point, I thought Chapman was the best option to escape that jam. Bases loaded with no outs? Boone's options were Chapman, a tired Green, a tired Adam Warren, A.J. Cole on the second of back-to-back days, or Domingo Acevedo in his big league debut. Yeah, give me Chapman. He can find it an instant and strike out the side. It didn't happen. But if Boone pulls Chapman and Shreve or Cole or whoever gives up a few singles or walks and the Yankees win 7-6 anyway, he'd get ripped to shreds for not having faith in his closer or something stupid like that. I thought Chapman was the right move.
Back to Shreve now. He came in with the bases loaded and no outs, and got Devin Mesoraco to pound a splitter into the ground for a 4-6-3 double play ball. A run scored to cut the lead to 7-6 and the runner moved up to third, but the Yankees got two outs on the play. Take the double play every time in that situation. I thought the Yankees were insane to let Shreve pitch to Wilmer Flores after that — Flores is a career .268/.312/.493 (115 wRC+) hitter against lefties — but pitch to him he did.
Shreve was able to get a first pitch fastball over the plate for an 0-1 count, but Flores wouldn't chase the splitter, and eventually he worked the count back in his favor at 2-1. A fouled away fastball and a fouled away slider kept the at-bat going. The money pitch was a splitter way out of the zone that Flores chased and tapped back to Shreve. Shreve threw to first for the 27th out to seal the win. Ex-friggin-hale. Here's the escape job:
Second career big league save for Shreve.
He got one in an extra innings game in Kansas City back in 2016
. Jacoby Ellsbury drove in the go-ahead run with an infield single in that game and No. 8 hitter Aaron Judge, in his 15th career game, hit his third career home run. Gotta say, did not expect Shreve to have to bail out Chapman in this game. Usually it's the other way around. Good work, Chasen.
Leftovers
Back-to-back three-hit games for Aaron Judge to begin the second half. Judge is 6-for-9 in two games after the All-Star break. He went 6-for-38 (.158) in his first eleven games after the All-Star break last year. Judge was a triple short of a cycle Saturday and is up to .286/.398/.558 (160 wRC+) on the season. Still down from last season, no doubt, but incredibly productive.
Andujar had three hits as well — he has five in two games since the All-Star break — and Bird had two. Every starter had a hit except Hicks and Gary Sanchez, and the Yankees as 12+ hits in back-to-back games for the first time since June 1st and June 2nd against the Orioles. They went 4-for-10 with runners in scoring position and struck out only five times. The Yankees have scored eleven runs in these two games and only one came on a home run. That should make some people happy.
Box Score, WPA Graph & Standings
Go to ESPN for the box score and updated standings, and MLB for the video highlights. Here's our Bullpen Workload page and here's the win probability graph:

Source: FanGraphs
Up Next
The Yankees and Mets will wrap up the 2018 Subway Series on ESPN Sunday Night Baseball. That's the rubber game of this three-game series. Masahiro Tanaka and Jacob deGrom are the scheduled starting pitchers. Should be fun.