They can't all be pretty. The Yankees evened up this three-game series with the Braves at a game apiece with an 8-5 win on Tuesday night. A big lead became a small lead, and, ultimately, it became a win, and that's all that matters.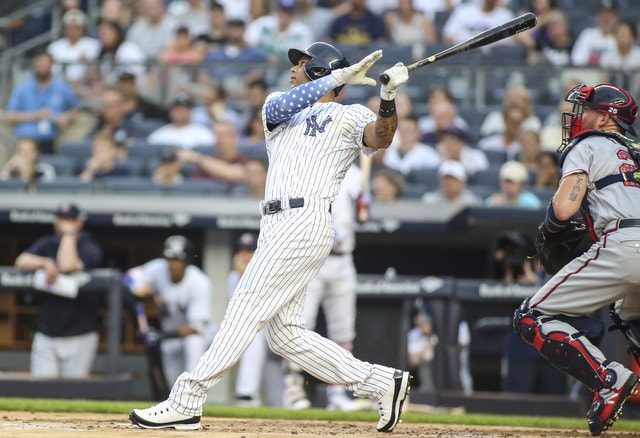 Sean Nuke 'Em
After four innings, it felt like it would be an easy night for the Yankees. The offense jumped all over Sean Newcomb, who didn't make it out of the third inning and was charged with five runs. Cleanup hitter Aaron Hicks opened the scoring with a two-run home run in the first inning — for the second time in three days, he inside-outed a pitch into the short porch from the right side of the plate — then Kyle Higashioka added the third run with a second inning solo homer. Two big league hits, two homers for Higgy. Neat.
The wheels fell off for Newcomb in the third inning. Leadoff walk to Aaron Judge, one-out walk to Hicks, two-out walk to Miguel Andujar to lead the bases. Newcomb had no idea where the ball was going. He then walked Brandon Drury on five pitches to force in a run and end his night. Newcomb threw 30 pitches in that third inning and only 12 were strikes. His third inning pitch locations:
Lots of easy takes there. Hicks did a good job spoiling good pitches and spitting on some good ones. The other guys didn't have to sweat as much. Newcomb was wild and so was reliever Luke Jackson, who replaced Newcomb and walked Higashioka to force in another run. The Yankees scored two runs in the third inning without a hit. Five walks did the trick. Goodness. Brett Gardner trotted home on a wild pitch in the fourth and bam, a nice and comfortable 6-0 lead.
Fifth Inning Troubles
The good news: Domingo German threw a scoreless first inning! He'd allowed a first inning run(s) in each of his last four starts and in five of his last six starts. The bad news: German's first inning troubles became fifth inning troubles. He kept the Braves off the board through four innings and it wasn't easy — Atlanta put the leadoff man on base in three of those four innings — but I'll take it. Four scoreless is four scoreless.
Things unraveled quick in the fifth inning. Yet another leadoff baserunner turned into a run when Ender Inciarte lined a two-run homer into the right field seats. Fine. Whatever. Still a 6-2 game. Just shake it off. Next pitch: Ozzie Albies homer. A leadoff walk and back-to-back homers turned that comfortable 6-0 lead into a less comfortable 6-3 lead. Freddie Freeman and Nick Markakis followed with singles and suddenly the tying run was at the plate and German was out of the game.
German's final line: 4.1 IP, 6 H, 3 R, 3 ER, 3 BB, 6 K, 2 HR on 82 pitches. On a night the Yankees really could've used length from the starter, Domingo didn't make it out through five innings despite being staked to a 6-0 lead. Not good, kid. I know Masahiro Tanaka is coming back next week, but gosh, the Yankees really need another starter. German has quality stuff and he's been great at times. The team needs a little more reliability though.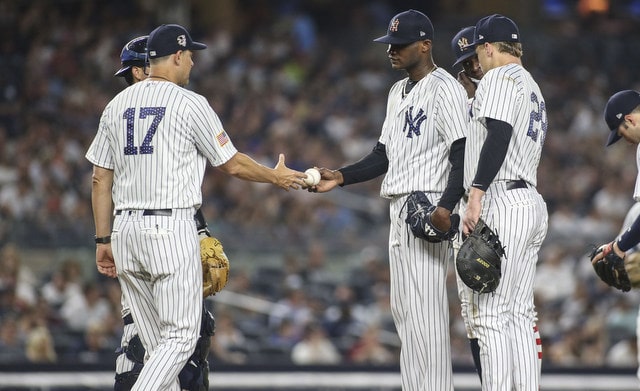 Hang On To Your Butts
Sunday night Aaron Boone used his usual late-inning relievers in a blowout game because they needed work — Dellin Betances and Aroldis Chapman hadn't pitched since Monday, and we know how those two can get when they go too long between appearances — and then he used them again Monday night because the game went extra innings. That meant not everyone was available Tuesday, and it became A Problem.
Two runners on base and the tying run at the plate in the fifth inning? First guy out of the bullpen: A.J. Cole, who just came off the disabled list and is so far down the bullpen depth chart that he went 21 days — 21 days! — between appearances at one point last month. Cole allowed an infield single to load the bases in that fifth inning, but he was able to escape the jam and preserve the 6-3 lead with strikeouts of Kurt Suzuki and Tyler Flowers. Huge.
Cole tossed a scoreless sixth inning as well, then Boone gave the ball to Adam Warren, because that's who was available. And wow, it did not go well. Warren's three outs in that seventh inning were a spectacular diving play by Didi Gregorius and two loud fly outs to the warning track. The spray chart: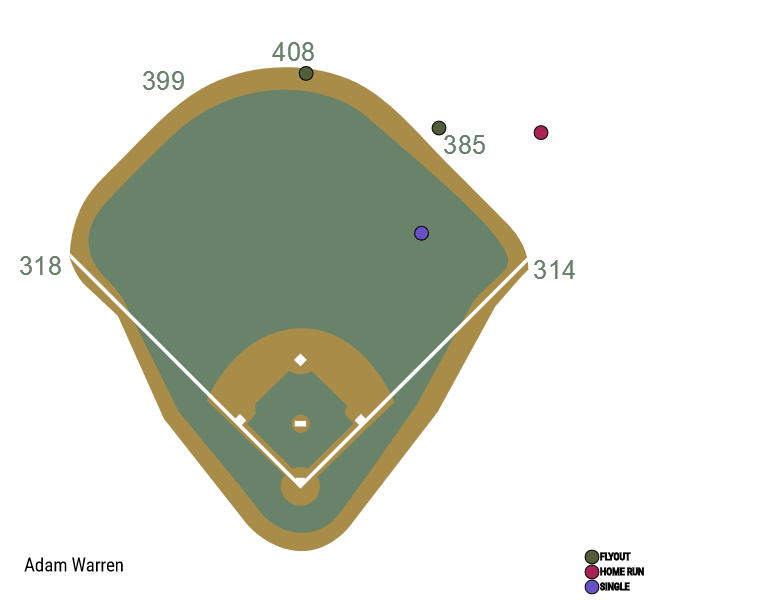 Never good when a fly out was so deep it's off the field on a spray chart. The Ozzie Albies single was a little flare job at 74.3 mph exit velocity. Everything else was very well struck, especially the Markakis two-run homer that turned a 6-3 lead into a 6-5 lead. Warren's been his usual solid self this season (1.35 ERA and 2.71 FIP prior to this game), but this was a disaster outing. Rockets all over the place, and that includes the eighth inning, which Warren started because the bullpen was short.
With two on and one out and still that 6-5 lead in the eighth inning, Boone went … Chasen Shreve? Chasen Shreve. And you know what? Shreve did the damn thing. He struck out the generally un-strikeout-able Inciarte (career 12.0 K%) and got Albies to ground out to third to end the inning. Cole and Shreve were the unsung heroes for sure. Actually, no, they aren't unsung. They're just heroes. Everyone knows what they did was important.
Thankfully, the Yankees added an insurance run in the eighth. Two of them, in fact, on a Giancarlo Stanton short porch dinger. It was a high fly ball that goes out only in this ballpark. The Yankees lost because of a short porch homer Monday night. They added two insurance runs with a short porch homer Tuesday night. Like I said, live by the short porch and die by the short porch. On Tuesday, the Yankees lived.
Boone went to Chapman in the ninth because what else was he supposed to do? Chapman certainly didn't look fatigued pitching back-to-back-to-back days. His fastball velocity the last three nights:
Sunday: 101.6 mph average (102.9 mph max)
Monday: 102.3 mph average (103.7 mph max)
Tuesday: 102.0 mph average (103.1 mph max)
A freak. An absolute freak. And I mean that in the nicest possible way. Humans are not supposed to a) throw a baseball that hard in general, and b) throw that hard on the third day of back-to-back-to-backs. Two strikeouts in a perfect ninth for Chapman to seal the win. He has a 1.43 ERA (1.44 FIP) and a 44.5% strikeout rate on the season. Dude's been a monster.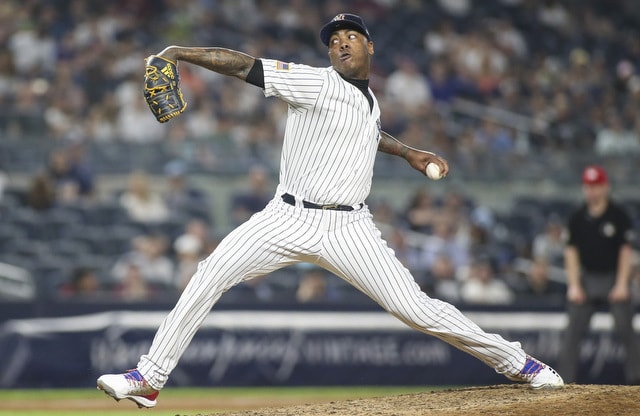 Leftovers
The top four hitters in the lineup (Gardner, Judge, Stanton, Hicks): 7-for-16 (.438) with a double, two homers, four walks, and three strikeouts. The rest of the Yankees: 2-for-16 (.125) with one double (Andujar), four walks, and five strikeouts. The Yankees went 1-for-11 (.091) with runners in scoring position, which is annoying, but you know what? This team has a runner in scoring position even when the bases are empty. Dingers are cool. (And they don't disappear in the postseason.)
And finally, for the very first time this season, Boone wore his jersey in the dugout. Usually he wears a pullover, which is fine, I couldn't care less what the manager wears, but if you were wondering when he'd wear his No. 17 jersey, Tuesday was the night.
Box Score, WPA Graph & Standings
For the box score and updated standings, go to ESPN. For the video highlights, go to MLB. Here's our Bullpen Workload page and here's the win probability graph:

Source: FanGraphs
Up Next
An Independence Day matinee. The Yankees and Braves will wrap up this three-game interleague series Wednesday afternoon. That's a 1:05pm ET start. CC Sabathia and Julio Teheran will start.