A nice bounceback from Friday's yucky loss, that was. The Yankees scored early and often against possible trade target J.A. Happ en route to an 8-5 win over the Blue Jays on Saturday afternoon. They're 57-29 with a +115 run differential on the season. Pretty awesome.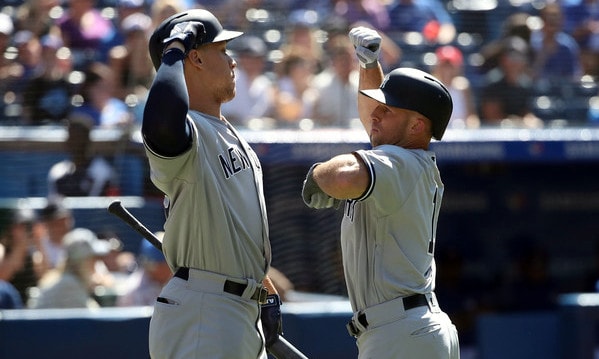 An Un-Happ-y Start For J.A.
For the second time in as many starts, the Yankees staked Luis Severino to a 4-0 lead in the first inning. Last time they were at home and Severino had already thrown a scoreless top of the first. On Saturday they were on the road and the offense built a lead before Severino even took the mound. Love that. Love scoring in the first inning on the road. Put the other team on their heels right away.
The Yankees did exactly that with a busy first inning Saturday afternoon. Let's recap that inning with an annotated play-by-play: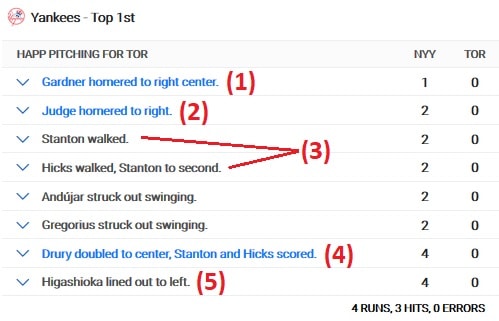 (1) My Baseball Reference Play Index skills are not the best, so, as best I can tell, Brett Gardner is the first Yankee to go deep on the very first pitch of a game since Derek Jeter in 2012. Jeter hit a first pitch homer against Francisco Liriano in this game. I thought Aaron Hicks hit a first pitch leadoff homer against Jake Arrieta in the Phillies two weeks ago, but nope. That was the third pitch of the at-bat. Anyway, third leadoff homer of the season for Gardner.
(2) Gardner hit Happ's first pitch of the game over the right field wall for a leadoff homer. Aaron Judge hit Happ's fifth pitch of the game over the right field wall for back-to-back homers. Second time this season the Yankees have started a game with back-to-back homers. Seems good. Gardner and Judge had previously done it against Jaime Barria and the Angels on May 26th.
(3) The Yankees scared Happ out of the strike zone a bit with the back-to-back homers, and, as a result, Giancarlo Stanton (six pitches) and Hicks (five pitches) worked walks to start a more conventional rally. Happ threw 16 pitches to the first four batters of the game. Two were hit out of the park and ten were balls. Not a good ratio! For Happ, that is. Worked out pretty well for the Yankees.
(4) Happ almost escaped that first inning jam. Almost. He got Miguel Andujar to chase up and out of the zone for a strikeout, then he got Didi Gregorius to swing through a center cut fastball for another strikeout. The issues with runners in scoring position were rearing their ugly head again. Thankfully, Brandon Drury — second baseman Brandon Drury, I should note — came through with a two-run single to center. Kevin Pillar played it into a double. The ball dunked in front of Pillar and bounced over his head thanks to the turf. Satisfying. It also allowed the second runner to score for a 4-0 lead.
(5) Man, Kyle Higashioka was so close to the first non-home run base hit of his career. He smoked a line drive to left field and was robbed of a likely double by Curtis Granderson — a likely double that would've driven in Drury from second base for a 5-0 lead — who made an excellent diving catch. Drat. The ball left Higashioka's bat at 104.3 mph and Statcast says it had a hit probability of 80% based on the launch angle and direction and exit velocity and all that. Poor Higgy. He did single later in the game though, so make it three dingers and one single in his big league career.
In hindsight, the Blue Jays made a terrible decision starting Happ on Saturday. The Yankees have annihilated southpaws this season — they went into this game hitting .255/.342/.488 (126 wRC+) against lefties — and the Blue Jays are going to trade Happ at some point this month. Sending him out there against this lineup came with too much downside. Either he pitches well and he's still the same J.A. Happ or he gets crushed and gives trade partners pause. Oh well.
Happ's final line: 2.2 IP, 4 H, 6 R, 6 ER, 6 BB, 5 K, 2 HR on 84 pitches. Eighty-four pitches to get eight outs! Yeesh. The six walks are a season high and Happ's most in an outing since 2013. Happ's fifth (Gregorius) and sixth (Greg Bird) walks turned into his fifth and six runs allowed. He walked Didi and Bird in the third, righty Jake Petricka took over — that's former Yankees draft pick Jake Petricka (34th round in 2009) — and gave up a two-run opposite field triple to Gardner. Gardner then scored on a passed ball for the team's seventh run. An all around good day at the plate.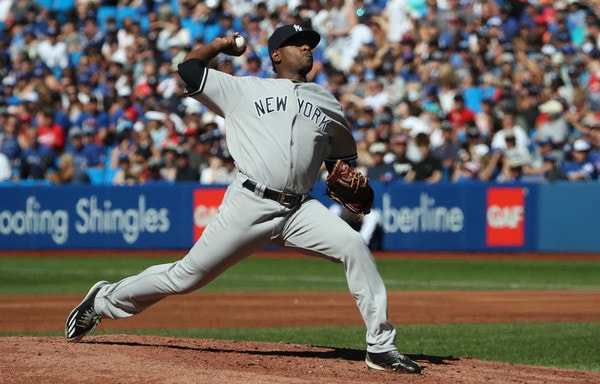 Five & Fly
A laborious five innings for Luis Severino, who threw 97 pitches and got only eight swings and misses, his second lowest total of the season. The Blue Jays fouled away 29 pitches — 29 pitches! — including ten in two strike counts. That's an awful lot of spoiled pitches against Severino. It's not like him to be unable to put hitters away in two strike counts. That was a sign Severino wasn't as sharp as usual.
The Blue Jays scored their three runs against Severino on homers. Kevin Pillar hit a two-run shot juuust over the wall in the second inning and Randal Grichuk visited the second deck for a solo dinger in the fourth. Toronto had a runner on base in every inning against Severino except the first. Just a real grind of an outing. Even great pitchers have them. The difference between guys like Severino and everyone else is that these starts don't turn into disaster outing when he's on the mound.
Severino's final line: 5 IP, 5 H, 3 R, 3 ER, 2 BB, 5 K, 2 HR on 97 pitches. His slider was a bit all over the place. The two homers came on hanging sliders and several others were far out of the zone for easy takes. It happens. Pitchers have off-days. Given the offense, Severino picked a good day for his occasional hiccup. Shake it off, get back out there in five days. Still love ya, Sevy.
To The Bullpen
Like I said, Severino picked a good day for a hiccup. The offense scored plenty and the bullpen was well-rested behind him. Jonathan Holder did allow a run on a double, a single, and a sacrifice fly in the sixth inning to trim the lead to 7-4, otherwise the relief crew locked things down nicely. David Robertson handled the seventh and Dellin Betances handled the eighth. Nice and easy.
In the ninth, Aroldis Chapman struck out Randal Grichuk with a nasty slider, but his knee buckled a bit during his follow through and he exited the game. Didn't seem like a big concern postgame. Chasen Shreve took over and gave up a solo homer to Aledmys Diaz, because of course. He did strike out the next batter to end the game. Holder and Shreve allowing runs is whatever. It'll happen. Losing Chapman? That's a problem. Hopefully it's just a day-to-day thing.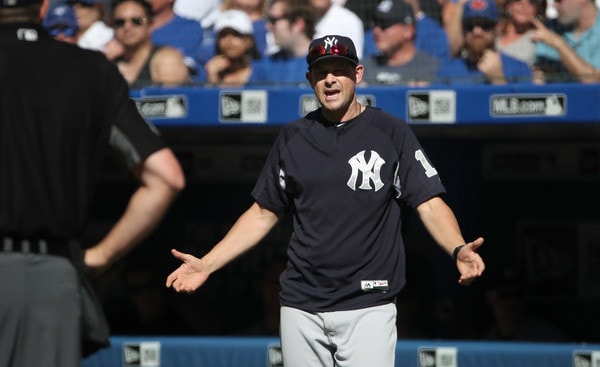 Leftovers
In case you missed it earlier, Hicks exited the game with left leg cramping in the fifth inning. It's just a cramp, so it shouldn't be a big deal. Hicks went 0-for-1 with two walks before exiting the game. The just called up Clint Frazier took over in the outfield — Frazier went to left and Gardner slid over to center — and went 0-for-2. He grounded out with the bases loaded and two outs in the eighth. Was hoping for a big Clint dinger.
An Andujar double and a Gregorius single brought home an insurance run in the ninth. The Yankees had nine hits and a season high ten walks. That includes extra innings games too. Ten walks, eleven 3-2 counts, and 191 pitches seen in nine innings. Lordy. They also went 4-for-13 (.308) with runners in scoring position. Here's the problem with RISP stat: .308 is objective great. It also means the Yankees didn't come through nine times, and that's all everyone focuses on. Whatever.
And finally, CC Sabathia was ejected in the third inning. He was barking at home plate umpire Lance Barrett after a few borderline pitches went against the Yankees, and Barrett ejected him. The YES microphones caught Barrett saying something like, "I'm not listening to you all day CC." It was pretty funny. CC's the best.
Box Score, WPA Graph & Standings
For the box score and updated standings, go to ESPN. MLB has the video highlights and we have a Bullpen Workload page. Here's the win probability graph:

Source: FanGraphs
Up Next
The Yankees and Blue Jays will wrap up this three-game series Sunday afternoon. That's a 1:07pm ET start. Domingo German and rookie lefty Ryan Borucki are the scheduled starting pitchers.