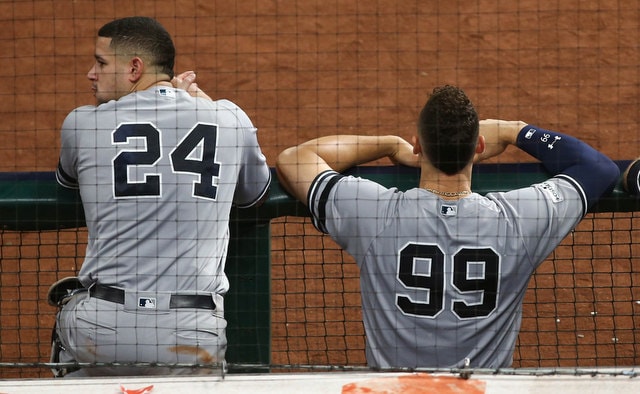 Following last night's win over the White Sox, the Yankees are 19-20 since June 21st. The AL East race is over. I mean, yeah, they're mathematically still alive, but it's over. The Red Sox made it crystal clear over the weekend. The Yankees are now trying to hold off the Athletics for the top Wild Card spot and the Mariners for a Wild Card spot overall.
The last two or three weeks the Yankees have been without Aaron Judge and Gary Sanchez, their two best players from a year ago and arguably their two most important position players today. Judge is on the short list of the best players in the game and Sanchez, even during his down year, can change a game with one swing. And don't forget his work with the pitching staff. It's not a coincidence the pitching went downhill as soon as Gary got hurt.
Sanchez at catcher: 3.50 ERA (3.48 FIP), 27.4 K%, 8.2 BB% in 473 innings
Not Sanchez at catcher: 3.84 ERA (3.72 FIP) 25.7 K%, 8.1 BB% in 524.1 innings
Sanchez started light baseball activities recently and is still expected to be out until late August, more likely early September. Groin injuries aren't the quickest injuries to heal, especially for a catcher who has to squat behind the plate. The Yankees are in for another few weeks with Austin Romine and Kyle Higashioka behind the plate.
As for Judge, his fractured wrist is doing better, but over the weekend there were signs he's not making progress as quickly as the Yankees hoped. The team hoped he'd be able to take dry swings over the weekend. Instead, Judge said he still has discomfort in the wrist and is still regaining range of motion. The three-week timetable isn't looking good.
"Taking it day-to-day, everything so far feels good. It's tough to say, I don't want to put a number on (my return). But as far as I know from the trainers we are right on track," he said to George King. "There is still pain and discomfort, it is still fractured and it's not healed. Right now some of the range of motion is coming back. Now it's getting the strength back."
Even with their recent fade in the standings, the Yankees should not rush Judge and Sanchez back from the disabled list, and I think that's obvious. Judge has a chip fracture, so it's not a significant fracture, but it's still a broken wrist. That is not something you ask your franchise player to rush back from and play at less than 100%. It is a recipe for disaster.
As for Sanchez, he's already suffered one setback with the groin. He hurt his groin, missed three weeks, came back and played three games in five days, then re-injured the groin. Now he's expected to miss something like six more weeks. I'm not sure it's fair to say the Yankees rushed Sanchez back from the injury once, but he came back once and got hurt again. Let's not do that again, okay?
The Yankees, even with Shane Robinson playing way too much and the Romine/Higashioka tandem behind the plate, should be able to rack up a bunch of wins these next few weeks. The upcoming schedule is weak — they won't play a team that currently has a winning record until their West Coast trip begins September 3rd, which is 26 games away — and they should win plenty enough to stay in postseason position. If the Yankees don't win enough to stay in postseason position, then they have much deeper problems than Judge and Sanchez being hurt.
I think the guys currently on the roster are plenty good enough to stay in postseason position though. Judge and Sanchez have the kind of injuries that require caution — again, we're talking a broken wrist and a catcher with a re-injured groin — not an aggressive recovery timetable. The big picture has to be the priority here, not the short-term. The Yankees need Judge and Sanchez to be at full strength to make noise down the stretch and in the postseason, so giving them as much time as necessary to get back to 100% is the best course of action. No need to rush anything.