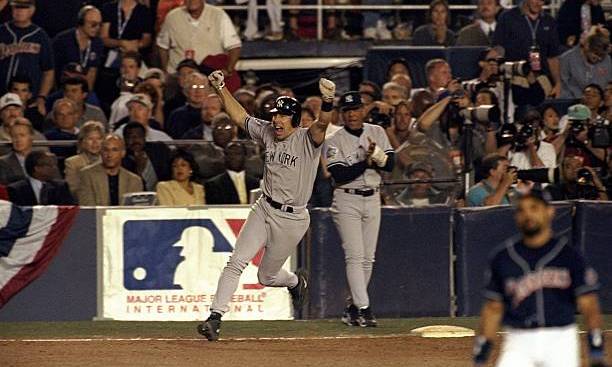 This afternoon, prior to the middle game of the three-game series with the Blue Jays, the Yankees will celebrate the 20th anniversary of the 1998 Yankees, the greatest team I've ever seen. They won a then AL record 114 games en route to winning what would be the second of four World Series titles in five years, and their +309 run differential is still baseball's best since the 1920s/1930s dynasty era Yankees.
1939 Yankees: +411
1927 Yankees: +376
1902 Pirates: +335
1936 Yankees: +334
1906 Cubs: +323
1998 Yankees: +309
Many 1998 Yankees players and coaches will be attendance for this afternoon's ceremony. Here's the full list of attendees. Among those who won't be in attendance are Derek Jeter (Marlins owner), Joe Girardi (just fired), Scott Brosius (Mariners third base coach), Mike Stanton (scheduling conflict), and Orlando Hernandez (not sure). Jeter is sending a tribute video that will be played on the scoreboard. Maybe Girardi will as well? We'll see.
Anyway, following this afternoon's 1998 reunion, the Yankees will look to clinch the series win over the Blue Jays following last night's rain-shortened win. The Yankees have to start piling up wins — going 5-4 in the first nine games of this eleven-game homestand against these teams is pretty disappointing — and there's no better time to start than right now. Here are today's lineups:
New York Yankees
1. LF Brett Gardner
2. DH Giancarlo Stanton
3. CF Aaron Hicks
4. SS Didi Gregorius
5. 3B Miguel Andujar
6. 2B Gleyber Torres
7. 1B Greg Bird
8. RF Neil Walker
9. C Austin Romine
RHP Luis Severino
Toronto Blue Jays
1. LF Billy McKinney
2. 2B Devon Travis
3. DH Curtis Granderson
4. 1B Justin Smoak
5. CF Kevin Pillar
6. RF Teoscar Hernandez
7. C Danny Jansen
8. 3B Aledmys Diaz
9. SS Richard Urena
RHP Sean Reid-Foley
There is more rain in the forecast today, though not until later in the afternoon. The weather should be fine for the 1998 ceremony, at least. The ceremony is scheduled to begin at 12:30pm ET and YES will have it for sure. I believe it will air on the FOX Sports Go app as well. I don't think MLB Network will carry the ceremony, though they will have this afternoon's game, which is set to begin at 1:25pm ET. Enjoy the game and the ceremony.
Injury Updates: Aaron Judge (wrist) played catch yesterday and still has some soreness, so he has not yet started swinging a bat. There was some hope he would be able to yesterday … Gary Sanchez (groin) had a check-up MRI recently that showed his injury is healing. He is hitting and running and catching and all that, and he's going back to Tampa tomorrow to continue his rehab work while the Yankees go out on the road. Sanchez is expected to start a minor league rehab assignment sometime next week.