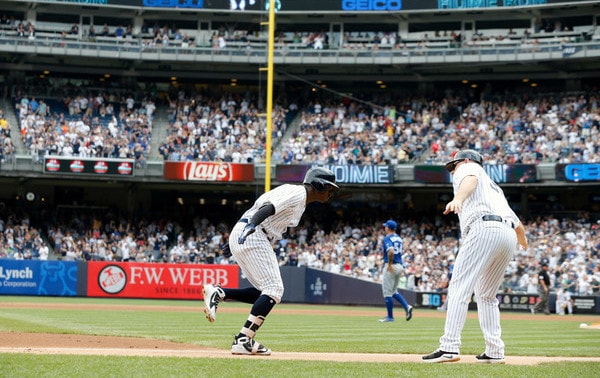 The long eleven-game homestand ends today as does the 20 games in 20 days stretch. The Yankees are 6-4 in the first ten games of the homestand (meh) and 10-9 in the first 19 games of the 20 games in 20 days stretch (also meh). Lots of meh baseball being played these days.
Former Blue Jay J.A. Happ taking on his former squad in today's homestand finale. Happ has been really good in his three starts as a Yankee, and with Luis Severino still not right and CC Sabathia on the disabled list, the Yankees have really needed Happ to step in and solidify things, and he's done that. Go finish the sweep today. Here are the lineups:
New York Yankees
1. CF Aaron Hicks
2. DH Giancarlo Stanton
3. 3B Miguel Andujar
4. SS Didi Gregorius
5. 2B Gleyber Torres
6. 1B Greg Bird
7. C Kyle Higashioka
8. RF Shane Robinson
9. LF Brett Gardner
LHP J.A. Happ
Toronto Blue Jays
1. 3B Russell Martin
2. 2B Devon Travis
3. RF Randal Grichuk
4. 1B Kendrys Morales
5.CF Kevin Pillar
6. DH Teoscar Hernandez
7. C Danny Jansen
8. SS Aledmys Diaz
9. LF Billy McKinney
LHP Ryan Borucki
The internet tells me the weather won't be as bad as looks outside my window. It is cloudy and humid and windy, which usually equals rain, but there is none in the forecast. Just a menacing looking sky. Today's series finale will begin at 1:05pm ET and you can watch on YES locally or TBS nationally. Enjoy.
Injury Update: Giancarlo Stanton (hamstring) is doing better and he expects to play the field when the Yankees go to Miami this coming week. "It's getting there. Going to have some NL games soon, so I'll have to jump out in right field, but it's getting better. We're going to get there," he said … Austin Romine has passed the league's concussion protocols, which is good. Between today and the off-day tomorrow, he'll get two straight days to rest up … Clint Frazier (post-concussion migraines) is hitting and running in Tampa. There is still no firm timetable for his return.