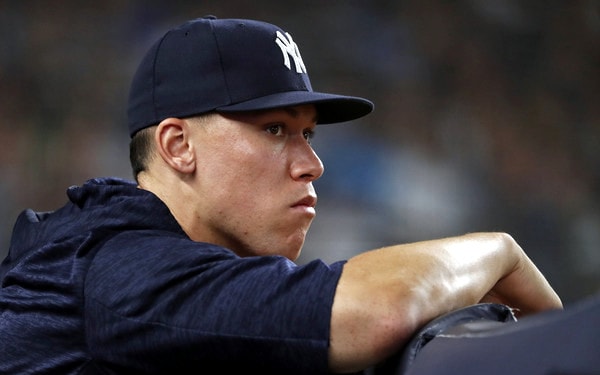 Folks, there are only four home series and 13 home games remaining this season. Hard to believe, no? The Yankees begin a four-game home series with the rebuilding Tigers tonight. The Tigers have lost five straight games and they're 7-18 with a -49 (!) run differential this month, so yeah, they're bad. As expected. They're early in their rebuild and on any given night there are maybe three league average players in their lineup.
Which of course means the Tigers are probably going to give the Yankees fits this weekend. The Yankees just lost two of three to the crummy White Sox and they've had issues with other bad teams like the Orioles and Rangers earlier this season. New York has the fifth best record in baseball against sub-.500 teams this year (51-24), but it sure doesn't feel like it at times. Start the series with a win tonight, por favor. The lineups:
New York Yankees
1. CF Aaron Hicks
2. DH Giancarlo Stanton
3. 3B Miguel Andujar
4. 1B Luke Voit
5. SS Gleyber Torres
6. 2B Neil Walker
7. C Kyle Higashioka
8. RF Shane Robinson
9. LF Brett Gardner
LHP J.A. Happ
Detroit Tigers
1. 3B Jeimer Candelario
2. LF Mikie Mahtook
3. RF Nick Castellanos
4. DH Victor Martinez
5. 1B Niko Goodrum
6. SS Ronny Rodriguez
7. C James McCann
8. CF JaCoby Jones
9. 2B Dawel Lugo
LHP Francisco Liriano
More heat and more humidity in New York today. At least the real feel temperature was 95° or so rather than 105° like the last few days. Tonight's game will begin at 7:05pm ET and YES will have the broadcast. Enjoy the ballgame.
Injury Updates: Gary Sanchez (groin) will catch nine innings with Triple-A Scranton tonight, and as long as all goes well, he will rejoin the Yankees on Saturday. Hooray for that … Didi Gregorius (heel) had a scheduled light workout day today. He's getting better and is inching closer to a return … Aaron Judge (wrist) went through another workout in which he did basically everything except swing a bat … Clint Frazier (post-concussion migraines) started a minor league rehab assignment with High-A Tampa earlier today. He went 1-for-3. Not sure what Frazier's timetable looks like, but the fact he's now playing in minor league games is great news. That means he's expected back and relatively soon.