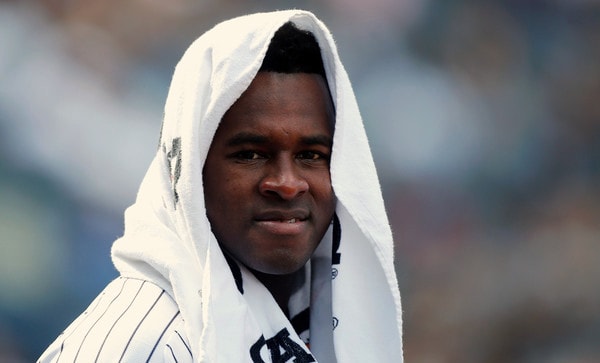 So. The Yankees lost that stupid game last night. It was annoying. Nothing they can do about it now though. The best and worst thing about baseball is that they play every single day. Can't enjoy the successes or dwell on the failures too long. There's another game tomorrow, or in this case, today.
Tonight we again turn our attention to Luis Severino, who is still trying to work out of his recent rut. He's allowed 36 runs and a .325/.365/.579 opponent's batting line in his last 46.2 innings. That is in the range of what Christian Yelich is hitting this year (.316/.378/.559). Severino has turned every batter he's faced the last eight weeks into Yelich. Not good. A dominant start would be a welcome sight. Here are the lineups:
New York Yankees
1. LF Brett Gardner
2. DH Giancarlo Stanton
3. CF Aaron Hicks
4. 3B Miguel Andujar
5. 1B Luke Voit
6. SS Gleyber Torres
7. RF Neil Walker
8. C Austin Romine
9. 2B Ronald Torreyes
RHP Luis Severino
Detroit Tigers
1. 3B Jeimer Candelario
2. 1B Jim Adduci
3. RF Nick Castellanos
4. DH Victor Martinez
5. LF Niko Goodrum
6. SS Ronny Rodriguez
7. C James McCann
8. CF JaCoby Jones
9. 2B Dawel Lugo
RHP Jordan Zimmermann
It is cloudy and humid in New York and it was raining for a bit this afternoon. That's supposed to clear out by game time, and here's no more rain in the forecast until much later tonight/tomorrow morning. First pitch is scheduled for 7:05pm ET and YES will have the broadcast. Enjoy the game.
Roster Updates: In case you missed it earlier, the Yankees did indeed finalize the trade for Andrew McCutchen today. He is officially a Yankee. He is not with the team, however. He's traveling from San Francisco today and will join the Yankees tomorrow. McCutchen is going to wear No. 26, apparently … Justus Sheffield will not be called up when rosters expand tomorrow. He's still in the mix for a call-up though. Seems like the Yankees want him to get one more Triple-A relief appearance under his belt first, especially after missing time with an illness earlier this week.
Injury Updates: Gary Sanchez (groin) is back with the Yankees and will be activated tomorrow, when rosters expand. Today was a planned rest day anyway after playing the last four days with Triple-A Scranton … Aaron Judge (wrist) still hasn't started swinging a bat but Aaron Boone is "very optimistic" he will return this season. Uh huh.