There are nine questions in this week's mailbag. RABmailbag (at) gmail (dot) com is where you should send all your questions each week.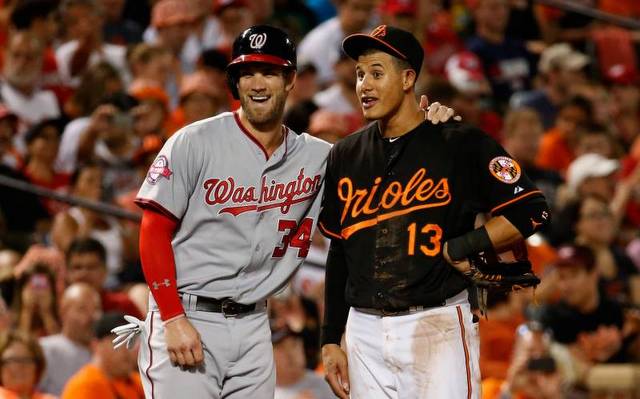 Joe asks: Including whether Andujar or Harper could play 1B, what is a better fit Machado at third or Harper at first?
Manny Machado at third base. Putting Bryce Harper at first base is a complete waste of his athleticism and throwing arm. I'd make Aaron Judge or Giancarlo Stanton play first base before Harper and I'm not in any rush to move Judge or Stanton out of the outfield. Machado is a truly elite defensive third baseman and an elite hitter. Harper is an elite hitter who can maybe be average at first base in his first year playing the position? I boils down to this:
Option One: Elite hitter and elite defender at third (Machado) plus an above-average hitter and probably bad defender at first (Miguel Andujar).
Option Two: Elite hitter and maybe average defender at first (Harper) plus above-average hitter and bad defender at third (Andujar).
In a vacuum, I would take Harper's next five years over Machado's next five years. Within the context of the Yankees and their roster, I would take Machado. They'd have to move Harper to an entirely new position right smack in the prime of his career. Moving from the outfield to first base is an old player move, or something you do with a guy who's just terrible defensively, which Harper is not. Give me Machado at third and Andujar at first over Harper at first and Andujar at third eight days a week and twice on Sundays. Or the Yankees could just sign Machado and Harper and figure out the rest later.
Brian asks: What are your thoughts on an extension for Dellin this offseason? Seems like reasonable risk mitigation for both sides. If Dellin replicates this season next year he'd be paid as an elite reliever which the Yankees would like to avoid, and from his perspective, he's not far removed from being completely unable to throw a strike + is already 30, so a solid guaranteed amount of money probably makes sense. Thoughts?
Can't see it and I wouldn't advise it either. I love Dellin Betances. He's a personal favorite. But he has been very up and down in his career — they are extreme ups and downs too — so I think you play out next season, his final year of arbitration eligibility, then see where he's at. If Betances goes to the Yankees this winter and is willing to take a sweetheart deal, something like the three years and $27M both Jake McGee and Bryan Shaw received last winter, great. That's something the Yankees should consider. If he's looking for Wade Davis (three years, $52M) or Aroldis Chapman (five years, $82.5M) money, then hard pass. With a player as volatile as Betances, I think waiting out that final season of arbitration is the way to go.
Adam asks: How many Yankees have multi-hr games this year? I'm pretty sure Sanchez, Stanton, Voit, Austin, Hicks, Bird, Gregorius, and Torres have all done it — I might be missing someone. Are the Bombers nearing the record in this category?
Ten different players have had a multi-homer game for the Yankees this season and, weirdly, Aaron Judge is not one of them. The ten: Tyler Austin (twice), Greg Bird, Brett Gardner (twice), Didi Gregorius (four times), Aaron Hicks (twice), Gary Sanchez (thrice), Giancarlo Stanton (thrice), Gleyber Torres (twice), Luke Voit, and Neil Walker. The Yankees lead MLB with 21 multi-homer games by individual players. Only 12 other teams have had a player hit multiple homers in a game ten times this season, nevermind ten different players doing it. The Nationals, Dodgers, and Blue Jays have each had eight different players hit multiple homers in a game this season.
I don't know how to look this up league-wide other than manually, which is far more work than I'm willing to do for a mailbag, but I did look up the number of different players with a multi-homer game for the Yankees in a single season. Turns out ten ties the franchise record, set in 2012. The 2012 ten: Robinson Cano (twice), Eric Chavez, Curtis Granderson (thrice), Raul Ibanez, Andruw Jones, Russell Martin, Alex Rodriguez, Ichiro Suzuki, Nick Swisher (twice), and Mark Teixeira (thrice). The Yankees have had nine players with a multi-homer game a bunch of times over the years. My guess is some other team in baseball history has had ten players with a multi-homer game. Maybe one of those mid-to-late 1990s/early-2000s Indians or Mariners teams?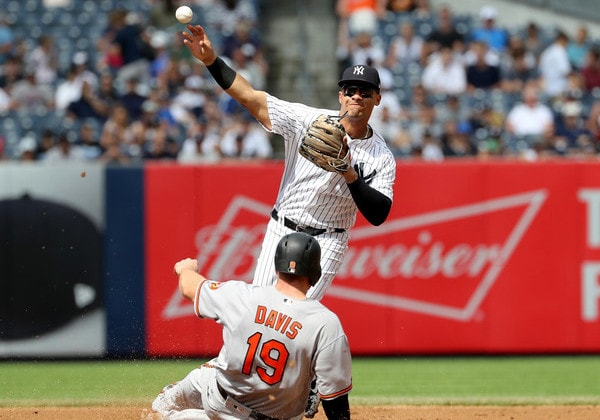 Steve asks: Hot damn. Torres can play some short huh? I know having Didi out of the lineup is no fun, but Torres can pick it. They clearly have two everyday young MLB shortstops in Didi and Torres. Here's my question: which scenario are the Yankees best to go with: trade Didi and shift Torres to short. Trade Torres for a needed upgrade and sign/promote a second baseman. Or keep them both, and have a hell of a young SS, 2b, and 3b???
If you're doing to trade one, trade Didi before Gleyber, clearly. Gregorius is a year away from free agency and he's several years older, and I think you could argue Torres is the better hitter right now. Let's just say, hypothetically, the Yankees decide to trade Gregorius over the winter and shift Gleyber to short. The best free agent second base options this winter will be Asdrubal Cabrera, Brian Dozier, DJ LeMahieu, and Jed Lowrie. And maybe Daniel Murphy if you're willing to live with terrible defense. I guess it ultimately depends what you get in a trade for Gregorius? One year of Didi for one year of Miles Mikolas, maybe? Then sign Lowrie? My hunch is Gregorius at short and Gleyber at second with a free agent pitcher is the best way to go.
Matt asks: I haven't looked at who caught what games, but at what point do we start to notice that with Gary Sanchez around in the first half, Luis Severino was amazing. With Gary Sanchez on the DL almost the entire second half, Luis Severino has been a mess. When does that get explored?
Severino has been considerably better with Sanchez (2.67 ERA and 2.57 FIP) behind the plate than he has with Austin Romine and Kyle Higashioka (3.62 ERA and 3.20 FIP), and, in fact, the pitching staff as a whole has been better with Gary behind the plate this year.
with Sanchez: 3.50 ERA (3.48 ERA), 27.4 K%, 8.2 BB%
with Not Sanchez: 3.80 ERA (3.59 FIP), 26.1 K%, 8.2 BB%
I have joked about Severino needing Sanchez on Twitter and whatnot, but I don't honestly believe Severino's slider suddenly went to crap because he had Romine and Higashioka behind the plate rather than Sanchez. Perhaps Gary would be better able to help Severino through his struggles and get him to right the ship, but I don't think losing Sanchez has directly led to Severino's issues. There seems to be something larger at play here. Whatever it is, it sure would be swell if it all went away once Sanchez returns. Would be kinda funny given the narratives about Gary.
Stan asks: Was checking in on the prospects traded in the past year+. Wondering if Yankees regret trading Taylor Widener? He's continued to improve and may stick as a starter.
I don't think they regret it. They've got a bunch of Widener types in the system as it is with Mike King, Garrett Whitlock, Trevor Stephan, Nick Green, Erik Swanson, and Nick Nelson. They're all cut from the same cloth. Widener has had a fantastic season in Double-A this year (2.68 ERA and 3.00 FIP) and I'm not sure why the Diamondbacks haven't moved him up to Triple-A, but whatever.
In their midseason top ten D-Backs prospects list (subs. req'd), Baseball America says Widener's "slider and change-up have the chance to be average pitches," and he "has some effort in his delivery, leading some to wonder if his future might be in relief." Same basic scouting report as last year. Still working to gain consistency with those secondary pitches. The Yankees seem to pull a pitching prospects like Widener out of thin air, that second tier guy with great results and okay secondary pitches. I'll never have an issue with trading guys like this for MLB help.
Several asks: Is it possible the Yankees said Aaron Judge would return to game action in three weeks for trade leverage?
It's possible, sure. Usually when teams downplay an injury in an effort to retain leverage, they're a bit more vague. "We expect him back soon," or something like that. Giving a hard three-week timetable suggest to me the Yankees truly believed Judge would be ready for game action and on his way back three weeks out from injury. If you say three weeks and it turns out wrong, you've kinda killed your leverage in trade talks going forward. You look desperate after a player misses his return date. Judge got hurt in late July. The three-week timetable would've given the Yankees leverage for the first half of August and then crushed it for the second half of August. I think the Yankees were just overly optimistic and underestimated how long it would take Judge to heal.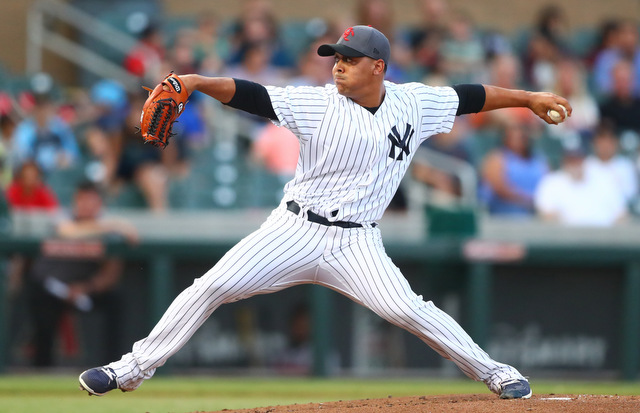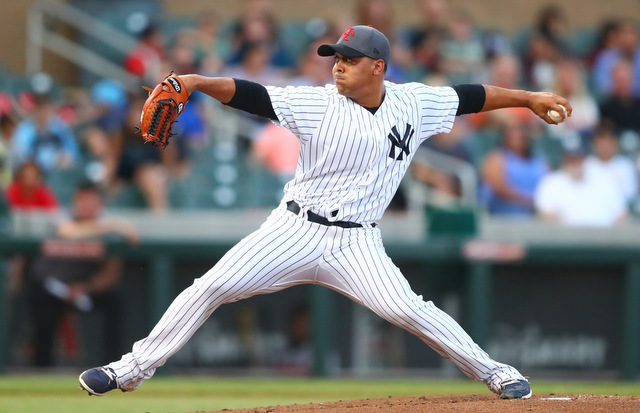 Can asks: Can you explain the rules about players needing to be on the roster before September 1st to be postseason eligible? Does that refer to the active roster or the 40 man roster?
A player must be in the organization as of 11:59pm ET tonight to be postseason-eligible. He does not have to be on the 40-man roster. Just in the organization. From the MLB rules:
Players must be on the 40-man roster, the 60-day disabled list or the bereavement/family medical emergency list as of midnight ET on Aug. 31 to be eligible for their respective clubs' postseason rosters. Consequently, players that are acquired via September trades or signed as free agents in September are ineligible for postseason play.

Clubs can petition the Commissioner's Office to add any player that was not on the 40-man roster as of Aug. 31 — provided the player was in the organization on Aug. 31 and is replacing a player who has spent at least 60 days on the 60-day disabled list.
The Royals added Brandon Finnegan to the 40-man roster on September 1st, 2014, and were able to carry him on the postseason roster as an injury replacement for Michael Mariot. The requirement here is that the player added to the 40-man must replace a player who has been on the 60-day DL at least 60 days. It can't be a last minute injury replacement. From what I understand, a position player must replace a position player and a pitcher must replace a pitcher. Trying to mix and match is pretty much the only way MLB will reject the petition.
Because of this rule, the Yankees can call Justus Sheffield up at any point in September and still carry him on the postseason roster. They don't have to add him to the 40-man roster today. It can wait. Same with Stephen Tarpley or Quintin Berry or any other non-40-man roster player they call up in September. Jordan Montgomery, Jacoby Ellsbury, and Ben Heller all satisfy the "on the 60-day DL at least 60 days" requirement, so that's three potential postseason roster spots for players not on the 40-man roster by midnight tonight.
Nick asks: Does the Payroll calculation you do assume player incentives will be reached? At this point of the year it seems pretty clear some of those wont be hit. CC likely will not get to 165, that would put $1.5M back on the table for a waiver trade. Makes the idea of Donaldson or McCutchen seem more attainable. There are others too – Walker, DRob, and Lynn seem like the obvious ones that will leave some incentive bonuses on the table.
I do include incentives and bonuses in my luxury tax payroll estimation. That's money that has to be earmarked. Imagine working so hard to get under the $197M luxury tax threshold only to have it blown up when someone reaches an innings based bonus or an ALCS MVP bonus? Ouch. Here are the team's known playing time bonuses:
CC Sabathia: $500,000 each for 155, 165, 175, and 185 innings.
Neil Walker: $125,000 each for 425, 450, 475, and 500 plate appearances.
Lance Lynn: $1M each for 170 and 180 innings.
A few others have bonuses for awards finishes. Sabathia is at 131.1 innings and he has about six starts to go. The bonus for 155 innings is well within reach and he could reach the bonus for 165 innings too. That's $1M against the luxury tax right there. Lynn is at 134 innings right now and that $1M bonus for 170 innings is possible, but unlikely, I think. Neil Walker went into last night's game with 339 plate appearances, and if he continues to play every day in September, he should be able to reach 425 plate appearances. Maybe even 450.
Now that we're getting late in the season, it's easier to look at the bonuses and assume some of them won't be met. Sabathia's not going to reach 175 innings, which saves $1M. Lynn won't reach 180 innings, which is another $1M. Walker is unlikely to get to 450 plate appearances, and that's another $375,000. That might not like seem like much, but Walker not reaching those last three bonuses pays for two or three September call-ups. While some bonuses can't be ignored — Stanton could win ALCS and World Series MVP and that's $750,000 against the luxury tax — it does seem like the Yankees can stop worrying about a few of the playing time bonuses, and I'm sure they are well aware of that.