Well that'll be an easy one to forget. Sometimes you just get your butt kicked and the Yankees got their collective butts kicked Friday night. The winning streak was bound to end sometime. It ended after four games. The Rangers won the second game of this four-game series 12-7 on Friday night.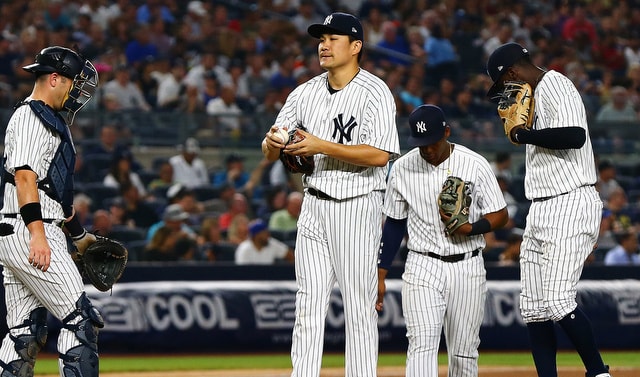 TANAK'd Out
Masahiro Tanaka's string of 14 straight unbeaten starts is over. He was fighting his location right from the very first pitch Friday night. Tanaka threw a first pitch ball to each of the first three batters he faced and fell behind in the count 2-0 to two of those three batters. He did managed to get through three innings unscathed, though he needed 53 pitches to do it.
The crummy location caught up to Tanaka in the fourth inning. Tanaka allowed a leadoff single to Elvis Andrus, then left a slider up in the zone to Adrian Beltre, who deposited it into the short porch for a two-run home run and a 2-0 lead. Bad pitch to a good hitter equals a two-run deficit. Two batters later Tanaka hung a splitter to Ronald Guzman and he too hit it into the short porch to give Texas a 3-0 lead.
The wheels really came off in the fifth inning, which started with back-to-back walks. Tanaka walked No. 9 hitter Drew Robinson and No. 1 hitter Shin-Soo Choo. I can understand walking Choo. He does that a lot. Robinson though? Yuck. Andrus sliced a double into the right field corner to score both runs and the rout was on. The Rangers took a 5-0 lead. Guzman hit another solo homer in the sixth as well.
Tanaka's final line: 5 IP, 6 H, 6 R, 6 ER, 3 BB, 2 K, 3 HR on 96 pitches. Why did Aaron Boone send Tanaka out for the sixth? I have no idea. Tanaka labored in the fifth, his pitch count was approaching 100, and Guzman had taken him deep earlier in the game. I so hate going batter-to-batter, especially with a struggling starter. Tanaka's previous four or five starts had been quite good. Hopefully this was just a bump in the road and not a sign that good run is ending.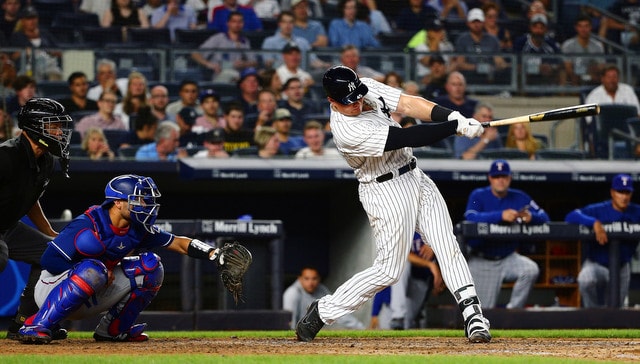 Enough Runs to Win
I suppose the good news is the Yankees did not go down quietly. Mike Minor shut them down across the first four innings, holding the Yankees to one soft line drive single (Austin Romine) and an infield single (Didi Gregorius). Brett Gardner swatted a solo home run in the fifth, though by then the Rangers had built a 5-0 lead. Hey, if you're going to attempt a comeback, you have to start somewhere, right?
Minor's night came to an end in the sixth, when Miguel Andujar drove in a run with a ground rule double and Luke Voit brought home a pair with a single to left. Texas had stretched the lead to 9-1 going into that inning, so all Andujar and Voit did was get the Yankees to within 9-4. Romine added a solo homer in the seventh for the team's fifth run. He has seven homers this season. He hit seven homers total from 2011-17.
The Yankees added two more runs in the eighth inning on another Romine base hit, this one a little inside-out single just fair inside the first base bag. Gregorius and Andujar opened that inning with back-to-back singles and were dangerously close to being stranded before Romine's two-out, two-strike knock. Seven runs on ten hits and two walks? The offense did its part.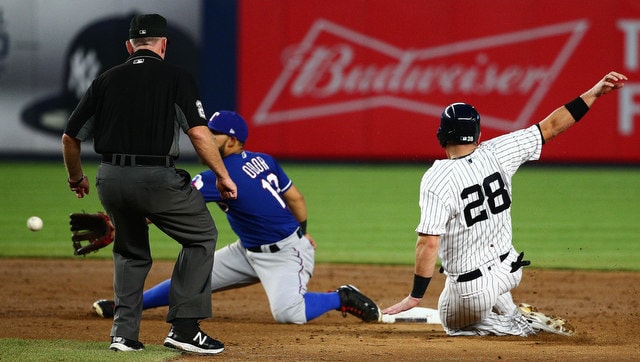 Death by Bullpen
It seems the clock has struck midnight on A.J. Cole. Lefties were hitting .305/.397/.655 against him going into this game, then five of the eight lefties he faced reached base. Texas scored one run against Tanaka and three runs against Cole in that sixth inning, plus one more run against Cole in the seventh to turn this one into a laugher. Cole has allowed eight runs in his last four appearances and seven innings. He allowed two runs in his first 21.2 innings as a Yankee. Don't mind me, I'll just be missing Adam Warren over here by myself.
Chad Green, who continues to mess around with a changeup (four among his 21 pitches), allowed two runs on three hits in the eighth inning. Even with three scoreless outings in his previous three games, Green's allowed nine runs in his last 12 games and 12 innings. Yeesh. Zach Britton walked a batter in an otherwise clean ninth. Struck out the side too. Twelve runs (ten earned) to the Rangers? Gross.
Leftovers
The Yankees scored seven runs even though the 1-2-3 hitters (Aaron Hicks, Giancarlo Stanton, Gleyber Torres) went a combined 0-for-12 with three walks and three strikeouts. The other six hitters in the lineup went 10-for-25 (.400) with two strikeouts. Gregorius and Romine each had three hits. Andujar had two. He's up to .292/.326/.501 (122 wRC+) on the season. Pretty awesome.
And finally, for the second time in eight days, a player had three home runs against the Yankees. Steve Pearce did it last Thursday. Guzman did it Friday. Two against Tanaka and one against Cole. He is the first player in history to hit a home run in each of his first four career games against the Yankees. Guzman against the Yankees this year: Six homers in four games. Guzman against everyone else: Six homers in 83 games. Clean it up, fellas.
Box Score, WPA Graph & Standings
MLB has the video highlights and ESPN has both the box score and updated standings. Here's our Bullpen Workload page and here's the loss probability graph:

Source: FanGraphs
Up Next
The Yankees and Rangers will continue this four-game series Saturday afternoon, weather permitting. That's a scheduled 1pm ET start, though there is rain in the forecast. We'll see. Lance Lynn and Drew Hutchison will be the starting pitchers for that game.