This was very much one of those 50-something forgettable games each team is going to lose each year. Never once felt like the Yankees' night. The Rays won 6-1 on Wednesday. Go win the series tomorrow.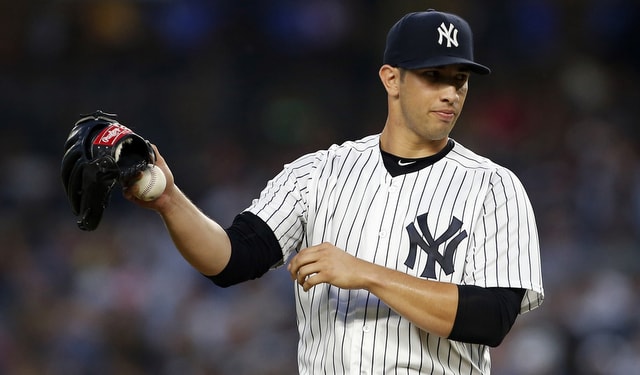 Not Even Four & Fly
Didn't take long for the CC Sabathia injury to hurt the Yankees. Luis Cessa, Sabathia's replacement, got rocked for five runs in 3.1 innings Wednesday night. Hard hit ball after hard hit ball after hard hit ball. Cessa allowed 13 balls in play and eight checked in an exit velocity north of 95 mph. Four were over 100 mph. Slap-hitting Mallex Smith even crushed a second deck home run. Not a good night at all.
Despite all that hard contact, Tampa scored their first run on a bloop single, naturally. Kevin Kiermaier doubled to left and Brandon Lowe brought him with a little jam shot bloop inside the left field foul line in the second inning for a 1-0 lead. Two singles and a walk loaded the bases with no outs in the third inning, then a hard-hit grounder to second and a line drive single drove in two more runs. Add in Smith's two-run homer and there's the five runs.
Cessa's final line: 3.1 IP, 7 H, 5 R, 5 ER, 2 BB, 4 K, 1 HR on 65 pitches. He turned in good starts against the Orioles (six scoreless innings) and Rays (two runs in 5.1 innings) a few weeks back, but the last two starts have been terrible. Hopefully Sabathia does indeed miss just the one start with his knee issue, because no one wants to see Cessa again. At least not until they've clinched all they can clinch.
One Token Run
Sleepy night for the offense. The Yankees scored their only run on Miguel Andujar's latest home run. His fifth in the last nine games. Andujar also ripped a long fly ball that was caught at the wall by a leaping Kiermaier, and looped a double along the right field line. Could've easily been a three extra-base hit night for Andujar if not for the Kiermaier catch. Miguel's still awesome. What a ballplayer.
The Yankees had their best chance to make this a game in the fourth inning, when they loaded the bases without putting a ball in play. Didi Gregorius worked a leadoff walk, Greg Bird worked a one-out walk, and Neil Walker was hit by a two-strike pitch with one out. The Yankees were in business. Then Austin Romine stuck out on three pitches and Ronald Torreyes hit a tapper maybe ten feet and was thrown out. That was that. Quiet bats the rest of the night.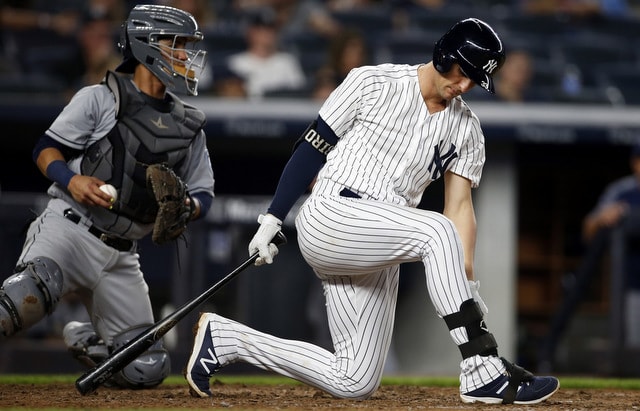 Leftovers
Shout out to Sonny Gray for soaking up 3.1 innings in mop up duty. He needed 75 pitches to get ten outs, but who cares. Gray had to eat innings and he did. I imagine he would've remained in the game longer had he not thrown 25 pitches Sunday. Jonathan Holder struck out both batters he faced and Chad Green retired all four batters he faced. The bullpen: 5.2 IP, 4 H, 1 R, 3 BB, 5 K. Gave the offense a chance to get back in the game.
Only five hits for the Yankees. Andujar had his homer and the double. Giancarlo Stanton doubled and Brett Gardner and Aaron Hicks each had a single. Gardner, Gregorius, Bird, and Walker each drew a walk. Walker also got hit by a pitch. That's about it for the offense. The Yankees could really use another bat. I'm not sure what's taking so long.
Box Score, WPA Graph & Standings
ESPN has the box score, MLB has the video highlights, and ESPN has the updated standings. Here's our Bullpen Workload page and here's the win probability graph:

Source: FanGraphs
Up Next
The Yankees and Rays wrap up this three-game series Thursday afternoon. That is a 1pm ET start. Masahiro Tanaka and Blake Snell will be on the mound for the matinee.