The disaster series continues. Four straight losses overall — first time all season the Yankees have done that — including three straight to the Red Sox, effectively ending any chance at an AL East title. Yeah, there's 50-something games to play and seven head-to-head, so it's not over, but it's time to focus on the wild card. Maybe the Yankees can climb back in the race and make that final series of the season at Fenway Park meaningful. For now, this series has been extremely one-sided. A depantsing, this series has been. Saturday's final score was 4-1 Red Sox.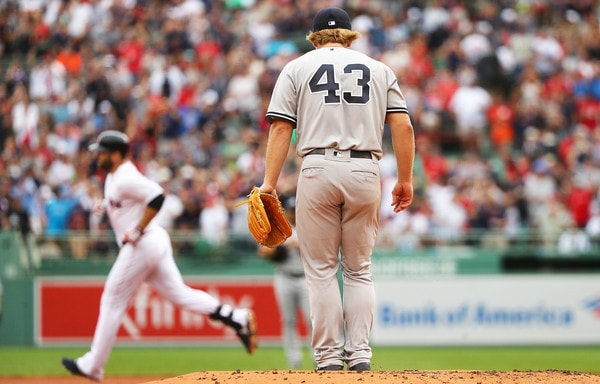 Chance's Debut
Very nice big league debut for Chance Adams. He wasn't great by any means, but first MLB start in Fenway Park against that offense? I'd have signed up for three runs in five innings in a heartbeat going into the game. Adams did allow some hard contact — the Yankees and their splendid shifting bailed him out a few times — and he only generated three swings and misses with his 83 pitches, but the overall results were positive.
The Red Sox jumped out at an early 2-0 lead on an Andrew Benintendi broken bat bloop to center and a Mitch Moreland two-run home run over the bullpens in right field. Adams left a slider up a bit and Moreland golfed it out. Rather than let things snowball into a disaster start, Adams settled down and retired the next nine batters. That string ended when J.D. Martinez turned on an inside heater for a solo homer and 3-0 lead.
Adams was mostly fastball/curveball Saturday, which is interesting because all through the minors he was billed as a fastball/slider guy. The breakdown:
Fastball: 60 thrown (92.7 mph average and 94.4 mph max)
Curveball: 18 thrown (78.1 mph average and 81.3 mph max)
Slider: 4 thrown (83.3 mph average and 83.8 mph max)
Changeup: 1 thrown (84.9 mph)
Maybe a few of those curveballs were sliders misclassified by Statcast? There's a bit of a gap in velocity, so maybe not. Or maybe Adams and Austin Romine stayed away from the slider after Moreland went deep on the pitch? Eh, whatever. The fastball/curveball approach largely worked. I reckon we'd have seen more changeups if Adams had been allowed to go through the lineup a third time.
The final line: 5 IP, 3 H, 3 R, 3 ER, 1 BB, 2 K, 2 K on 83 pitches. It seemed Adams had enough gas in the tank for another inning, but Aaron Boone got him out of there rather than let him go through the lineup a third time, and I am totally cool with that. Good debut for Adams. Not great, not terrible. About as good as I would've hoped. He showed some gumption and rebounded well after the early homer.
A Late Rally
The Yankees need Aaron Judge and Gary Sanchez back like yesterday. The offense has vanished. Two runs, six hits, and three walks total in the last two games. Nathan Eovaldi followed Rick Porcello's 86-pitch complete game with eight shutout innings on 93 pitches. Neither Porcello nor Eovaldi threw more than 16 pitches in an inning. Only twice did they throw more than 13. For real.
It wasn't until the ninth inning, against Craig Kimbrel, that the Yankees finally put up a fight. They were lifeless for 17.2 innings before Giancarlo Stanton slammed a two-out double to dead center field. Didi Gregorius brought him home with a ground-rule double over the short wall in right so hey, the Yankees had a run! No shutout! A moral victory. I kinda assumed it would end there, but they kept going.
Five-pitch walk to Aaron Hicks to bring Gleyber Torres up as the tying-run. Seven-pitch walk to Torres to load the bases and bring the go-ahead run to the plate. Earlier in the inning home plate umpire Phil Cuzzi rung up Neil Walker and Brett Gardner on two called strike threes out of the strike zone …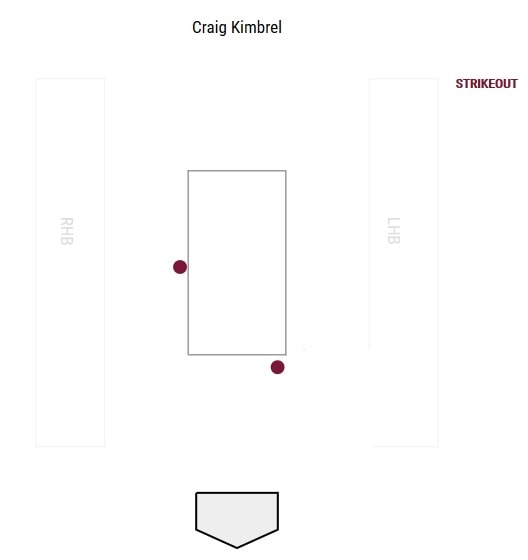 … and both guys gave him the business. Really would've been nice if Aaron Boone got on Cuzzi as well, but Walker and Gardner did, and suddenly those close pitches were called balls for Hicks and Torres. Coincidence? Probably! But maybe not. Either way, the Yankees had the bases loaded with two outs and Greg Bird, a hitter very capable of putting a ball in the seats, at the plate.
As many hitters will do, Bird sat on a fastball after the back-to-back walks and gave it his A-swing on the first pitch. Unfortunately the pitch was down below the zone — clearly ball one — and he fouled it away. Alas. I like the idea — after back-to-back walks to load the bases, that first pitch fastball is often the best pitch you'll get to hit because the pitcher wants to throw a strike — but it didn't work out.
Bird saw two fastballs out of the zone after that, meaning ten of Kimbrel's previous 15 pitches had been out of the strike zone. The 2-1 was a knuckle curveball at the knees that Bird lifted to center for a lazy fly ball to end the game. Almost a carbon copy of his fly out to end the ALCS last year. Kinda fitting, because this loss and this series more or less closes the book on the Yankees' division title chances.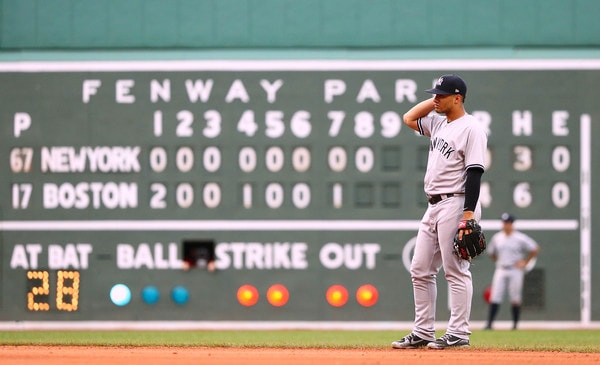 Leftovers
I just do not understand the obsession with A.J. Cole. I mean, I get it, I know he's been good, but he faced four left-handed batters and three reached base. The fourth hit a ball to the warning track in center field. Going into the game lefties were hitting .289/.383/.647 against Cole this year and .294/.381/.542 in his career. Dude is a right-handed specialist all the way. Three straight two-out hits (two by lefties, of course) gave the Red Sox an insurance run in the seventh inning. The third hit was initially called foul, then the Red Sox challenged and Sandy Leon was awarded a run-scoring double. Never seen that before. No one played it out and they assumed a run-scoring double.
Chad Green threw the sixth inning and looked better than he has at any point in the last month or so. Three up, three down, two strikeouts. Interestingly enough, Green threw two sliders and three changeups among his 13 pitches, and two of the changeups generated a swing and miss. First time in his big league career he's thrown three changeups in an outing, and that includes his 2016 stint as a starter. Huh. The fastball has been getting hammered recently. My guess is we'll see more changeups (and sliders) from Green going forward.
It's easy to forget after the ninth inning, but the Yankees did absolutely nothing offensively against Nathan Eovaldi. Three hits and one walk in eight innings, with just one runner making it as far as second base. From the first inning Friday through the eighth inning Saturday, the Yankees did not have a runner reach third base aside from Miguel Andujar's homer against Rick Porcello. Hopefully the ninth inning is a sign the bats are coming around.
The top three spots in the lineup (Brett Gardner, Stanton, Gregorius) went a combined 4-for-12 (.250). The rest of the Yankees went 1-for-18 (.056) with three walks. Too much Austin Romine and way way way too much Shane Robinson. He's started four of the last eight games now. What the hell is that? Maybe Stanton is nursing something, lots of guys are this time of the year, but this is the biggest series of the season. Play your A-lineup all four games and rest dudes against the White Sox next week.
Box Score, WPA Graph & Standings
ESPN has the box score, MLB has the video highlights, and ESPN has the updated standings. Here's our Bullpen Workload page and here's the loss probability graph:

Source: FanGraphs
Up Next
The merciful end of this four-game series. The Yankees can salvage the series with a win in ESPN Sunday Night Baseball's Masahiro Tanaka vs. David Price matchup, but the damage has already been done. The Red Sox are in complete control of the AL East.