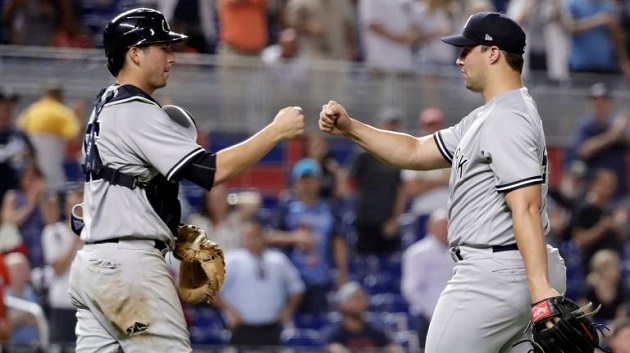 The Higgy and Miggy Show
The Yankees survived a bizarre game on Tuesday, somehow pulling out a 2-1, 12-inning victory in a game that neither team seemed interested in winning. The Marlins and Yankees combined to go 1-for-20 with runners in scoring position, and fittingly, the winning run was scored on an out.
The Yankees improved to 19-12 in games decided by one run, surpassing their win total from last year (18-26). They also improved to 7-5 in extra-inning contests; the last time they had a winning record in extras while playing at least 10 games was 2009 (7-3).
Masahiro Tanaka tossed six solid innings and his only mistake was a splitter he left up in the zone that Austin Dean clobbered for his second career home run. That was only extra-base hit and run Tanaka allowed, who has been pitching like an ace over the last two-plus months. Since June 8, he has a 2.75 ERA in nine starts, the best in the rotation and a top-20 mark among MLB starters in that span.
The game-winning RBI was — unsurprisingly — delivered by Miguel Andujar, who clubbed an elevated four-seamer deep enough into the outfield for — yet another non-shocker — a bases-loaded sac fly. These tweets below need no introduction:
Yankees 47th sac fly of season, the most in MLB

— Katie Sharp (@ktsharp) August 22, 2018
Miguel Andujar has 25 PA with man on 3rd and less than 2 outs, and runner has scored 18 times (72%).

MLB avg is 50%

— Katie Sharp (@ktsharp) August 22, 2018
And because we can never give enough fun facts about Mr. Andujar, here's one that earns our Obscure Yankeemetric of the Series: Since sacrifice flies were first recorded in 1954, Andujar is the only Yankee to hit a go-ahead bases-loaded sac fly in the 12th inning or later on the road. Congrats, more history!
Miggy was only able to be the hero because of two outstanding late-game Houdini performances with the winning run 90 feet away. Chad Green put runners on the corners with no outs in the ninth, and escaped without allowing a run; A.J. Cole loaded the bases with no outs in the 11th, and escaped without allowing a run. Yup, teams usually plate at least one run most of the time in those situations:
| Situation | At least 1 Run Scored | Avg Runs Scored |
| --- | --- | --- |
| 1st and 3rd, 0 outs | 84.6% | 1.7 |
| Bases Loaded, 0 outs | 83.6% | 2.3 |
Finally, we get to most unlikely part of the game, the ending: with Tommy Kahnle going for the save, Kyle Higashioka nailed Isaac Galloway trying to swipe second base for the final out. Consider that before Tuesday …
Higashioka had only one caught stealing (out of 16 total attempts) in his career
Kahnle had been on the mound for 14 stolen base attempts in his career, and only once had a guy been thrown out
Oh, and the last time the Yankees won a game on a caught stealing as the final out, this happened (September 13, 2011 vs Mariners):
The end of Lynn-sanity
The Yankees four-game win streak was snapped in ugly fashion against the Marlins on Wednesday night. They jumped out to a 2-0 lead but somehow ended up on the wrong side of a lopsided 9-3 score, falling to a last-place team on pace for 97 losses. The Yankees split their four games with the Marlins this season; they outscored them 14-2 in the two wins and were outscored 18-4 in the two losses.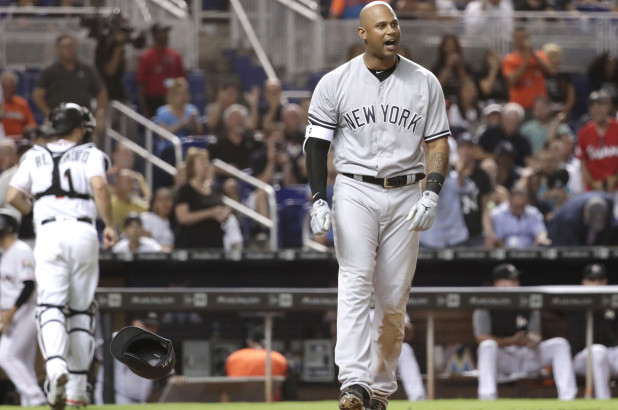 Lance Lynn held the Marlins scoreless through the first five frames but then imploded in the sixth, coughing up five runs on five hits in the frame before getting pulled. This was Lynn's eighth start with five-plus runs allowed this season, tied for the third-most in the majors; only Dylan Bundy (9) and Danny Duffy (10) have more. His 104th pitch of the night was a game-changing three-run dinger that turned a 2-1 Yankees lead into a 4-2 deficit, the first home run he gave up as a Yankee.
Lynn was a pinstriped hero after his first three games with the team, but his last two starts have been … well, it's not what you want:
Lance Lynn as a Yankee

| | IP | Runs | WHIP |
| --- | --- | --- | --- |
| Last 2 Games | 9.1 | 10 | 2.04 |
| First 3 Games | 16.2 | 1 | 0.96 |
Neil Walker drove in two of the three runs and added to our favorite underrated stat of the season when he hit a bases-loaded sac fly in the sixth. It was the Yankees MLB-leading 48th sac fly of the season, putting them on pace for 61. That would be the sixth-most in a single season in franchise history (sac flies became an official stat in 1954) and the most since 1997 (70).