Was that the worst good game of the year or the best bad game of the year? I think it's the latter. Two rookies helped the Yankees outlast the Marlins in 12 innings in Tuesday night's series opener at Marlins Park. The final score was 2-1. The Yankees are a season high 33 games over .500 at 79-46.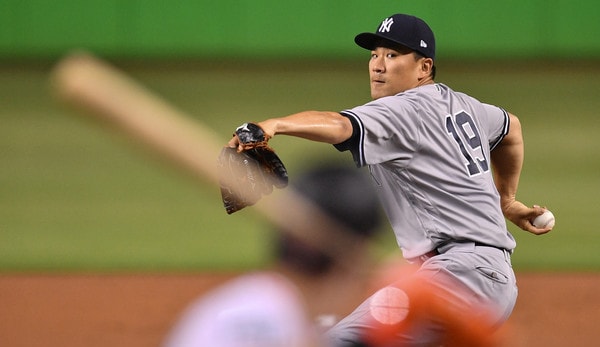 Tanaka Survives Without The Splitter
Considering he didn't have his trademark splitter at all, this was a very good outing for Masahiro Tanaka. He did allow the #obligatoryhomer — Tanaka had not allowed a home run in three of his previous five starts — when Austin Dean touched him up for a fifth inning solo shot. At least it was a solo homer. Those won't kill you. Dean's dinger was the only run Tanaka allowed in his six innings.
A pickoff and a line drive double play allowed Tanaka to pitch around a first inning leadoff walk and a second inning leadoff single, respectively. Two singles put runners on the corners with one out in the fourth, and Tanaka escaped that thanks to Greg Bird. Bird fielded Derek Dietrich's grounder and threw home to get the lead runner. It looked like Bird had a chance for the inning-ending 3-6-3 double play, but cutting the runner down at home is never a bad idea.
Tanaka's final line: 6 IP, 4 H, 1 R, 1 ER, 1 BB, 4 K, 1 HR on 82 pitches. There was definitely enough gas in the tank for another inning, but, thanks to the magic of interleague baseball, Tanaka's lineup spot led off the seventh inning, so he was removed for a pinch-hitter in a 1-1 game. Love that strategy. Anyway, here are Tanaka's splitter locations: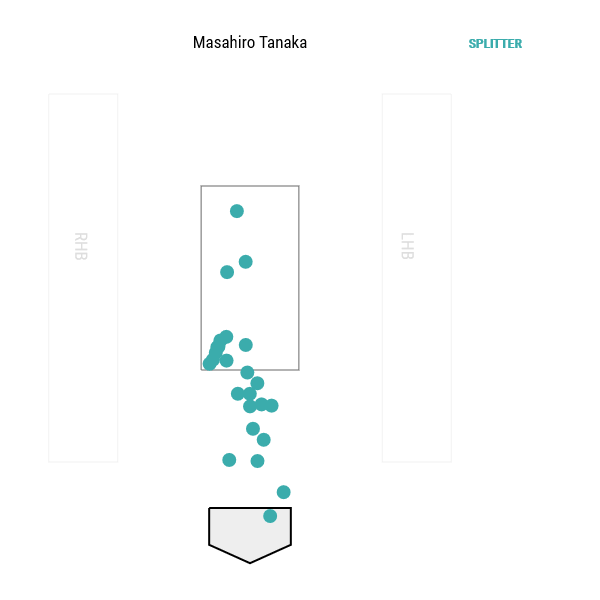 Dean's homer is the second splitter from the top. Generally speaking though, Tanaka did keep his splitter down Tuesday night. It was too far down though. Lots of splitters in the dirt for easy takes. The splitter wasn't working for him, so Tanaka relied heavily on his slider, throwing 34 of them among his 82 pitches, or 41.5%. That is his fourth highest slider usage rate in a start this season. Tanaka made it work though.
One Early Run
The Yankees had plenty of baserunners against Marlins rookie righty Pablo Lopez. The only problem is most of them were singles and free bases. Mixing in an extra-base hit or two would've done wonders. The Yankees put nine men on base in Lopez's six innings: Six singles, one walk, one hit batsman, and one double. They had three singles and a hit batter in the span of five batters in the fourth inning, and only scored one run. At least they didn't hit too many homers.
That fourth inning is when the Yankees scored their only run against Lopez. Miguel Andujar poked a single to right to start the inning, Gleyber Torres lined a one-out single to left that Dean nearly caught — replays confirmed it was indeed trapped — then Neil Walker blooped a single to right to score Andujar. Walker went way down to get this 3-2 changeup: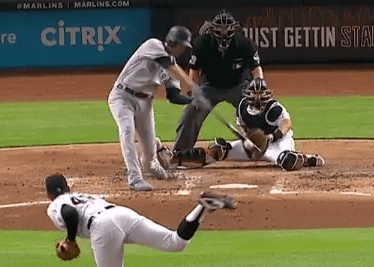 Giancarlo Stanton doubled to start the fifth inning — he hit the ball so hard I thought it was going to go through the chain-link portion of the left field wall — and the Yankees couldn't get him home, partly because Andujar hit a line drive right at second baseman Starlin Castro with one out. A one-out single in the first was wasted, as was back-to-back two-out doubles in the third. Annoying.
The 12th Inning
Extra innings were pretty eventful. Not once, but twice the Yankees escaped a bases loaded, no outs situation without allowing a run. Chad Green struck out two and got a ground out to strand the bases loaded in the ninth. A.J. Cole struck out two and got a foul popup to strand the bases loaded in the 11th. Incredible. The Marlins are bad, man. They're real bad. Still, great work by Green and Cole.
The Yankees finally broke through in the top of the 12th. Kyle Higashioka started the inning with a leadoff single, the team's first base hit to the outfield since Stanton's leadoff double in the fifth. (Brett Gardner reached on an infield single in the seventh.) Gardner walked to push Higashioka to second, then Aaron Hicks took a pitch to the triceps to load the bases. Andujar, who had that go-ahead extra innings single against the White Sox a few weeks ago, came through again, this time with a sacrifice fly to left field. The Yankees took a 2-1 lead.
Aroldis Chapman entered the game with a one-run lead in the bottom of the 12th and his outing lasted six pitches. He walked the leadoff man, threw a first pitch ball to the next batter, then called for the trainer. He exited the game because his left knee is acting up again. Sigh. One injury after another. The bullpen was empty at this point. The only two relievers available were Tommy Kahnle and Sonny Gray, and Gray threw 41 pitches Sunday, so I'm not sure he was really available.
In came Tommy Tight Pants and wouldn't you know it? He closed it out even with his reduced velocity. Rafael Ortega flew out to left for the first out, then Kahnle perfectly painted the down-and-away corner with a changeup to strike out J.T. Realmuto. The final out? Higashioka threw Isaac Galloway out stealing second. For real. Great throw by Higashioka but also a great (and quick) tag by Torres Walker.
The Marlins of course challenged the play and replays confirmed Galloway was indeed out. Good time for the second caught stealing of Higashioka's big league career, eh? Runners had been 15-for-16 (94%) stealing against him in his young MLB career. Kahnle gets the save when Higashioka threw a runner out stealing second base. The way we all expected tonight's game to end, I'm sure.
Leftovers
Big ups to the bullpen. Green, Cole, Kahnle, Zach Britton, Dellin Betances, and Jonathan Holder all threw scoreless innings. The combined bullpen line: 6 IP, 3 H, 0 R, 5 BB, 9 K. A few too many walks (one of them was intentional) but otherwise that'll work just fine, thank you very much. Also, why didn't David Robertson pitch? His shoulder is a little tender, that's why. He was held out of the game as a precaution and expects to be available Wednesday.
Stanton's homecoming went fairly well. He went 2-for-6 with a single and a double, both of which were very hard hit. Stanton also struck out three times. Walker and Torres each had two hits, and Walker added two walks as well. He's been pretty good for a few weeks now. The Yankees have needed him to be too given all the injuries. Gardner (single, two walks) reached base multiple times and stole a base.
And finally, brutal game for Greg Bird at the plate (he did cut the runner down at home in the fourth), who went 0-for-6 with three strikeouts and saw only 19 total pitches in his six at-bats. He's down to .206/.296/.403 (88 wRC+) on the season. I know he hit the two homers over the weekend, but at some point Bird has to do more than have a good game here and a good game there.
Box Score, WPA Graph & Standings
ESPN is the place to go for the box score and updated standings, and MLB has the video highlights. Here's our Bullpen Workload page and here's the jumpy win probability graph:

Source: FanGraphs
Up Next
The Yankees and Marlins will wrap up this quick two-game interleague series Wednesday night. Veteran righty Lance Lynn and rookie righty Trevor Richards are the scheduled starting pitchers for the Yankees' final game without the DH until the World Series.