As has been the case far too often this season, the Yankees played a crummy rebuilding team Tuesday night and it was difficult to tell the two teams apart. At least they were able to eke out a win. The Yanks outlasted the White Sox in 13 innings for a 4-3 win to clinch the series victory.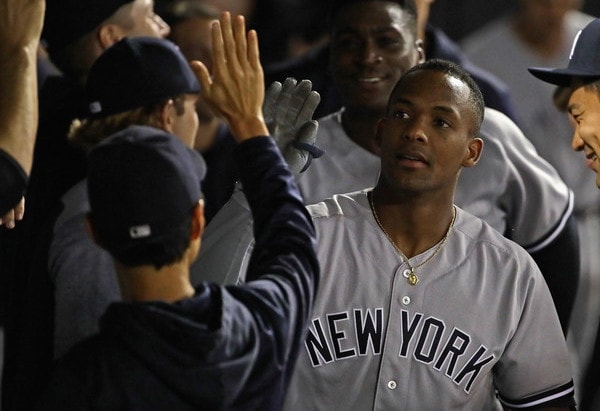 The Lucky 13th Inning
Let's skip to the end. The Yankees and White Sox were tied 3-3 in the 13th inning thanks to events that will be explained in a little bit. White Sox manager Rick Renteria seemed to mix-and-match himself into a corner with his bullpen in that 13th inning. He was running out of arms and he used righty Jeanmar Gomez to face one batter, Giancarlo Stanton, to start that 13th inning. Gomez got Stanton to pop-up and that was that. His night was over.
In came lefty Luis Avilan, who walked Didi Gregorius and then had to face three consecutive righties. Avilan against righties this year: .284/.360/.439. Hmmm. Avilan did strike out Gleyber Torres for the second out of the inning, so that worked out. He couldn't put Luke Voit or Miguel Andujar away though. Voit pulled a ground ball single to left and Andujar lined a single to left to score Gregorius for a 4-3 lead. Matching up in extras caught up with the White Sox and put the Yankees at the platoon advantage in that 13th inning. Hooray.
At this point, new long man Sonny Gray had already been in the game two innings. He tossed a 1-2-3 11th and wiggled out of some trouble in the 12th. The game was in his hands. The only guys left in the bullpen were A.J. Cole (32 pitches Monday) and Aroldis Chapman (39 pitches Sunday), and Chapman was obviously unavailable. That's why Zach Britton got the save chance in the tenth. It was all Sonny, for better or worse.
The bottom of the 13th was stress-free. Well, it was after Daniel Palka chased a 2-0 pitch out of the zone and grounded out to third for the first out. Had he kept the bat on his shoulders, I'm pretty sure Gray would've walked him to start the inning. Gray struck out the next two batters to end the game and let out a pretty good scream and fist pump after the final out. Been a crap year for Sonny. Live it up. You did good, dude.
"I think everyone in here was fired up for Sonny. That was huge for us," said CC Sabathia afterward.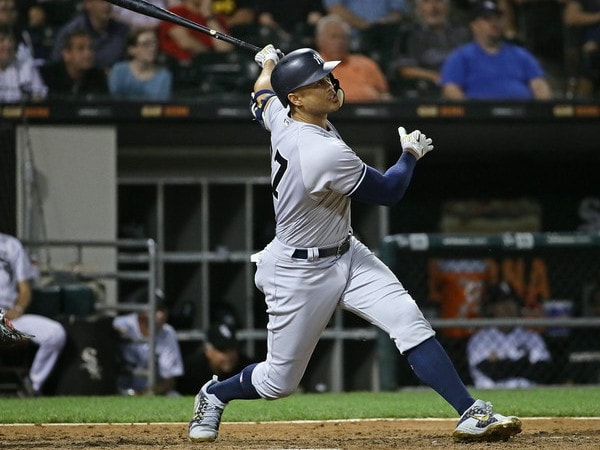 Three Dingers, But Only Two Count
Getting really sick of Adam Engel, you guys. The White Sox center fielder stole a home run away from a Yankee for the second straight night. Monday night he took a two-run homer away from Greg Bird. In this game he took a solo homer away from Kyle Higashioka. Would've tied the game 1-1 in the fifth. Because that wasn't annoying enough, the Yankees had runners on the corners with no outs and the 3-4-5 hitters due up in the sixth and did not score. Pop-up, pop-up, strikeout. Sigh.
The Yankees finally got on the board in the seventh inning and there was nothing Engel could do about it. Reynaldo Lopez, who held the Yankees without a hit through five innings, left a first pitch fastball right out over the plate, and Miggy Mantle ain't gonna miss that. Andujar tied the game with a solo tater. Two batters later Higashioka doubled to right, but the Yankees couldn't bring him home. This offense, man. There are Aaron Judge and Gary Sanchez-sized holes in the lineup right now.
Nine straight Yankees made outs against the vaunted White Sox bullpen after the Higashioka double. It wasn't until the Brett Gardner worked a one-out walk with one out in the tenth — a one-out walk in which ball four was probably a strike — that the Yankees put another man on base. That set Giancarlo Stanton up for the go-ahead two-run home run. To the action footage:
Look at that swing. Wasn't a terrible pitch! Giancarlo took a lunging off-balance hack that would normally produce a weak fly ball to right field. Maybe a bloop single. He crushed it into the right-center field seats. Also, I'm glad Stanton pimps his home run. Judge is too humble. They have a good balance. Stanton's seventh home run in the ninth inning or later this season — that's the most in baseball, by the way — gave the Yankees a 3-1 lead.
Another Blown Save
For the second time in three days, one of the club's high-profile closers blew a multi-run lead against the Sox. It was Chapman coughing up a three-run lead to the Red Sox on Sunday. On Tuesday, Britton blew a two-run lead against the White Sox. He got the save opportunity in the tenth inning because Chapman threw 39 high-stress pitches Sunday. Shouldn't be a problem! Britton is an accomplished closer and it's a two-run lead against the lowly White Sox.
Instead, a hit-by-pitch and two wild pitches gave the ChiSox a runner on third with two outs. The runner at third is no big deal. That guy doesn't beat you. The question was this: Do you intentionally walk Jose Abreu and put the tying run on base? Abreu is pretty much Chicago's only good player, but, the on-deck hitter, Daniel Palka, does have 17 homers in 79 games this year. Walk Abreu and Palka could end the game with one swing.
You know what happened. The Yankees went with the "don't put the tying run on base intentionally" strategy, Britton left a sinker up in the zone, and Abreu walloped it into center field for a game-tying two-run home run. Only the fourth home run the sinkerballer has allowed since Opening Day 2016 and the first home run he's ever allowed in extra innings. The SuperBullpen hasn't been so super lately.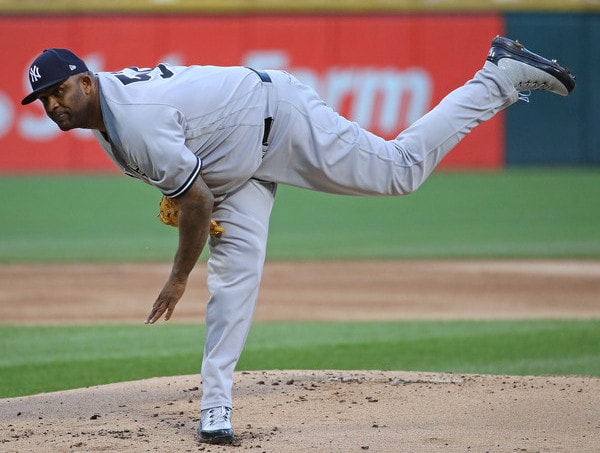 Sabathia's Strikeouts
Against the team with the highest strikeout (25.6%) and swing-and-miss (12.6%) rates in baseball, Sabathia set new season highs in strikeouts (12) and swings and misses (22) on Tuesday night. In fact, the 22 swings and misses are the second most by a Yankee this season. Domingo German had 26 against the Rays on June 14th. It is Sabathia's second double-digit strikeout game of the season and his first 12-strikeout game since 2016.
Sabathia, like Lance Lynn on Monday, ran into some early pitch count issues early on Tuesday. It didn't help that the offense had a five-pitch inning in the top of the third, meaning Sabathia had about three minutes of rest after throwing 28 pitches in the second. He started that third inning with a four-pitch left-on-left walk to No. 9 hitter Omar Narvaez, then a double to left by Avisail Garcia and a Jose Abreu sac fly gave the ChiSox a 1-0 lead.
Following that Garcia double, Sabathia retired ten of the next 13 batters he faced, and two of the three baserunners reached on a walk and a bunt single. Ryan LaMarre's ground-rule double ended Sabathia's night with two outs in the sixth. His line: 5.2 IP, 4 H, 1 R, 1 ER, 3 BB, 12 K on 103 pitches. Much better than last time out, obviously. The last two times out, really. The White Sox will swing and miss a bunch and he took full advantage. Good work, CC.
Leftovers
The bullpen was excellent aside from Britton. Chad Green, David Robertson, Dellin Betances, and Jonathan Holder got the ball to Britton and Gray picked up the slack afterward. The non-Britton relievers: 6.1 IP, 1 H, 0 R, 2 BB, 8 K. And, despite playing 13 innings, the bullpen should be in good shape Wednesday because none of those guys pitched Monday. Green, Robertson, Betances, and Holder should all be available. Maybe Chapman too.
Three hits for Andujar, two hits for Stanton, and one hit apiece for Aaron Hicks, Higashioka, and Voit. Gregorius had two walks while Torres, Bird, and Gardner had one each. The Yankees went 2-for-11 with runners in scoring position and I have no idea how they had that many at-bats with runners in scoring position. Sure didn't feel like it. Fortunately Andujar came through in the 13th.
Box Score, WPA Graph & Standings
Go over to ESPN for the box score and updated standings and MLB for the video highlights. Here's our Bullpen Workload page and here's the unnecessarily jumpy win probability graph:

Source: FanGraphs
Up Next
The seven-game road trip and three-game series with the White Sox end Wednesday night. The Yankees don't get getaway days, apparently. Luis Severino and Lucas Giolito are the scheduled starters for the series finale at … checks notes … Guaranteed Rate Field? Huh.