They don't all have to be pretty. In fact, they're rarely pretty these days. But a win is a win, and that's all that matters. The Yankees did all they could to give Saturday's game away before walking away with a 5-3 win over the Rangers. They are back to 30 games over .500 at 73-43.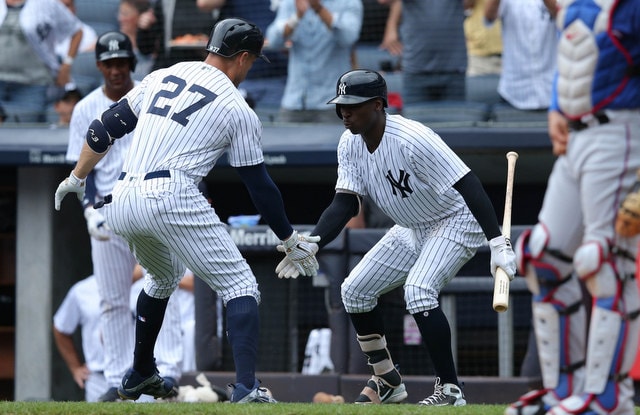 Two Runs Early, One Run Late
Four years ago Drew Hutchison started Opening Day for the Blue Jays on the same Yankee Stadium mound he toed Saturday. Things have gone south for him since then. He's bounced from the Phillies to the Dodgers to the Rangers this year and went into this game with 17 runs and 44 baserunners allowed in 24.1 big league innings this year. His fastball averaged 90.3 mph Saturday. Hard to believe this is the same guy who started Opening Day in 2014.
Anyway, the Yankees jumped out to an early 2-0 lead thanks to a Giancarlo Stanton home run — Stanton turned it loose in a 3-0 count and lined a dinger out to left — as well as a Greg Bird double. Bird split the right-center field gap. He had two doubles Saturday after picking up one extra-base hit in his previous 61 (!) plate appearances. Goodness. Miguel Andujar beat out an infield single and scored on Bird's double. The Yankees took a 2-0 lead …
… and then Hutchison settled down. Maybe "settled down" is overselling it, because the Yankees did put five men on base in innings two through five, but none of them scored. Four of the five reached on walks. The one hit was a soft single to center by Gleyber Torres. How annoying. Hutchison went into this start with a 6.29 ERA (6.90 FIP). He exited with a 6.07 ERA (6.93 FIP). Still bad! But better.
It wasn't until the sixth inning that the Yankees broke through for an insurance run. Bird doubled to right and scored on Neil Walker's single to left. Walker against a lefty! He's hitting .174/.224/.283 (35 wRC+) against lefties this year and, prior to Saturday, he had ten plate appearances total against lefties since the All-Star break. Walker has been terrible against lefties so the Yankees have limited his time against them, understandably. He came through with a run-scoring base hit there.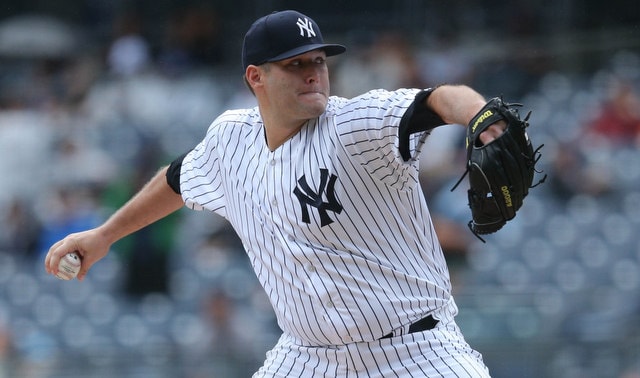 Five Strong Innings For Lynn
So far, so good with Lance Lynn. He held the Rangers to one run in five innings in his third game (second start) as a Yankee on Saturday afternoon, and although he needed 99 pitches to throw five innings, give me quality over quantity. A couple long at-bats early in the game shortened his outing. That's alright though. Lynn has allowed one run in 16.2 innings in pinstripes so far.
The Rangers got their run against Lynn in the third inning and it started with a Shin-Soo Choo hustle double. The Yankees can't get Choo out. I mean, he's hitting .277/.391/.479 (136 wRC+) this season, so every team has struggled to get him out, but the guy has been on base ten times in three games this series. Good grief. Choo dunked a ball into center field and hustled it into a double. Shane Robinson's throw beat him to the bag, but it was off-line, so a double it was.
A ground ball to move the runner over and a flare single to right by Elvis Andrus got the run in. Aside from that run, Lynn was able to strand a leadoff single in the first, a one-out double and a two-out walk in the second, a two-out walk in the fourth, and a one-out walk in the fifth. Lynn struck out Adrian Beltre to end that fifth inning and showed a little emotion as he walked off the mound. Dude seems happy to be back on a contender.
Lynn's final line: 5 IP, 5 H, 1 R, 1 ER, 3 BB, 8 K on 99 pitches. Among those 99 pitches were 34 four-seamers, 27 two-seamers, and 23 cutters. That is 84 fastballs among 99 pitches, which is more or less identical to his 87.2% season average. Lynn and J.A. Happ are now a combined 28.2 innings into their Yankees careers and thus far neither has adopted the team's anti-fastball approach. I approve. Stick with what works. They're fastball pitchers. Let 'em eat.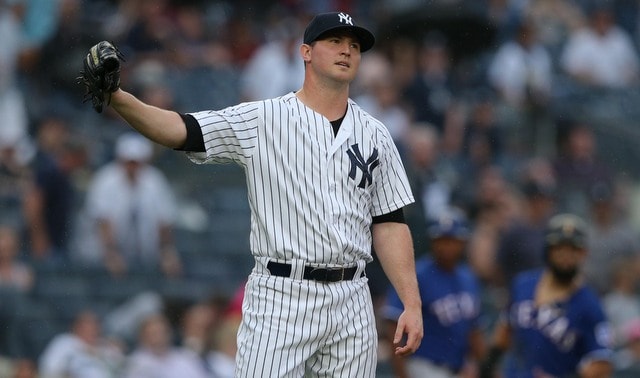 All With Two Outs
What an stupid rally in the seventh. Zach Britton came on with a 3-1 lead, got two quick ground ball outs, then the third ground ball was hit too weakly and the Yankees couldn't turn it into an out. Once the high hop got passed Britton, it was over. Neither Didi Gregorius nor Torres had a chance at the play. Fine whatever. Then Britton got another ground ball, this one a seeing-eye single to right field.
Britton went from two quick outs to two two-out baserunners on ground balls. Stupid, but that's baseball. The reliever needs to get the last out of the inning. Britton couldn't. He walked Rougned Odor on five pitches to load the bases, then fell behind in the count 3-0 on Adrian Beltre. Britton was able to battle back to run the count full, but the sixth pitch was in the dirt, and the walk forced in a run. Second time Britton has walked in a run with the Yankees already. He had three bases loaded walks in 516.2 innings with the Orioles. Sigh.
So the Beltre walk forced in a run and brought Dellin Betances into the game. Betances can be wild himself and bringing him into a based loaded situation is not ideal, but I'm not sure what else Aaron Boone is supposed to do there. David Robertson had already pitched. Jonathan Holder? Nah. Gotta take your chances with Betances. Dellin balked in the tying run. Not walked. Balked. Rougned Odor got him to flinch while dancing off third base.
What an annoying inning. Infield single, grounder with eyes, walk, walk, balk, all with two outs. Not sure I could come up with a more annoying game-tying rally than that. Britton is up to six walks in 6.1 innings with the Yankees after walking ten in 15.2 innings with the Orioles. In fact, since coming back from his forearm strain last year, he has a 12.1% walk rate. It had been 7.1% prior to the injury since he became a full-time reliever. Britton is like Betances and Aroldis Chapman. He doesn't need perfect location. But he needs to be around the zone more often than he has been.
Miggy of the Year
I've been amateurishly blogging about baseball for more than a decade now and I've been crushing on prospects for much longer. Nick Johnson and Drew Henson were my first real prospect crushes. Like any other diehard, I've fallen in love with countless prospects over the years and most of them broke my heart, because that's how it works with prospects. I've gone through it so much that when one of those prospects hits, it feels like a million bucks.
Miguel Andujar makes me feel like a million bucks. If you've been reading RAB long enough, you know I've been on this kid for years now, since before his breakout 2016 season. Now he's in the big leagues socking dingers and making an impact. Yeah, I wish he walked more and I wish he was better defensively, but home runs like this make it all worth it:
The winning swing. pic.twitter.com/CwTDr07OVH

— New York Yankees (@Yankees) August 11, 2018
The bullpen blows it in the most annoying way possible, then Andujar comes to the rescue with a go-ahead two-out two-run opposite field home run in the next half inning. Former Yankee Chris Martin left a first pitch fastball up in the zone and Miggy Mantle doesn't miss those. His 17th home run of the season is a new career high. He hit 16 between Double-A, Triple-A, and MLB last year.
So far this month Andujar is 14-for-43 (.326) with four home runs in eleven games, and he has five multi-hit games. He has multiple hits in four of his last five games. The kid is up to .296/.329/.511 (126 wRC+) on the season. So awesome. I dunno if he'll win Rookie of the Year, but he has as good a chance as anyone. Also, Stanton set that two-run home run up with a rocket single to center field. Imagine where the Yankees would be without him these last few weeks.
Leftovers
The rain really started to come down in the ninth inning and Aroldis Chapman eventually nailed down the save, but not before loading the bases. Walk, strikeout, single, pop-up, hit batsmen, strikeout. Normally I'd blame the rain for Chapman's crummy location. He's been fighting it for a few weeks now though. At least he wiggled out of the jam this time. Phew. Betances retired all four batters he faced and Robertson retired all three.
Two hits for Stanton (single, homer), two hits for Andujar (single, homer), and two hits for Bird (doubles). Torres and Walker each had a single. Stanton, Gregorius, Kyle Higashioka, and Shane Robinson drew the four walks. Only three strikeouts too. In fact, the Yankees have struck out 12 times total in the first three games of this series. It works out to an 11.0% strikeout rate. Not coincidentally, the Rangers have baseball's lowest strikeout rate (17.9%).
And finally, Walker's first day in right field went … okay. He missed on a dive attempt in the second — Statcast had the catch probability on that ball at 33%, so it wasn't routine — and made a catch on the run in the gap. Walker looked like an infielder playing the outfield, basically. With Stanton's hamstring still tight, we're going to see more of Walker in right field, I reckon.
Box Score, WPA Graph & Standings
For the box score and updated standings, go to ESPN. For the video highlights, go to MLB. Here's our Bullpen Workload page and here's the win probability graph:

Source: FanGraphs
Up Next
The Yankees and Rangers wrap up this four-game series Sunday afternoon. That's a 1pm ET start. There is more rain in the forecast though. We'll see how that goes. Southpaws CC Sabathia and Martin Perez are the scheduled starting pitchers.