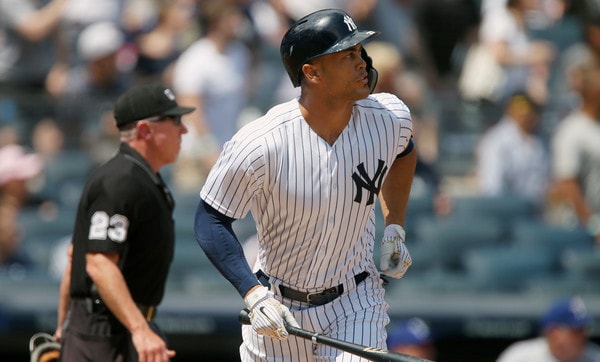 Over the last month or so — we could go back even further than that, really — the MVP caliber Giancarlo Stanton has shown up. He's hitting .313/.365/.580 (150 wRC+) since July 1st and he's swatted five home runs in his last seven games. Go back to May 1st, and Stanton is hitting .296/.358/.562 (144 wRC+) with 25 home runs in 89 games. He's been awesome since a yucky start to the year.
The Yankees have needed Stanton to be that impact MVP caliber bat the last few weeks because Aaron Judge and Gary Sanchez have been out injured, robbing the team of right-handed power, their calling card. Judge is one of the top position players in the world. There is no replacing him. The Yankees have needed others to raise their game to pick up the slack, and Stanton has done it.
Making Stanton's recent dominance even more impressive is the fact he is playing at less than 100%. He's been nursing a tight left hamstring for a week or two now. Stanton insists it's nothing — "It's good. The training staff has been helping me out a lot and just making sure I'm ready to produce still," he said to Mandy Bell over the weekend — but the injury has prevented him from playing the field the last few days.
"The one good thing is he's been able to maintain this and play through it," said Aaron Boone to Bell. "I feel like we've had some really good, honest dialogue back and forth, kind of checking every day and every night after the game with him. So maybe in a perfect world, we'd be able to grab him a day here, but we also feel like putting him out there — we wouldn't put him out there if we didn't feel good that he was okay to go."
As Boone said, in a perfect world the Yankees would give Stanton a few more days off to lighten the load on his hamstring, or maybe even give him a ten-day breather on the disabled list. That perfect world involves Judge and Sanchez being healthy, and probably Clint Frazier as well. It also involves the Yankees having a big comfortable lead on a postseason spot, ideally the top spot in the AL East.
None of that is true though. Judge, Stanton, and Frazier are all hurt. The Yankees are six games up on a Wild Card spot (seven in the loss column) — FanGraphs puts their postseason odds at 99.8% — but there are still 44 games to play, and there's no reason to think the Athletics and Mariners will go down quietly. Also, the Yankees want to win the AL East. Laugh if you want, but they're not quitting.
"We're always hunting for the division," said Judge recently. "August just started. We've got August and September. A lot of crazy things have happened. For us, our goal has always been the division. It doesn't matter how many games we're back. We're going to keep fighting for that."
With Judge and Sanchez (and Frazier) out, and the postseason race far from over, the Yankees have little choice but to keep running Stanton out there with his tight hamstring. Consider the potential lineup without him:
LF Brett Gardner
CF Aaron Hicks
SS Didi Gregorius
3B Miguel Andujar
1B Greg Bird
2B Gleyber Torres
RF Neil Walker
C Austin Romine
DH Ronald Torreyes
Even with the exciting young players, that is way too 2013-ish for me. Stanton's tight hamstring limits him to DH at this point but it is a manageable injury. He's getting treatment and he's able to play, and hey, Stanton's done a good job making sure he doesn't overexert himself by socking so many dingers that he can simply trot around the bases rather than run hard. Smart move on his part.
The Yankees do have a pair of interleague games in Miami next week — that should be a fun homecoming for Giancarlo — and it's too early to know whether he'll be able to play the field in those two games. Can he do it for even six innings? Maybe start him, get him his three at-bats, then plug in a defensive replacement? Hopefully the hamstring will be good to go and he can play both games.
Otherwise, if he can't play the field, that series in Miami could be the break Stanton's hamstring needs to get back closer to 100%. The Yankees have an off-day Monday, then two games in Miami, then an off-day Thursday. If Stanton is limited to pinch-hitting duty against the Marlins, that's essentially four straight days off, something the Yankees can't give Giancarlo right now. Not having him in the lineup stinks, but, if he can't play the field and the DH isn't available, what can they do?
For now, the Yankees have been racking up wins against bad teams while shorthanded, and Stanton is a big part of that. He's been awesome lately. The Yankees can't really afford to take him out of the lineup right now because of the other injuries and the postseason race, which means he has to grind it out with a tight hamstring. The guy is putting up big numbers while playing hurt during an important stretch of the season. It's what an MVP does.