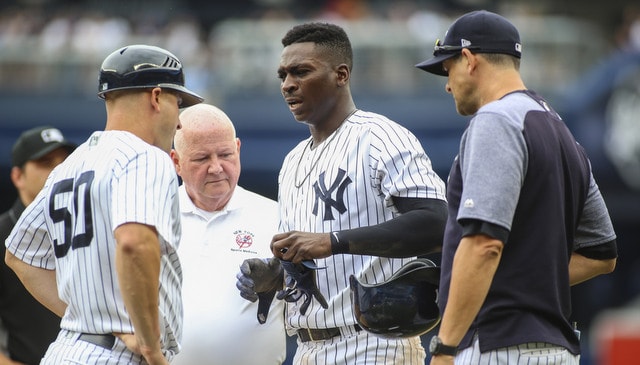 The Yankees will be without another key player for at least ten days. Today the Yankees placed Didi Gregorius on the 10-day DL with a left heel contusion, the team announced. The move is retroactive to yesterday, so Gregorius can return next Thursday. Luke Voit has been called up to fill the roster spot.
Gregorius suffered what Aaron Boone called a "pretty significant" bruise on his left heel following a collision with Kendrys Morales at first base Sunday. Didi went for tests which apparently showed no fracture. It's just a really bad bruise. Here's the play.
Gregorius joins Aaron Judge (wrist), Gary Sanchez (groin), and Clint Frazier (post-concussion migraines) on the disabled list, among others. You could easily argue three of the team's four best position players are on the disabled list right now. Not great, but what can you do? Next man up.
Since the end of his brutal May slump, Gregorius has hit .294/.347/.478 (123 wRC+) in 70 games. He's also hit .298/.375/.536 (147 wRC+) since Judge went down. Sir Didi is a very important player for the Yankees, both offensively and defensively. They have lots of infield depth, but losing him is a big blow.
Boone has already said he plans to shift Gleyber Torres over to shortstop while Gregorius is sidelined, with either Ronald Torreyes or Neil Walker taking over at second base. Giancarlo Stanton is expected to play right field the next two games, so I'd bet on Walker at second in the NL park the next two days. After that? Not sure. Walker in right and Torreyes at second seems like the best way to go.
I'm not sure I get the Voit call-up. The Yankees are tentatively scheduled to face only one left-handed starter in their next eight games — it could be two depending on what the Orioles do for Saturday's doubleheader — so he doesn't figure to play a whole lot. Tyler Wade seems like the more functional short-term bench piece. Well, whatever.