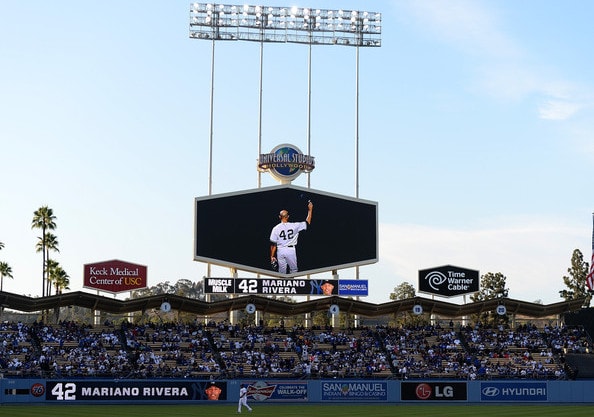 Details about the 2019 regular season schedule are starting to trickle in, and, according to Bill Shaikin, the Yankees will visit Dodger Stadium next season. The Yankees are due to play the NL West as part of the interleague rotation, though they didn't play in Los Angeles when they made their last jaunt through the NL West three years ago.
Only three times have the Yankees visited Dodger Stadium during interleague play. The Yankees dropped two of three in Chavez Ravine in 2004, won two of three in 2010, and split a two-game series in 2013. In the Yankees' last game at Dodger Stadium, Hiroki Kuroda and Clayton Kershaw had a pretty great pitchers' duel.
The Yankees and Dodgers of course have a rich history, including meeting in the World Series eleven times. They are far and away the most common World Series matchup in history. (Yankees-Giants is second with seven.) The Yankees beat the Dodgers in the World Series in 1941, 1947, 1949, 1952, 1953, 1956, 1977, and 1978. The Dodgers beat the Yankees in 1955, 1963, and 1981.
It is entirely possible these two teams will meet in the 2018 World Series, though that would require the Dodgers getting their act together these next six weeks. They're two games back in the NL West and 1.5 games back of the second NL wild card spot. And who knows, maybe next year's Yankees-Dodgers series in Dodger Stadium will be a homecoming for Kershaw, who can opt out of his contract after the season and potentially sign a massive deal with the Yankees. That'd be pretty weird.