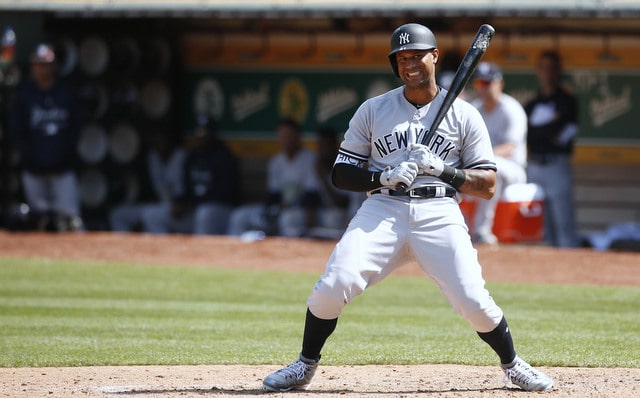 Four losses in the last six games and five losses in the last eight games now. The Yankees have hit a late season lull and badly need to snap out of it soon. They're going to leave this series in sole possession of the top wildcard spot no matter what. The only question is whether they'll be 1.5 games up, 3.5 games up, or 5.5 games up. I much prefer the latter.
J.A. Happ is on the mound tonight and he is looking to rebound from his worst start as a Yankee. The Tigers tagged him for five runs, including three home runs, in 4.1 innings last time out. He'd allowed four homers total in his first five starts and 30.1 innings in pinstripes. The A's are a pretty good lefty hitting team (106 wRC+). Happ's got his work cut out for him. Here are tonight's lineups:
New York Yankees
1. LF Brett Gardner
2. DH Giancarlo Stanton
3. RF Andrew McCutchen
4. CF Aaron Hicks
5. 3B Miguel Andujar
6. C Gary Sanchez
7. 2B Neil Walker
8. 1B Luke Voit
9. SS Gleyber Torres
LHP J.A. Happ
Oakland Athletics
1. SS Marcus Semien
2. 3B Matt Chapman
3. 2B Jed Lowrie
4. DH Khris Davis
5. RF Stephen Piscotty
6. 1B Matt Olson
7. LF Mark Canha
8. CF Ramon Laureano
9. C Jonathan Lucroy
RHP Liam Hendriks
Another perfect Bay Area night for baseball. Wish I was there. First pitch is scheduled for 10:05pm ET and you can watch on YES locally and MLB Network out-of-market. Enjoy the game.
Injury Updates: Didi Gregorius (heel) ran the bases again today and stood in the box during Masahiro Tanaka's bullpen session to track pitches … Aaron Judge (wrist) hit off the tee for a second straight day and reported no problems. Hooray for that. He also stood in and tracked pitched against Tanaka … Aroldis Chapman (knee) has resumed throwing. I know that because he posted a video of himself throwing on Instagram.
Awards!: Congrats to Andujar. He's been named the AL Rookie of the Month for August. He won it in June as well. In fact, Yankees have won eight of the last 13 AL Rookie of the Month awards dating back to August 2016 (Sanchez once, Torres, once, Andujar twice, Judge four times). Andujar hit .320/.344/.623 (157 wRC+) with ten homers last month.