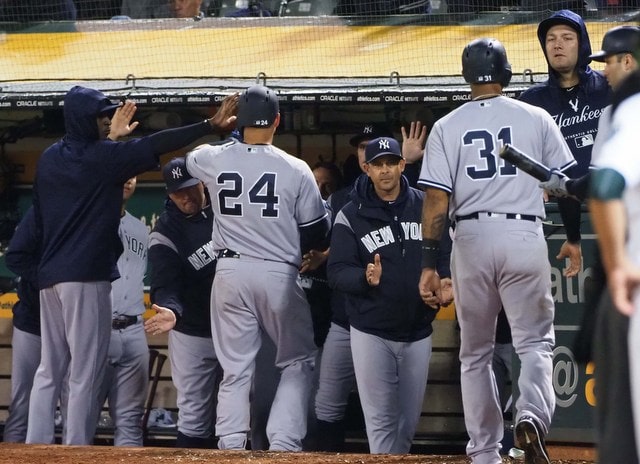 I don't know about you, but that series against the Athletics irked me all through the off-day. Pretty crummy series all the way around. At least it's over. The Yankees are now in Seattle for a three-game series against a Mariners team that managed to go from seven games up on a postseason spot to 5.5 games back of a postseason spot the last two and a half months. Ouch. Seattle is nine games behind the Yankees at the moment.
Masahiro Tanaka is on the mound and, at this point, the Yankees are basically holding open auditions for the Wild Card Game starter. On any given day the Wild Card Game starter will be the last guy who pitched well. Right now, it's J.A. Happ. With a strong start tonight, everyone will say it's Tanaka. I hope that is the case in a few hours. Here are tonight's lineups:
New York Yankees
1. RF Andrew McCutchen
2. DH Giancarlo Stanton
3. CF Aaron Hicks
4. C Gary Sanchez
5. 3B Miguel Andujar
6. 1B Luke Voit
7. 2B Gleyber Torres
8. SS Adeiny Hechavarria
9. LF Brett Gardner
RHP Masahiro Tanaka
Seattle Mariners
1. RF Mitch Haniger
2. SS Jean Segura
3. 2B Robinson Cano
4. DH Nelson Cruz
5. LF Denard Span
6. 1B Ryon Healy
7. 3B Kyle Seager
8. C Mike Zunino
9. CF Dee Gordon
LHP James Paxton
Chilly evening in Seattle and there are some showers in the forecast later on, so the Safeco Field roof is probably going to close at some point, if not before the game. First pitch is scheduled for 10:10pm ET and YES will have the broadcast. Enjoy the ballgame.
Injury Updates: In case you missed it earlier, Didi Gregorius (heel) has been activated off the disabled list, and the hope is he'll play tonight. Aaron Boone said they want to ease Didi back into things since he hasn't played any rehab games, and it sounds like the plan is to have him come off the bench once the tough lefty (Paxton) is out of the game. Gregorius will play tomorrow, but likely not the entire game. It's a rehab assignment at the big league level, basically … Aaron Judge (wrist) took another step forward in his rehab today. He hit off a tee and soft toss on the field today, and again everything went well. The wrist is essentially pain-free. "This is kind of what we've been waiting for the whole time," said Boone.
Roster Note: Sonny Gray has rejoined the Yankees. He missed the A's series because he was home with his wife, who gave birth to their second child earlier this week. Congrats to them.