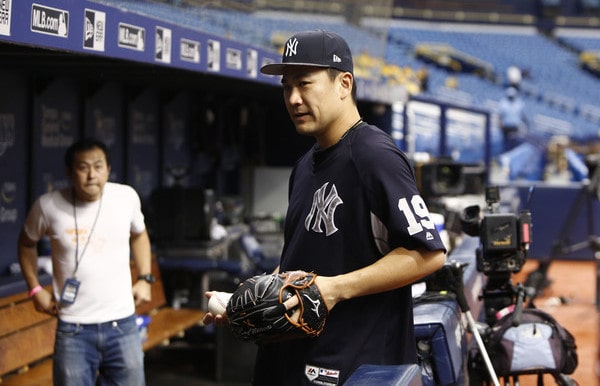 Yesterday was a good day. The Yankees won and the Athletics lost, which knocked the magic number for homefield advantage in the Wild Card Game down to two. Could clinch tonight! The Yankees need to Mariners to cooperate for that to happen though. Either way, we're locked into a Yankees vs. A's Wild Card Game now. It is official.
Masahiro Tanaka is making his final start of the regular season tonight and is looking to rebound following a tough start last time out. He's sitting on a 3.67 ERA (3.96 FIP) in 152 innings overall and he's been especially good in the second half, throwing 68.2 innings with a 2.62 ERA (2.81 FIP) since the All-Star break. This might be a Wild Card Game tune-up start tonight! Hopefully it goes well either way. Here are tonight's lineups:
New York Yankees
1. LF Andrew McCutchen
2. DH Aaron Judge
3. 1B Luke Voit
4. RF Giancarlo Stanton
5. 2B Neil Walker
6. 3B Miguel Andujar
7. C Gary Sanchez
8. SS Adeiny Hechavarria
9. CF Brett Gardner
RHP Masahiro Tanaka
Tampa Bay Rays
1. RF Mallex Smith
2. 3B Matt Duffy
3. 2B Joey Wendle
4. LF Tommy Pham
5. DH C.J. Cron
6. CF Kevin Kiermaier
7. SS Willy Adames
8. 1B Jake Bauers
9. C Nick Ciuffo
RHP Ryne Stanek
It is hot and sticky and rainy in St. Petersburg today. Sometimes the dome comes in handy. Tonight's game will begin 7:10pm ET and you can watch on YES. Enjoy the game.
Injury Updates: Didi Gregorius (wrist) saw the doctor today and was given the okay to resume baseball activities. Hooray for that. Gregorius hit in the cage and remains day-to-day. The hope is he can return to the lineup this weekend … Aaron Hicks (hamstring) ran on the treadmill and hit in the cage today. He expects to return to the lineup Friday … Gleyber Torres (groin/hip) is good to go and available today. Aaron Boone is giving him the proverbial one extra day to rest up.