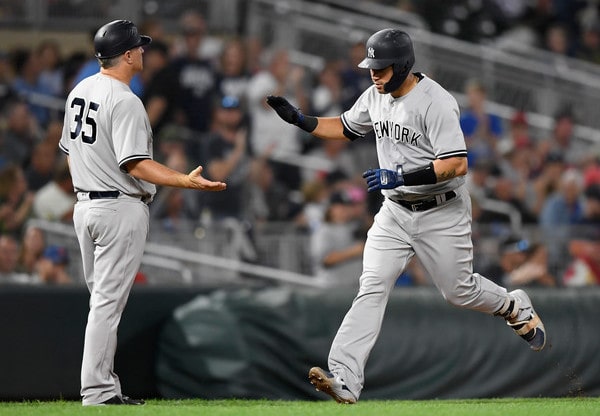 A while ago, I wrote a post about Gleyber Torres' relative struggles at the plate since he came off the DL. From that point on, he's taken off, hitting .321/.397/.481 (not including Saturday) since that post on August 19. I thought–optimistically–that maybe if I did the same thing for Gary Sanchez, which I did last week, maybe he'd hit a hot streak, too. Looks like lightning didn't strike twice. There's still a few games left, of course, but I'm not going to be holding my breath on a turnaround any time soon.
Last week, we took a look at the fact that Sanchez just isn't hitting the ball hard enough and is struggling against sliders and curves. Today, let's take a look at how Gary's plate discipline is doing.
Considering I started last week's post by pointing out his high walk rate, this seems ironic. At first glance, it may not seem a great place to start. In addition the the walk rate, according to his profile, his chase rate is down from last year's mark of 32.6 to 29.6. This is part of an overall trend, given that his swing percentage in general is down from 47.9 to 43.5. He's, seemingly, been more selective this year, swinging at fewer pitches both in and out of the zone. In general, selectiveness at the plate is something we want to see a player demonstrate–especially when he's seeing fewer pitches in the zone, as Gary is this year–but it hasn't quite worked out for Sanchez this year. The reason why might not be readily visible in his overall swing profile.
That swing profile is broad and general and won't differentiate between what good or bad pitches a player swings/doesn't swing at. A pitch in the zone is in the zone, regardless of if it's on the outside corner or right over the heart of the plate. Below are Gary's zone profiles from 2017 followed by 2018. The former will be used as a basis of comparison for the later.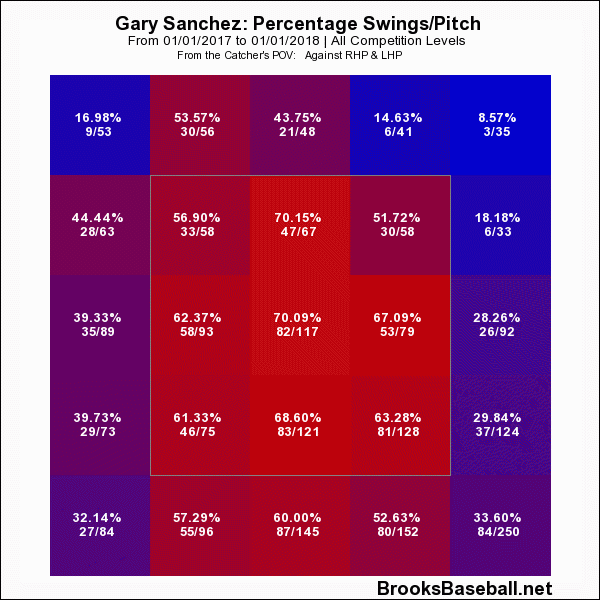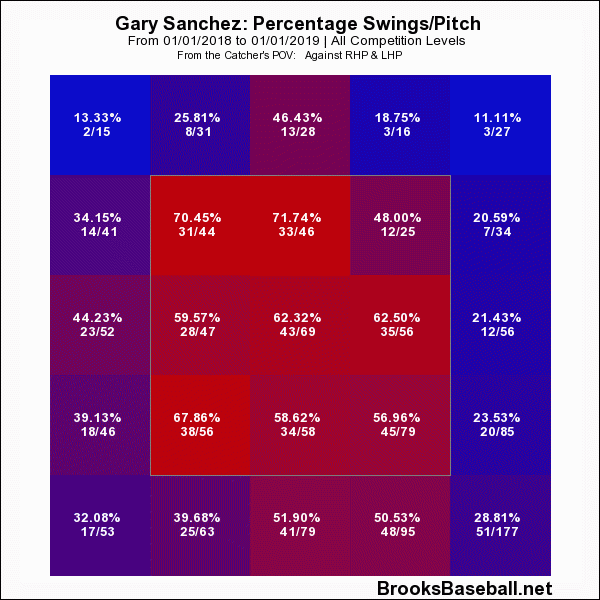 The first thing that sticks out to me is the middle of the zone, in, middle, and out. His swing rates on all three of those seemingly prime hitting locations has dropped by about 3%, 8%, and 5% respectively. Staying in the zone, but moving up, he's swung at the middle-up and up-and-in strikes much more frequently this year. Both of those pitch locations can be hard to handle and it's hard to get good lift on those balls to make them line drives or deep fly balls. Going back to the aforementioned Statcast swing profile, there's an interesting note there. Despite seeing a similar number of pitches labeled as 'meatballs' this year as he did last year,Sanchez has swung at 8.6% fewer 'meatballs' in 2018.
There have also been jumps in his swing percentage on balls just out of the zone up, middle and away. Again, hard pitches to get on top of and do damage with.
Conversely, the pitches down in the strike zone–where a batter could more easily lift and drive them–have seen fewer overall swings than they did last year. On the plus side, he's laid off the tempting pitches just below the zone, in, middle, and away.
So while Sanchez's overall swing profile tells a story of a hitter who's gotten more selective, when we look at it more closely, we see that his selectivity is being distributed to the wrong places. Obviously, injuries are a big part of why Sanchez's season has been a disappointment. But the 'misplaced' selectiveness and the general lack of hard contact help explain why it hasn't been a good season for Gary, even in times of health.