There are eight questions in this week's mailbag. You can send all your questions to RABmailbag (at) gmail (dot) com each week and I'll answer as many as I can.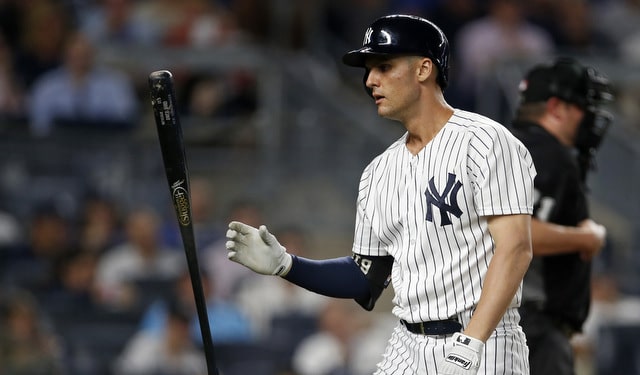 Yogi asks: How close are we to seeing Bird getting non-tendered this offseason? At what point do the Yankees determine he is a "change of scenery" guy and cut bait?
Not at all close to being non-tendered. If anything they'd tender him and trade him. Greg Bird will be arbitration-eligible for the first time this offseason and his raise won't be significant given all the injuries and career .212/.302/.433 (97 wRC+) batting line. C.J. Cron received $2.3M as a first year arbitration-eligible player last offseason and I don't see why Bird should receive anything close to that, let alone more. My guess is his salary falls in the $1M to $1.5 range next year. That's nothing. Keep him and send him to Triple-A next season — Bird has all three minor league options remaining — and make him show he's healthy and productive before giving him another shot in the big leagues. There's no reason to non-tender him when he could be stashed in Triple-A. No more guaranteeing Bird a job though. He has to earn it.
Chris asks (short version): Does Greg Bird even make the postseason roster?
My initial thought was yes, but, the more I think about, the answer very well might be no. The Yankees carried ten pitchers on the Wild Card Game roster last year, which means a six-man bench. I think Bird makes the six-man bench as a lefty bench bat who could maybe poke one into the short porch, assuming the Wild Card Game is in the Bronx. The Yankees carried 12 pitches on the ALDS and ALCS rosters last year. Does Bird make a four-man bench? Assuming Luke Voit starts at first and Andrew McCutchen starts in left, three of the four bench spots go to Austin Romine, Neil Walker, and Brett Gardner. That last spot is down to Bird (lefty bat), Adeiny Hechavarria (defensive replacement), Ronald Torreyes (utility infielder), and Tyler Wade (speedster). I'd probably take Bird among those four, but I don't feel strongly about it. Point is, Bird is not a safe bet to be on the ALDS roster should the Yankees win the Wild Card Game.
Michael asks: A while back there was an article on Fangraphs (you probably read it) about a trade of Sonny Gray for Tyler Chatwood. Do you think Chatwood could be an effective RP for the Yanks, and would that be shooting too low in a Sonny Gray trade this winter?
Here is Sheryl Ring's article on Gray-for-Chatwood from earlier this year. The general idea is sending Chatwood to the anti-fastball Yankees and Gray to the anti-anti-fastball Cubs would help both guys turn their seasons around. I fully expect the Yankees to trade Gray this winter, and it'll probably be for another change-of-scenery type, but I'm not sure Chatwood is the guy I want. The dude has a 5.30 ERA (5.59 FIP) with 17.5% strikeouts and 19.6% walks in 103.2 innings. That's 85 strikeouts and 95 walks in 103.2 innings. Eek.
That isn't to say Chatwood has no redeeming qualities. His 54.1% ground ball rate is strong and right in line with his career average (54.7%), and his trademark curveball continues to have an extremely high spin rate. He just doesn't use it much. Roughly 10% of the time the last two years. Chatwood has always had control problems — they were never this extreme, but the guy does have a career 12.0% walk rate — and he's owed $25.5M the next two years. Even if the Cubs eat some money, I'm not sure I want to bet on him suddenly learning how to throw strikes, especially when the plan is more curveballs. Chatwood's one of the few pitchers I wouldn't trade Gray for at this point.
Dan asks: Last year, Gary Sanchez made tons of trips to the mound, presumably to get on the same page with the pitcher. This year, with the new rule limiting trips to the mound, he obviously can't make as many. It seems like a lot of his passed balls are the result of being crossed up. Could this new rule be part of the reason why he is struggling defensively?
I hadn't thought about that but I suppose it's possible. We've seen Sanchez get crossed up a bunch this year, especially since he returned from the disabled list, and I suppose not being able to go out to the mound to talk things over could be a factor in that. Passed pitches (wild pitches and passed balls) are not up at all league-wide this year. There's one passed pitch every 19.9 innings this year. Last year it was every 19.7 innings. The year before it was every 19.9 innings. So yeah, same rate.
League-wide there has been no apparent increase on passed pitches due to the new mound visit rule. It doesn't mean it hasn't had any affect on Sanchez though. Fewer mound visits means less communication and it could be leading to more cross-ups and thus more passed pitches. Sanchez's blocking issues stem from poor technique more than anything. Add in fewer mound visits and it's just another thing he has to worry about it. Gary isn't a good blocker to start with. Mix in the potential for more miscommunication and bad things can (and have) happened.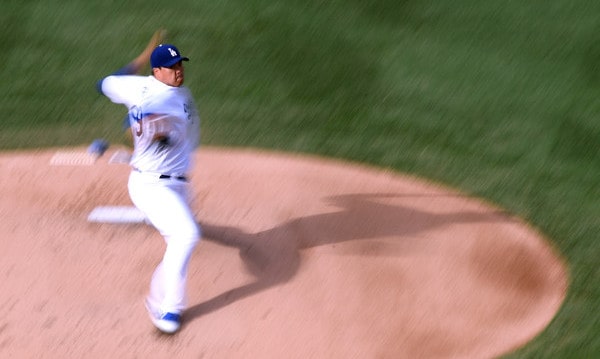 Paul asks: What about Hyun Jin Ryu as someone to pursue this offseason? Obviously a health risk but he's a lefty with good GB numbers.
Yes. I am a Hyun-Jin Ryu fan and have been since I read a scouting report that described him as the "Korean David Wells" back in the day. And that's pretty much exactly what he's been. A hefty lefty who's a bit goofy and fills up the strike zone. Ryu has a 2.18 ERA (3.01 FIP) with 27.9% strikeouts, 4.6% walks, and 45.4% grounders in 70.1 innings around a pretty serious groin injury this season. His overall career numbers (3.25 ERA and 3.41 FIP) are quite good as well.
Ryu turns 32 in March and the big concern here is injuries. He had very serious shoulder problems that caused him to miss the entire 2015 season and just about the entire 2016 season. His fastball velocity rebounded well after surgery, so that's good, but it's still a major injury and that's always a red flag. I dunno, I like Ryu. He's good, he's fun, and I don't think pitching in New York would bother him at all. What'll cost? Is he willing to play on the East Coast? I don't know. But I like the idea of pursuing Ryu.
Alessandro asks: What's your favorite Yankee near trade/signing that never happened? Maddux, Vlad, and of Cliff Lee come to mind.
Favorite? I'm not sure I'd call it my favorite, but the Cliff Lee non-trade is the biggest "what could have been?" transaction in my book. I was a little too young to understand what it meant to lose out on Greg Maddux (and Barry Bonds!) during the 1992-93 offseason. Passing on Carlos Beltran back in 2005 still irks me, and while I wanted Vlad Guerrero, the Yankees did end up with Gary Sheffield, so they didn't miss out too much.
The Lee non-trade in 2010 was brutal though. The Yankees and Mariners reportedly had a deal in place, then Seattle backed out claiming they didn't like David Adams' medicals, though it's been speculated the Mariners backed out after the Rangers agreed to include Justin Smoak in the trade. Either way, the Yankees had a deal in place for Lee, then it fell apart, and then he helped beat them in the 2010 ALCS. Gah. The Yankees were so good that year and the non-trade might've been the difference between an ALCS ouster and back-to-back World Series titles.
Gus asks: I saw Mike write that the Yankees had room under the cap to trade for Donaldson – but isn't that not the case if they decline Gardner's option and have to apply the buyout to this year's payroll? That seems likely to me.
Gardner's $12.5M club option for next year includes a $2M buyout and that buyout is guaranteed money. It's already baked into the average annual value (luxury tax hit) of his contract. If the Yankees decline the option, they have to pay him the $2M, but it doesn't get tacked onto their 2018 luxury tax payroll. If they exercise the option, Gardner's luxury tax hit is $10.5M next year, which is the $12.5M salary minus the $2M buyout they've already been charged. The Yankees had enough room to fit Josh Donaldson and his $1.3M salary (that's what the Indians are paying him) under the $197M luxury tax threshold. Gardner's buyout doesn't affect anything.
Anonymous asks: Is there anything in Voit's batted ball profile or spray chart that would lead you to believe that what he's done so far is sustainable over the course of a full season?
Well, he's not going to sustain a 42.3% HR/FB rate. I know that much. No one does that. The highest single-season HR/FB rate on record belongs to Ryan Howard (39.5% in 2006). Next highest? Aaron Judge last year (35.6%). Only 14 other players posted a 30% HR/FB rate or better going back to 2002, which is as far as publicly available batted ball data goes. So yeah, I wouldn't count on Voit maintaining this homer rate.
That said, Voit has done some very good things in his limited time as a Yankee. Going into last night's game he had a 37.9% ground ball rate and a 43.1% hard contact rate. He's hitting the ball hard and he's hitting it in the air, and when you do that, good things happen. The exit velocity and launch angle data gives Voit an expected .418 wOBA. His actual wOBA is .425. He's been properly rewarded for the contact he's been making. Can Voit continue making this caliber of contact? It would be cool. At some point the league will adjust — it might not happen until next year at this point — and he'll have to adjust back. For now, the contact he's been making suggests this production is no fluke. It's deserved.