Got eleven questions in the mailbag this week. Send all mailbag questions to RABmailbag (at) gmail (dot) com. I'll answer as many questions as I can each week.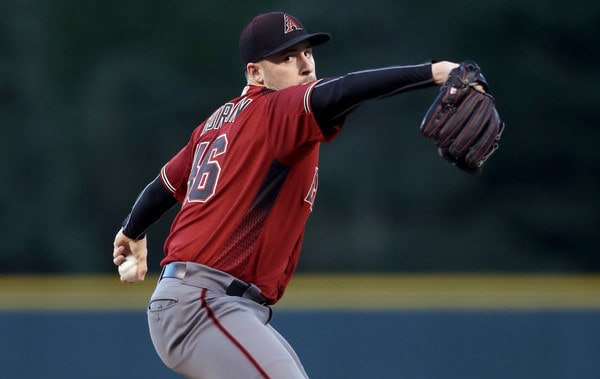 Stan asks: Hi Mike, it's probably a bit early to start speculating on this, but what would be your order of preference for the following 3 pitchers for the Yanks to pursue given what they're likely to command in free agency: Happ; Charlie Morton; Patrick Corbin? And how do you think your ranking would jive with the Yankee' administration's preferences?
Morton has indicated he might retire after the season. He won a ring last year and has made some money, and now he wants to spend more time with his family. I'm not sure he's a realistic free agent target. But, for the mailbag's sake, let's assume he is. Here's my preference list and what I think is the Yankees' preference list:
Mike's List
1. J.A. Happ
2. Patrick Corbin
3. Charlie Morton
Mike's Guess At The Yankees' List
1. Patrick Corbin
2. J.A. Happ
3. Charlie Morton
I'm at the point now where I have little interest in spending big on non-elite pitchers. There are too many Jordan Zimmermanns and Jeff Samardzijas and Ian Kennedys out there. Those "well this guy could be really good so let's pay him because there's no one better available" guys. I'd rather roll with quality veterans like Happ and CC Sabathia (and Hiroki Kuroda) on short-term deals than pay big for someone who's not really worth a big contract.
Now, you can strongly argue Corbin is an elite pitcher. He does have a 3.05 ERA (2.40 FIP) with great strikeout (31.1%) and walk (5.7%) rates this year, which is undeniably excellent. He's also never had a year suppressing home runs like this. His ground ball rate (48.4%) is right in line with his career norms (48.9%), yet he's gone from 1.30 HR/9 (16.6% HR/FB) the last two years to 0.68 HR/9 (10.9% HR/FB) this year. And that's despite the second highest hard contact rate in baseball. Hmmm.
Corbin and Dallas Keuchel will be the top two free agent pitchers this winter (they're 1 and 1A) and Corbin is probably going to get the biggest contract because he's younger than Keuchel and he's been better this year. I'm not saying Corbin will be bad going forward. I'm just a little wary given the sudden the home run improvement and the fact he has Tommy John surgery in his not-too-distant past. The short-term veterans are my jam.
Les asks: In your opinion, excluding injuries, what has been the biggest disappointment to the season so far?
Gary Sanchez, easily. Greg Bird has been a disappointment, for sure, but my expectations for him weren't that high coming in the season. Luis Severino was too good in the first half for me to consider him a disappointment, and while Giancarlo Stanton hasn't had the year so many of us expected, he's been really good overall. He played at an MVP pace for four months while on a bad hamstring.
I expected a much bigger season from Sanchez based on, well, everything he's done prior to this season. The groin injuries stink. I don't blame players for injuries unless they get hurt doing something dumb (i.e. Aaron Boone's basketball knee injury). Sanchez is 320 plate appearances into his season now and he's hitting .186/.281/.411 (86 wRC+). That stinks. I know the league average catcher has an 84 wRC+ this year. It still stinks. For Gary, it stinks.
Rather than continue to develop into a middle of the order force and cement himself as the best catcher in baseball, Sanchez has taken a big step back this season, on both sides of the ball. Who's to blame? Start with Gary, not Boone and the coaching staff. Sanchez has been a huge disappointment. It doesn't mean I want to trade him or move him to first base. He is my starting catcher in 2019, hands down. But this has been a very disappointing year for him.
Luke asks: Do you think the Yankees should sign Nick Markakis in the offseason? He is having a great year, low strike out numbers, bats lefty and is a Gold Glove fielder in the outfield. Seems like the perfect fit to me.
I'm curious to see what happens in left field next year. It wouldn't surprise me in the least to see the Yankees bring back Brett Gardner and continue with the four-man outfield/DH rotation. I totally expect Gardner to be back. Maybe not as a full-time player, but he'll be back. It's tough to count on Clint Frazier because of the concussion and the ongoing issues. It stinks. The Yankees can't really pencil him in as a starter next year. They need to see him healthy in Spring Training first. What about Miguel Andujar? Does he move off third base? What about Stanton? Do the Yankees move him to left full-time and sign a DH?
Markakis is having his best season in quite some time — he's hitting .306/.371/.457 (119 wRC+) with 14 homers and nearly as many walks (9.8%) as strikeouts (10.9%) — and while I agree his style would fit the lineup well (lefty, lots of contact, some pop), I'm not sure he's the right guy for it because of the left field situation. Do you sign Markakis and move on from Gardner? Forget about Frazier? Stick with Andujar at third? Other than re-signing Gardner or signing Bryce Harper, who is a special case, I would be surprised if the Yankees spend money on an outfielder this winter.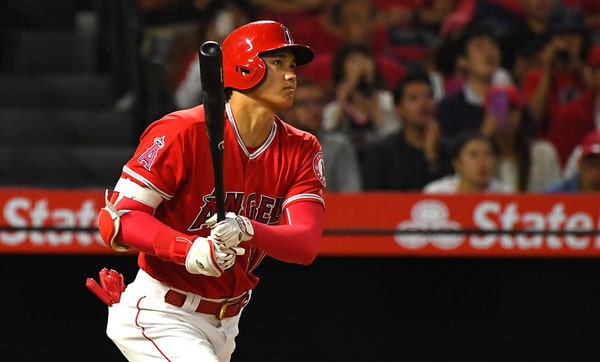 Erick asks: I keep reading that Ohtani might have surgery now or maybe after the season. Maybe keep batting now, and bat during the recovery. I am not a doctor, but it just seems to me that allowing him to hit can only aggravate the issue. The motions between hitting and pitching are different, but a little twist, anything, can aggravate things. Isn't it just safer to shut him down now and have surgery and during his recovery not allow him to bat?
Shohei Ohtani has not yet said he'll have Tommy John surgery — the team recommended it but they can't make him get it any more than your employer can make you get surgery — and he'll continue to DH through the end of the season. I imagine he wants to get a second opinion before having surgery. That's usually how these things work. Anyway, there's no harm in continuing to play. He already needs Tommy John surgery! He can't make the injury worse. Should Ohtani have the surgery now so he can begin his rehab as soon as possible? Yeah, I think you can make the case. Then again, he won't pitch at all next year, so he's getting a 16-month rehab either way. There's nothing to aggravate right now though. His elbow ligament is already torn beyond the point of no return.
Bob asks: Earlier this year, the Yankees hit a ton of multi-homer games, and there was talk about the ML record, which I seem to recall was 24. I have kind of lost track – where do they stand now, and are they somewhere on track to break this record?
Ten different Yankees have combined for 21 multi-homer games this season. The ten: Tyler Austin (twice), Greg Bird (once), Brett Gardner (twice), Didi Gregorius (four times), Aaron Hicks (twice), Gary Sanchez (three times), Giancarlo Stanton (three times), Gleyber Torres (twice), Luke Voit (once), and Neil Walker (once). No other team has more than 15 multi-homer games this year.
Only 17 teams in history have had 21 multi-homer games in a single-season, including the 2018 Yankees. The Nationals had 22 last year. The Orioles had 22 the year before. The all-time record is 24 multi-homer games by the 1961 Yankees and 1966 Braves. Time is running out but the record is definitely within reach. Also, I'd be remiss if I didn't mention the Yankees are on pace for 260 home runs right now. The all-time record is 264 by the 1997 Mariners. The Yankees are going to need a big homestand to break that record.
Bob asks: The Yankees have 9 players on their roster who will become free agents in the postseason. There are 3 starting pitchers (Sabathia-Happ-Lynn), 2 relief pitchers (Robertson-Britton), 2 OF (Gardner-McCutchen), and 2 IF (Walker-Hechavarria). Who should the Yankees try to re-sign and who should they let walk?
I say re-sign Sabathia, Happ, and David Robertson. Zach Britton's going to get a huge contract and go all Wade Davis on some team next year. The Cardinals are my guess. Lance Lynn is a serviceable back-end starter but I'm not really interested in a reunion. The Yankees have too many outfielders to bring Andrew McCutchen back. It's not really a fit for either side. No on Adeiny Hechavarria and no on Neil Walker. I like Walker, but he's struggled to produce as a bench guy. And like I said earlier, my guess is Gardner is back in some capacity next season. Sabathia, Happ, and Robertson are all above-average players and they shouldn't require long-term deals.
Stan asks: With Gray getting a start in Minnesota this week do you think the Yankees are trying to see if they are going to keep him or try to trade him over the offseason? Also do you think the Yankees should release him from the anti-fastball approach and just him pitch however he feels?
The Yankees started Sonny Gray on Tuesday because they wanted to give Luis Severino and Masahiro Tanaka extra rest. That's all. One start, no matter how good, was never going to influence their decision with Gray's future. As for the anti-fastball approach, he hasn't been a huge adopter. Here's his pitch selection by year: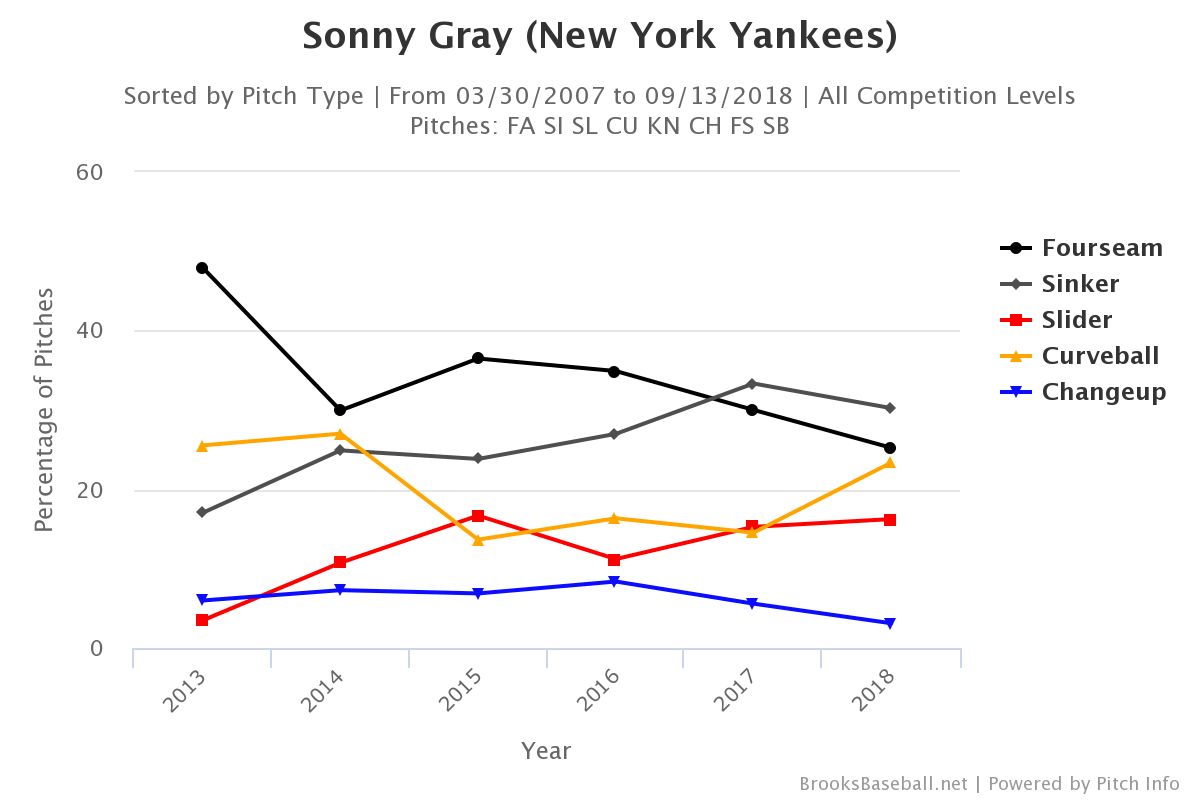 Gray has traded some four-seamers for sinkers, and he is throwing more curveballs, but that's fairly recent. Sonny ramped up his curveball usage at midseason as he and the Yankees looked for a way to get him going. I feel like blaming his struggles on the anti-fastball approach is a cop out. Gray's stuff is plenty good enough to get outs as it is. He's getting traded this winter. I would be shocked if he's a Yankee come Opening Day 2019.
Mark asks: Do you think Ellsbury ever plays another game for the Yankees again? Or does he sit out the rest of his contract with a bruised ego collecting insurance checks?
I suppose the Yankees could bring Jacoby Ellsbury to Spring Training next year and throw him into the left field mix along with Gardner and a hopefully healthy Frazier. Maybe Andujar too. Ellsbury had his hip surgery in August and the team announced a six-month rehab timetable, which means he should be ready for the start of camp. It's a major procedure though and they won't rush him back, so it wouldn't surprise me if he starts the season on the disabled list, in which case the insurance checks keep coming.
Since there are two years remaining on his contract, I think we're starting to get into "the Yankees could release him" territory with Ellsbury. Carl Crawford was released with two years on his contract. Pablo Sandoval was released with two and a half years on his contract. The Yankees released Alex Rodriguez with a year and two months left on his contract. If Frazier is healthy and the outfield is full, would the Yankees move on completely to alleviate the roster jam? I mean, the Yankees could've used Ellsbury in April and August this year, so getting rid of the depth might not be a good idea. Ellsbury has to finish his rehab and get healthy before this is a real problem.
John asks (short version): This is probably a hypothetical question at this point. If Judge were to play a couple of rehab games with SWB in the IL playoffs and then get called up before the series was over, would SWB be able to replace him on their roster or would they continue the series a man short?
Rehabbing players do not count against the minor league team's 25-man roster. They're basically a 26th man added to the roster. Judge is not expected to join Triple-A Scranton before the International League Championship Series ends this weekend, but, if he did, he'd be a rehabbing player and not part of the 25-man roster. No one has to get dropped from the roster to make room for him or anything like that. And that applies all the time, not just during the postseason. Works the same way during the regular season.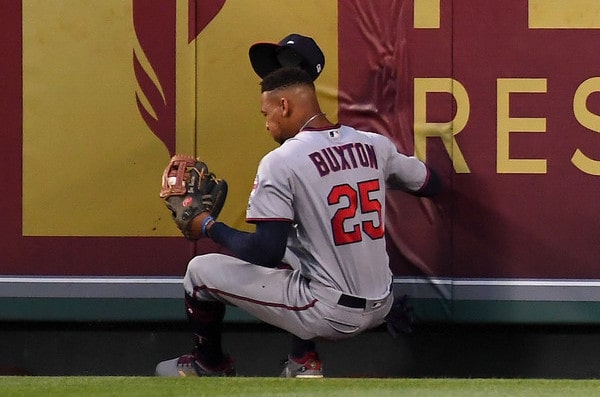 Vincent asks: Looking ahead to the offseason, how do you like Byron Buxton as a buy low trade target? Gardner looks like he's hit the wall, we don't know what Frazier's long term outlook might be, and Hicks has one year left until free agency.
I like it. It's the same idea as the Hicks trade, right? Grab a once (very) highly regarded player and try to help him reach his potential. It worked out wonderfully with Hicks. Doesn't mean it'll work with Buxton, but it's worth a try, I think. At worse, Buxton is an elite center field defender who can hit ninth in your lineup. The upside is there for more. A lot more. He did hit .300/.347/.546 (130 wRC+) in the second half last season. There have been flashes.
Buxton, 25 in December, did not get a call-up in September, and Twins GM Thad Levine more or less admitted they're not calling Buxton up to delay his free agency. Levine said they'll have to made amends with Buxton this winter, which suggests some bad blood. He hit .156/.183/.200 (-13 wRC+) in 94 plate appearances around injuries earlier this year and then was sent to Triple-A, where he hit .272/.331/.456 (122 wRC+) in 148 plate appearances. Buxton does have a minor league option remaining, so my guess is the Twins will keep him and try to rebuild his value next year. If the Yankees can get him in a buy low deal, I am 100% for it. Bet on the elite talent.
Christopher asks: Task is to field a team of active players who were once in the Yankees system. Who would be in the lineup? Current major leaguers only who spent at least one MiLB season in the system. Any other criteria up to you.
Fun! There's lots of former Yankees out there. Back in June, Joel Sherman noted the Yankees originally drafted or signed more current big leaguers (52 at the time of the article) than any other team.
Anyway, Christopher's rules are current Major Leaguers (sorry Rob Refsnyder) who spent at least one minor league season in the Yankees' farm system. I'm going to limit it to players originally signed or drafted by the Yankees as well (sorry Billy McKinney). Here's my lineup:
LF Ben Gamel, Mariners
C Francisco Cervelli, Pirates
2B Robinson Cano, Mariners
DH Melky Cabrera, Indians
RF Jake Cave, Twins
1B Tyler Austin, Twins
SS Eduardo Nunez, Red Sox
CF Mason Williams, Reds
3B Jose Pirela, Padres
I debated Williams or Dustin Fowler for the final outfield spot, and while I would take Fowler's next five years over Williams' next five years, Williams is hitting .294/.327/.412 (98 wRC+) for the Reds this year. For real. Good for him. Third base is kind of a wasteland. It's either Pirela, who's hitting .250/.304/.337 (76 wRC+) at the moment, or sliding Nunez to third and going with Abi Avelino at short. Avelino is 2-for-13 (.154) in limited time with the Giants.
Am I missing anyone obvious? I don't think so. Plugging that lineup into the Baseball Musings Lineup Analysis tool with each player's 2018 numbers tells me my lineup of former Yankees prospects would score 4.75 runs per game, which is a heck of a lot better than I expected. That would be tied with the Cubs for the sixth best rate in baseball. Huh.