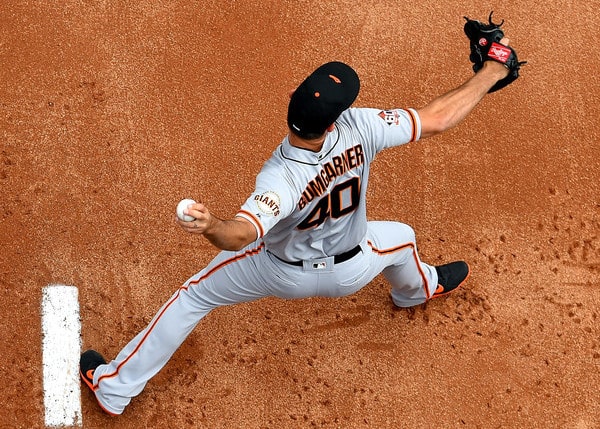 The Yankees and Mariners continue their three-game weekend series later today. Much later today. It's a 9:10pm ET start. Literally the latest game on the schedule today. So it goes. Here are some links and notes to check out in the meantime.
Yankees were "in the hunt" for Bumgarner
According to Nick Cafardo, the Yankees were "in the hunt" for Madson Bumgarner prior to the July 31st non-waiver trade deadline, but the asking price was too high. My guess is that asking price included Gleyber Torres plus more, possibly a lot more. Bumgarner strikes me as one of the least likely to be traded players in baseball. I think it's far more likely he signs an extension than gets traded. Never hurts to make the call though. Wouldn't surprise me if the Yankees check in again this winter.
Bumgarner, who turned 29 last month, has a 3.07 ERA (4.08 FIP) in 105.2 innings since returning from a fluke finger injury (a comebacker broke his pinky in Spring Training). As good as Bumgarner is now and has been throughout his career, he's starting to show some of decline. Strikeouts are down, walks and homers are up. Six straight 200+ inning seasons from age 21-26, plus all those deep postseason runs, might be catching up to him. Felix Hernandez threw a ton of innings early in his career and he started to lose it age 29. Hmmm.
2019 Spring Training schedule released
Never too early to look ahead to next season, right? Right. A few days ago MLB released the 2019 Spring Training schedule. The Yankees open Grapefruit League play against the Red Sox on Saturday, February 23rd, next year. The spring home opener will be Monday, February 25th, against the Blue Jays. The Yankees close their 32-game spring schedule with an exhibition game at Nationals Park on Monday, March 25th. Opening Day is Thursday, March 28th. Here is the team's spring schedule.
The Yankees have not yet announced their 2019 reporting dates. The last two years the Yankees had pitchers and catchers report ten days before the Grapefruit League opener and position players six days before the opener. Based on that, pitchers and catchers will report Wednesday, February 13th, with position players reporting Sunday, February 17th. Those are just my estimates. Official reporting dates usually aren't announced until mid-to-late November sometime, after the awards rush.
Law's best MLB tools
I missed this last week, but Keith Law (subs. req'd) released his rankings of the top tools at the Major League level. Several Yankees rank among the various categories. A recap:
Chad Green: Fifth best fastball (behind Max Scherzer, Gerrit Cole, Justin Verlander, Jacob deGrom)
Aaron Hicks: Third best throwing arm (behind Andrelton Simmons and Brett Phillips)
Aaron Judge: Second best power (behind Joey Gallo)
David Roberson: Third best curveball (behind Corey Kluber and Aaron Nola)
Giancarlo Stanton: Third best power (behind Gallo and Judge)
No real surprises here nor any notable omissions. Maybe Luis Severino's fastball? He does have the best average velocity among starters again. Well, whatever. Last year I made a kinda sorta bold prediction and said Green would top Law's best fastball rankings this year. Came close. He's top five.
Sabathia nominated for Clemente Award
Earlier this week MLB announced each team's nominee for the 2018 Roberto Clemente Award, which is given annually to the player who "best represents the game of baseball through extraordinary character, community involvement, philanthropy and positive contributions, both on and off the field." CC Sabathia is the Yankees' nominee this year. Here are the 30 nominees. Three Yankees have won the award: Derek Jeter (2009), Don Baylor (1985), and Ron Guidry (1984). Current Yankee Andrew McCutchen won it while with the Pirates in 2015.
Amazingly, MLB turned a prestigious award intended to honor community involvement into a popularity contest. The Roberto Clemente Award winner will be selected via fan vote. Here's the ballot. The winner will be announced during the World Series. Among other things, Sabathia and his wife run the PitCCh In Foundation, which promotes and supports educational and athletic activities for inner city youth. During Thursday's off-day Sabathia gave away roughly 1,700 backpacks with school supplies to kids in the Bay Area, near where he grew up. Pretty cool. Congrats to the big man. Just getting nominated for the Roberto Clemente Award is an honor.