Folks, losing series to the White Sox at home and the Twins anywhere is no way to convince anyone you're a World Series contender. The Yankees lost 3-1 in Wednesday night's series finale for their first series loss to the Twins since … last July? Last July. The Athletics beat the Orioles again, so the lead for homefield advantage in the Wild Card Game is down to one game. Two, really, since the Yankees own the tiebreaker. Backing into the postseason doesn't seem to be working too well.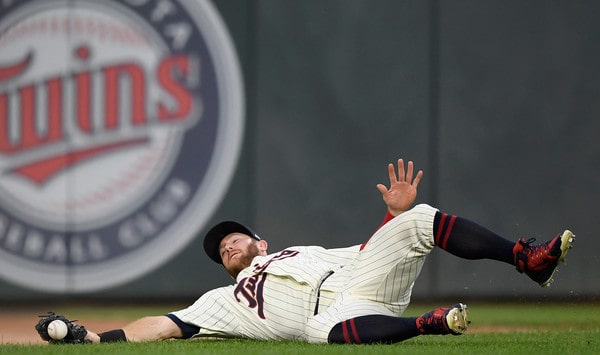 Saved by the Bird
When 2018 Greg Bird has to save you offensively, you know you're in trouble. Jake Odorizzi no-hit the Yankees through seven innings Wednesday night, and he retired the first batter he faced in the eighth inning as well. We've seen the Yankees get no-hit through four or five innings a bunch of times this season. Through seven innings though? Been a while since that happened. (Not sure how to look it up. I would if I could.)
Odorizzi held the Yankees hitless through seven innings even though they hit several balls very hard. They had eight batted balls at 100+ mph go for outs, plus four others at 94+ mph. Apparently the Twins play defense now? The team with the fifth worst Defensive Efficiency in baseball received several spectacular defensive plays from infielders, outfielders, and even Odorizzi himself. Here's Odorizzi's spray chart: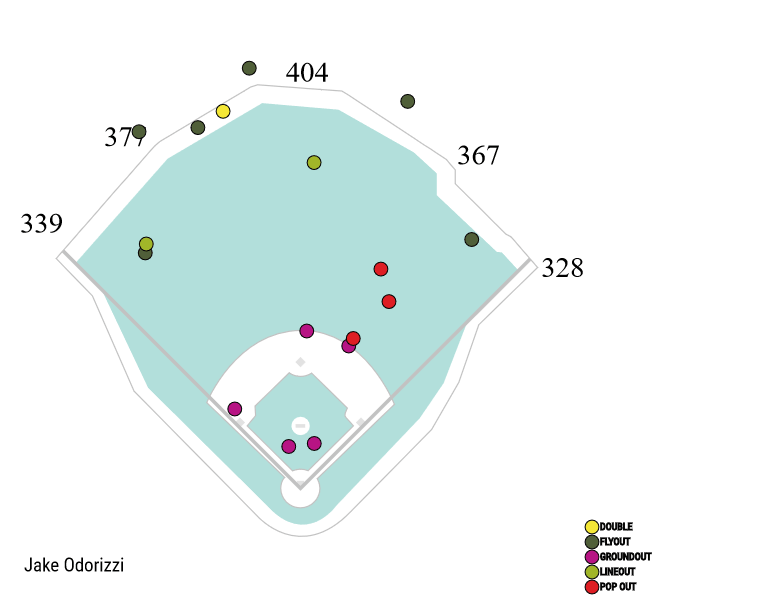 Outs hit so far Statcast had them over the fence. Had Odorizzi completed the no-hitter, it would've been one of the least dominant no-hitters I've ever seen. Only five strikeouts and tons of hard-hit balls. But, seven no-hit innings is seven no-hit innings. That's impressive no matter how it happened and no matter who the pitcher faced, not that the Yankees are an offensive juggernaut these days.
The Yankees finally broke up the no-hitter with one out in the eighth inning. Luke Voit worked a walk — I totally thought he went too far with his check swing on ball four — and Greg Bird split the left-center field gap for a legitimate double. He didn't break up the no-hitter with a bloop single or a swinging bunt or something weak like that. Well-struck to a good part of the field.
Voit came around to score on Bird's double for the team's only run. Miguel Andujar slashed a single to right to bring the tying run to the plate with one out in the ninth, but Giancarlo Stanton lined out and Didi Gregorius grounded out. Three walks, two hits, one run. The Yankees averaged 3.67 runs per game during the nine-game road trip. They've scored more than four runs four times in eleven September games. The offense is lifeless. It is without life.
Severino's Strong Start
The box score numbers don't jump out at you (5.2 IP, 4 H, 1 R, 1 ER, 0 BB, 5 K) but this was the best Luis Severino has looked in a very long time. There was bite on his slider, good velocity on his fastball (98 mph average), good location, and good body language. Severino was throwing with conviction. He didn't have to grind out every at-bat like he has the last two months.
Joe Mauer opened the game with a single that maybe could've been an error on Gleyber Torres at second. Torres had to range far to get it, but it clanked off his glove, and Mauer reached base. After that, Severino retired the next 15 batters he faced, including seven in three pitches or fewer. Not many strikeouts (five) or swings and misses (ten), which is unusual even for the bad version of Severino, but lots of quick outs.
The Twins broke through in the sixth inning with a Max Kepler single to left and an Ehire Adrianza double to right. Another single followed to put men on the corners. Severino did bounce back to strike out Jorge Polanco but it was a wild eight-pitch at-bat. He had Gary Sanchez jumping all over the place behind the plate. Severino got the big strikeout but missed his spots badly, so, even with pitch count at 83, Aaron Boone got him out of there.
Severino's final line: 5.2 IP, 4 H, 1 R, 1 ER, 0 BB, 8 K on 83 pitches. I was totally cool with Boone taking him out after the Polanco strikeout. He was missing his spots terribly and the regular late-inning relievers hadn't pitched in a few days. A fresh David Robertson is better than a laboring Luis Severino in that spot. Even with the loss, Severino looked very good. Much, much, much better than the last two months. I am: Cautiously optimistic.
Leftovers
Robertson got tagged for two runs in the seventh inning. The Twins went double, single, double after two quick outs. On the bright side, we got this towering GIF of Willians Astudillo hustling home on Kepler's double, so at least some good came out of it.
Willians Astudillo running hard dot gif

cc: @BenLindbergh @CespedesBBQ @jay_jaffe @SethTweets @lindseyadler pic.twitter.com/JXsaWZRdgH

— Will Ragatz (@WillRagatz) September 13, 2018
Zach Britton, who needs to pitch a lot down the stretch, went 1-2-3 in the eighth. He's put only seven runners on base in his last eleven innings now. Also, trainer Steve Donohue came out to talk to Britton at one point, but it seems his foot spun out a bit after throwing a pitch. They spent more time looking at his landing spot than anything.
A double for Bird and a single for Andujar. Those are the base hits. Voit, Stanton, and Sanchez drew the walks. Sanchez also stole a base. First of the year and fourth of his big league career. Huh.
Box Score, WPA Graph & Standings
For the box score and updated standings, go to ESPN. For the video highlights, go to MLB. Here's our Bullpen Workload page and here's the loss probability graph:

Source: FanGraphs
Up Next
An off-day. An off-day and then the final homestand of the regular season. The Yankees begin the nine-game homestand with three games against the Blue Jays. Masahiro Tanaka and Marco Estrada are the scheduled starting pitchers for Friday night's series opener.