I wouldn't wait around for this one to show up on Yankees Classics, folks. The Yankees opened the final home series of the regular season with an ugly 10-8 win over the Orioles on Friday, but a win is a win, and the magic number to clinch a postseason spot is down to two. Could happen as soon as Saturday.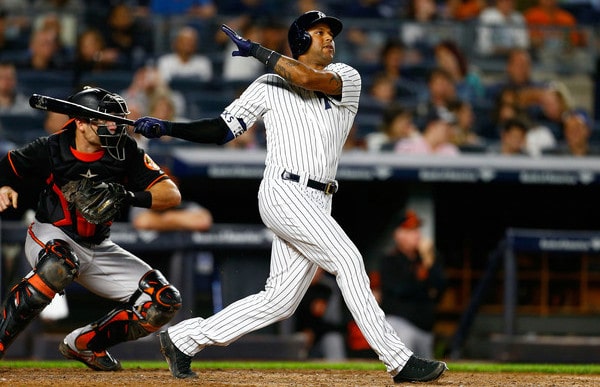 5×25
The Yankees traded righty Yefry Ramirez to the Orioles for international bonus money last summer and that trade is still paying dividends. They used the bonus money to sign (among others) Antonio Cabello and Ramirez has now allowed 16 runs and 34 baserunners in 15.2 innings against the Yankees this season. That includes six runs and nine baserunners in 3.2 innings Friday night.
Didi Gregorius got the Yankees on the board with a two-run second deck homer in the first inning. Ramirez had nothing to put him away. Didi fell behind in the count 0-2, spit on three pitches out of the zone to work it back full, fouled away two more pitches, then jumped on a cement mixer for a 2-0 lead. That is home run No. 27 on the season for Gregorius. Every homer he hits these days is a new career high and new single-season high for a Yankees shortstop.
The Yankees broke the game open (or so it seemed) in the fourth inning and it started with a Neil Walker double that went in and out of Adam Jones' glove in right field. Hit hard and over his head, but Jones reached up and initially made the catch before it popped out of his glove. Gleyber Torres found a hole up the middle for a run-scoring ground ball single, then stole second and moved to third on a wild pitch. Austin Romine brought him with a soft ground ball to third.
The Romine ground out gave the Yankees a 4-0 lead and, with two outs and the bases empty, I assumed the Yankees were done scoring in the inning. Instead, Brett Gardner worked a walk and Aaron Hicks visited the second deck for a two-run dinger. To the video:
Home run No. 25 on the season for Hicksie. The 2018 Yankees are the 14th team in history with five players with 25+ homers (Hicks, Didi, Aaron Judge, Giancarlo Stanton, Miguel Andujar) and, if Gleyber can hit two dingers in the final nine games, they'll join the 2003 Red Sox as the only teams in history with six players with 25+ home runs. Pretty cool. Also cool: Having a 6-0 lead in the fourth inning.
Si Si Sabathia
Six strong innings for CC Sabathia against an admittedly terrible Orioles team. Then again, the terrible Blue Jays tagged him for five runs in 2.1 innings five days ago, so progress? Sabathia retired nine of the first eleven batters he faced before running into trouble in the fourth inning, when three batters reached base and the Yankees needed a double play and a fly ball to right to escape the jam.
The Orioles finally got to Sabathia in the fifth inning and it was a typical Sabathia soft contact rally. Infield single to third, walk, ground ball single to right to load the bases with one out. The ground ball single had 65.3 mph exit velocity. The infield single didn't even register an exit velocity. Statcast couldn't pick it up. Jones brought two runs home with a jam shot flare single to left. The ball left his bat at 72.0 mph. Baseball can be dumb sometimes.
Sabathia rebounded from that two-run fifth inning with a 1-2-3 sixth. His final line: 6 IP, 6 H, 2 R, 2 ER, 3 BB, 5 K on 97 pitches. His average exit velocity allowed: 76.7 mph. That'll work just fine. Sabathia was able to get his cutter in on righties — he had trouble doing that the last two times out — and that makes all the difference in the world. Instead of hard contact on pitches out over the plate, those inside cutters miss the barrel. Good stuff, CC.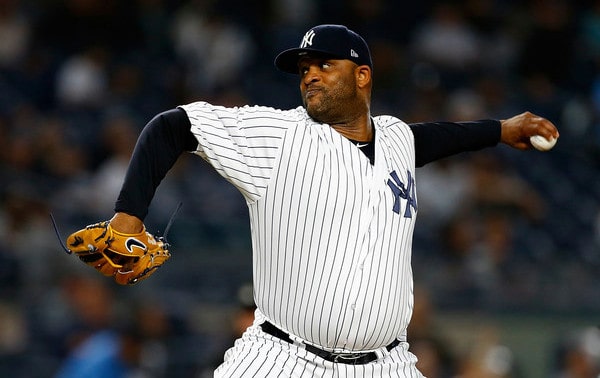 Unnecessarily Interesting
Normally a 6-0 lead means you've broken the game open. But, because the Orioles scored two runs in the fifth and two more runs in the seventh, the Yankees had to break the game open again. And it's a good thing they did too. Geez. Jonathan Loaisiga allowed a solo homer to the first batter he faced in the seventh, then Zach Britton allowed an inherited runner to score on a ground ball. Didn't love the decision to go to the ground ball pitcher rather than the strikeout pitcher with a runner on third and one out. Whatever. The two-run seventh got the Orioles to within 6-4.
The Yankees immediately answered with three runs in the bottom of the seventh. Hicks dunked a single into shallow right, Judge worked a walk, and Andrew McCutchen poked a single back up the middle to score the first run. After Gregorius moved Judge and McCutchen up to second and third with a ground out, American hero Luke Voit hooked a hanger into left field to score two more runs and stretch the lead to 9-4. Cody Carroll, who went to the Orioles in the Britton trade, has now allowed seven runs and ten baserunners in four innings against the Yankees this year.
Once the Yankees took a 9-4 lead, Aaron Boone tried to get through the final two innings with a his C-Team relievers and it didn't work. Stephen Tarpley struck out Chris Davis to start the eighth, so that was cool, but then A.J. Cole walked the generally unwalkable Tim Beckham (6.4 BB%) and served up a two-run home run to Renato Nunez to get the Orioles back to within 9-6. Cole has allowed 17 runs (six homers!) in his last 15 innings. Can we not see him again the rest of the season? Even after the Yankees clinch everything they can clinch? Please and thank you.
Cole's terrible night — he allowed an infield single after the home run — meant David Robertson had to come in with the tying run on deck. The first batter Robertson faced: Two-run homer. Former Yankees draft pick D.J. Stewart (28th round in 2012) into the short porch for his second career big league homer. Suddenly the Yankees' lead was cut to 9-8. It's the Orioles. The 2018 Orioles. And the Yankees had to hang on for dear life. Good grief.
I don't blame Boone for trying to stay away from his top relievers with a (seemingly) comfortable lead against the Orioles, especially after pretty much all the key relievers pitched Thursday night. Loaisiga and Cole have to perform and they did not (five runs in 0.2 innings combined). Britton and Robertson being able to strand an inherited runner would've been cool too. Be better, bullpen. Anyway, Jones played a Judge single into an insurance run-scoring double in the eighth, and Dellin Betances nailed it down in the ninth. Phew.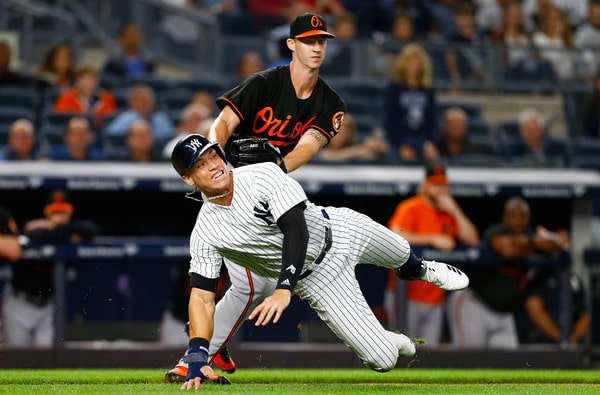 Leftovers
Every starter had at least one hit except Romine, who went 0-for-4 and also allowed two stolen bases. He did get a run in with a ground out though, so yay? Hicks went 2-for-4 with a single, homer, and two walks. He is 6-for-16 (.375) with four walks and two strikeouts in his last four games. Slump's over. Judge went 2-for-4 with a single, a double, and a walk. He is 3-for-16 (.188) with two walks in four games back from the disabled list. His at-bats have been really good though. Only a matter of time.
Walker (double, walk), Torres (single, walk), and Gardner (single, walk) all reached base multiple times as well. The Yankees had ten hits and six walks on the night. Only seven strikeouts. Fourth time they've had double-digit hits in their last ten games. Prior to that, they had double-digit hits four times in their previous 19 games. As a team, the Yankees have a 14.4% walk rate and a 19.3% strikeout rate in their last ten games. That is: Good.
And finally, Dellin's strikeout streak is up to 43 consecutive appearances. That dates all the way back to May 29th. This is the longest such streak in American League history and six appearances short of Aroldis Chapman's record set back in 2014 with the Reds. Betances is probably going to have to wait until next year to catch Chapman. Alas.
Box Score, WPA Graph & Standings
Check out ESPN for the box score and updated standings, MLB for the video highlights, and FanGraphs for the postseason odds. Here's our Bullpen Workload page and here's the win probability graph:

Source: FanGraphs
Up Next
The penultimate home game of the 2018 regular season. The Yankees and Orioles will continue this series with the middle game Saturday afternoon. That's a 4pm ET start. No one plays baseball at 1pm ET on Saturday anymore. Lance Lynn and rookie righty David Hess are the scheduled starting pitchers.