That was a satisfying win. The Yankees staved off elimination in the AL East race another night with a lopsided 10-1 win over the Red Sox on Wednesday. As of this writing, the Yankees are three games up on the Athletics in the loss column for homefield advantage in the Wild Card Game. It's four games when you factor in New York owning the tiebreaker. Eleven games to go.
Long Live The Short Porch
David Price in Yankee Stadium will never not be funny. He went into this start with a career 4.75 ERA and a .280/.342/.467 opponents' batting line in 121.1 innings in this ballpark. On Wednesday night the Yankees punished Price again in the Bronx, and yes, all three home runs were short porch jobs. That's a feature, not a bug. The Red Sox get to hit with the same dimensions too. Not the Yankees' fault they didn't take advantage.
The Yankees jumped on the board with a three-run second inning that really should've been a one-run second inning. Miguel Andujar tomahawked a high fastball into the short porch for a solo home run and a 1-0 lead, then the Yankees loaded the bases. Gary Sanchez walked, Luke Voit pulled a single through the left side, and Andrew McCutchen worked a walk. Bases loaded, two outs, Aaron Judge at the plate!
Judge brought home two runs but not with a booming single or a double off the wall. He rolled over on a first pitch fastball and hit a weak 82 mph ground ball right at third baseman Eduardo Nunez. As routine as routine gets. Nunez should've fielded the ball cleanly and fired over to first base to end the inning. Instead, he Bucknered it. Right through the legs for a two-run error and a 3-0 Yankees lead. Welcome back, Eduardo Scissorhands.
The Yankees hung three more runs on Price. Voit swatted a short porch solo homer in the fourth, then he added a short porch two-run home run in the sixth. Price had thrown 87 pitches heading into that at-bat and he wasn't really fooling the Yankees, and the game was within reach. The Yankees were up 4-1 at the time! Joe Kelly was warm and he seemed like the better option there. How Red Sox manager Alex Cora let Price face Voit a third time, I'll never understand. I'm glad he did.
Price's final line: 5.1 IP, 5 H, 6 R, 4 ER, 4 BB, 2 K, 3 HR on 93 pitches. In four starts against the Yankees this season, he's allowed 20 runs in 15.2 innings, and that includes six innings of two-run ball in their last meeting at Fenway Park. The Yankees have struggled offensively the last few weeks — going into this game, they'd scored more than four runs only six times in 15 games this month — but you can always count on David Price to wake up the bats.
Return of Good Sevy
There were signs last time out. Luis Severino threw the ball quite well against the Twins, better than he had in weeks. I was cautiously optimistic. On Wednesday, Severino built on the progress he made last time, and turned in his first truly dominant start since before the All-Star break. And, naturally, it started with a four-pitch walk and six straight pitches out of the strike zone. Figures.
In fact, Severino had trouble locating his fastball pretty much all night. He was missing his spot quite often. He compensated with sliders and changeups. A lot of changeups. Twenty-two of them, in fact. Only the third time he's thrown that many changeups in an outing this season. Severino threw more sliders and changeups (56) than fastballs (52) on Tuesday night. Not the first time that's happened, but it doesn't happen often.
Severino put two runners on base in the first inning and escaped with a Xander Bogaerts popup and a Mitch Moreland tapper back to the mound. He retired eleven of the next 12 batters he faced before the Red Sox finally touched him up for a run in the fifth inning. Nunez doubled to left and Sandy Leon singled to right. Severino limited the damage to one run and was able to get through seven innings. His 109th and final pitch of the night: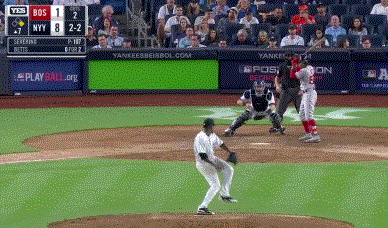 Hell yes. Been a while since we've seen that lock-up slider and a fist pump. His line: 7 IP, 6 H, 1 R, 1 ER, 1 BB, 6 K on 109 pitches. First time he completed seven innings since August 8th in Chicago and his first start of seven innings with no more than one run allowed since June 26th in Philadelphia. There are still some fastball command issues, for sure. But, overall, this was the best Severino's looked in a long time.
Tack-On Runs
To the delight of everyone, the Yankees did not stop scoring once Price was out of the ballgame. They kept tacking on runs. McCutchen and Judge strung together back-to-back two-out singles in the sixth against Kelly, then Aaron Hicks ripped a rare triple into the Yankee Stadium right field corner. You don't see that often. Then again, the Red Sox had J.D. Martinez positioned somewhere in right-center field.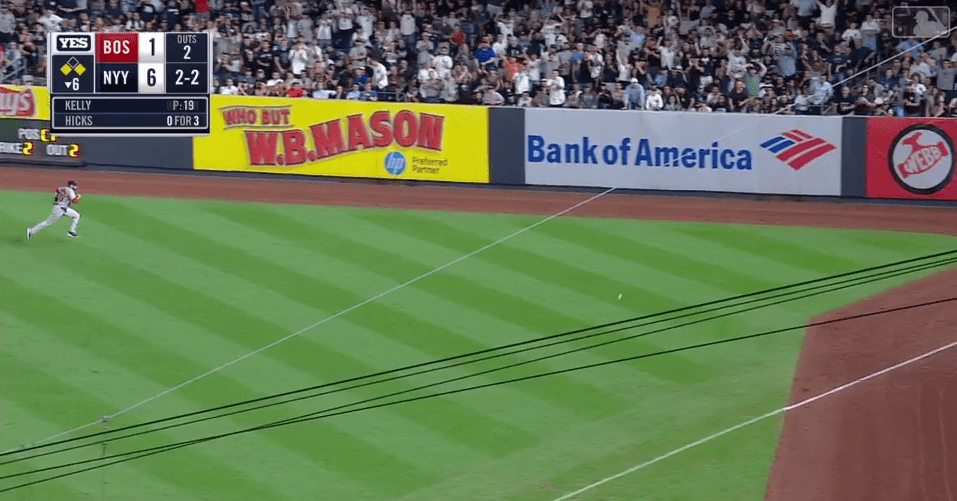 The Hicks triple really broke the game open. That gave the Yankees an 8-1 lead and, I don't know about you, but that's when I considered the game out of reach. The Yankees were up 6-1 after Voit's second dinger and a five-run lead against the Red Sox in Yankee Stadium doesn't feel too safe. An 8-1 lead? You can breath a little easier with that.
Anyway, the Yankees added two more runs in the eighth inning. Voit and Gleyber Torres led off with back-to-back singles, McCutchen moved the runners up with a weak grounder, and pinch-hitter Greg Bird got a run in with a ground out. (Bird pinch-hit for Judge and, after the game, Aaron Boone said Judge is fine. Just a chance to get Bird an at-bat.) Hicks added a two-out single to score another run and give the Yankees a 10-1 lead. Love that Boston bullpen.
Leftovers
Welcome to the big leagues, Justus Sheffield. Sheffield made his MLB debut in the ninth and it didn't go smoothly. He walked the first batter he faced on five pitches, then stumbled on a weak little tapper up the line and couldn't get the out. Eventually he walked another runner to load the bases for Mookie Betts, which is suboptimal even with a 10-1 lead. Sheffield got a game-ending double play from Betts, which was unexpected. Welcome to the show, kid. Things'll go better when there are less butterflies.
Two homers and two singles in a 4-for-4 night for Voit. He'd been in a little 4-for-22 (.182) skid going into this game. Hicks had two hits (single, triple), Andujar had two hits (double, homer), and McCutchen reached base three times (single, two walks). McCutchen's been on base 24 times in his last eleven games and has a .414 OBP as a Yankee. What a pickup. Judge flared a single to right for his first base hit back from the disabled list. Eleven hits, four walks, four strikeouts. Fourth time in the last eight games the Yankees had no more strikeouts than walks.
And finally, Voit's second homer was home run No. 245 for the Yankees on the season, tying the franchise record set in 2012. It is the ninth highest single-season home run total in baseball history. The all-time record in 264 home runs by the 1997 Mariners. Can the Yankees hit 20 home runs in the final eleven games to set a new record? Won't be easy with only four Yankee Stadium games remaining, but it is doable.
Box Score, WPA Graph & Standings
ESPN has the box score and updated standings, MLB has the video highlights, and FanGraphs has the postseason odds. The magic number for a postseason spot is down to four, hence Lou Gehrig in the sidebar. Here's our Bullpen Workload page and here's the win probability graph:

Source: FanGraphs
Up Next
The fourth-to-last home game of the 2018 regular season. Also a chance to sweep the series. Masahiro Tanaka and Eduardo Rodriguez are the scheduled starters for Thursday's series finale.