Well that was quite the win. Friday night's 7-5 win over the Tigers was a wild back-and-forth game that was far more stressful than it needed to be. A nail-biter, through and through.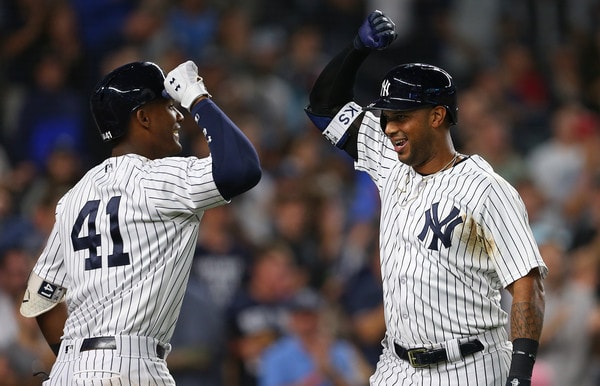 From No Hits To All Dingers
Wow were the first five innings of Friday's game bad. After five innings the Yankees were down 3-0 and they had zero (0) hits. Their only baserunner against Jordan Zimmermann was Giancarlo Stanton's fourth inning walk. That's all. Zimmermann needed only 61 pitches to throw those five no-hit innings too. Annoying!
The Yankees have not been playing well lately and frustrating was beginning to mount, so, in the fifth inning, Aaron Boone decided to take it out on home plate umpire Nic Lentz. Lentz was calling a pretty big strike zone all night and both teams were letting him hear it. Boone said the magic words in the fifth inning and got ejected while on the bench. He then got his money's worth. Check it out:
A quality managerial tirade, that is. It was Boone's third ejection of the season but his first real tirade. I mean, he squatted behind the plate to show Lentz how to call balls and strikes. I've never seen that before. Boone gets big props for creativity. I expected him to kick dirt over the plate when he walked over, but no, he went into a catcher's squat. That's pretty great.
Was Boone trying to fire up the team? Maybe. He did call a team meeting Friday afternoon — "We need you guys to pick it up," was the message according to Bryan Hoch — so he is looking for some way to get the club going. Maybe the tirade was part of it. If it was, it did work … eventually. The Yankees did go down in order the rest of that fifth inning first.
The Yankees went from being no-hit to socking dingers in the sixth inning. Austin Romine reached on an error to start the frame, then, with one out, Brett Gardner ambushed an elevated heater for a two-run home run and his team's first base hit. The second deck shot cut the deficit to 3-2. Two batters later Aaron Hicks clobbered an elevated fastball for a game-tying solo homer. The next batter? Miguel Andujar. The result? A homer.
Look at Andujar's hands. He's so quick on that inside fastball. In the blink of an eye the Yankees went from being no-hit to socking three home runs in the span of four batters to take a 4-3 lead. Boone's team meeting and/or tirade worked! I mean, I dunno if it did, but that's the narrative that will be pushed. Works for me. Anyway, Zimmerman the first two times through the lineup: 0-for-17 with one walk. Zimmerman the third time through the lineup: 3-for-5 with three homers and a long fly out. Yup.
Severino Grinds Again
Luis Severino still isn't back to where he was earlier this season. It's still a grind. I thought he through several nasty sliders Friday night though, much better sliders than we've seen from him the last few times out. He also threw a bunch of changeups. Nineteen in fact. His third most in a start this season and his most since July 1st. Severino did get five whiffs on eleven swings against the pitch too.
The Tigers scored three runs against Severino with the first coming on Niko Goodrum's fourth inning solo homer. It was a 100 mph fastball in the zone and Goodrum turned it right around. That was a bit of a shocker. Not many hitters can catch up to 100 mph like that, even in the zone. Goodrum did it Friday. The other two runs came in the fifth inning, when Severino left a cement mixer slider up to Jim Adduci, and he drove it to right field for a two-run triple and a 3-0 lead. That was a bad pitch. Flat and up in the zone. Seen a few too many of those lately.
Severino's final line: 6 IP, 6 H, 3 R, 3 ER, 0 BB, 10 K on 102 pitches. The ten strikeouts are his most since June 4th against … the Tigers. Naturally. Severino still isn't all the way back to where he was in the first half. Not even close, really, but I thought there were more encouraging signs tonight than in any of his last three or four starts. The body language was good and some of the sliders were really good. Progress? I hope so. I'll take it.
Another Blown Lead
The bullpen is broken, folks. Probably just temporarily, but damn yo. The bullpen has now allowed at least one run in nine of the last ten games. That's bad even for a bad bullpen. The culprits Friday night were Jonathan Holder and Zach Britton. Britton more than Holder. The Yankees took a 4-3 lead into the seventh inning and two bloop singles against Holder later, Britton was in the game. He allowed a game-tying single to right. Sigh.
The eighth inning didn't go any better. Two singles and a walk loaded the bases with no outs. All things considered, Britton did well to limit the damage to one run. He gave up a sacrifice fly and Hicks, my dude, you've got to throw to second there to keep the double play in order. Second time in a week Hicks threw to third on a sacrifice fly and allowed the trail runner to advance. Another one of those unforced errors the Yankees make so often.
Fortunately Hicksie's miscue didn't hurt. Britton struck out James McCann and got JaCoby Jones to fly out to end the inning, stranding runners at second and third. He did give up a run through, and that 4-3 lead became a 5-4 deficit. This bullpen, man. Getting real annoying. The sooner these guys want to start living up to the SuperBullpen moniker, the better. I'd appreciate it.
The Eighth Inning Rally
My goodness, the go-ahead eighth inning really had a little of everything. Loud base hits, weak base hits, defensive funny business, walks, a ball hitting an outfield in the head, you name it. I'm going to annotate the play-by-play on this one. Let's get to it.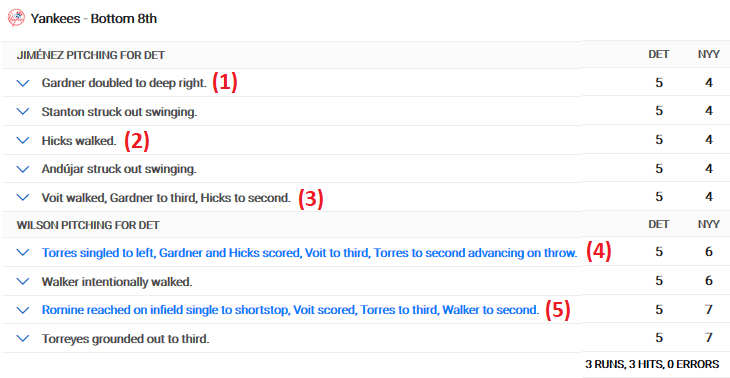 (1) Two well-struck balls in two at-bats for Gardner with the sixth inning homer and this eighth inning double. A sign he's coming out of his miserable August slump? Eh. Maybe it is, maybe it isn't. Even if not, Gardner came up with two pretty big hits Friday night. The broke the ice with the two-run home run to end Zimmermann's no-hit bit, then he started that eighth inning rally with a double to right. On his bobblehead night, no less. Pretty cool.
(2) Man, what an at-bat by Hicks. Going into Friday's game he ranked sixth in the league in walks (72), fourth in walk rate (15.0%), and third in chase rate (19.3%). Elite plate discipline. That eighth-inning walk was a battle. Hicks took Joe Jimenez's first two pitches way out of the zone for a 2-0 count, then Jimenez came back with two well-placed fastballs on the outer half. He went back out there with the 2-2 pitch, only a tad more outside …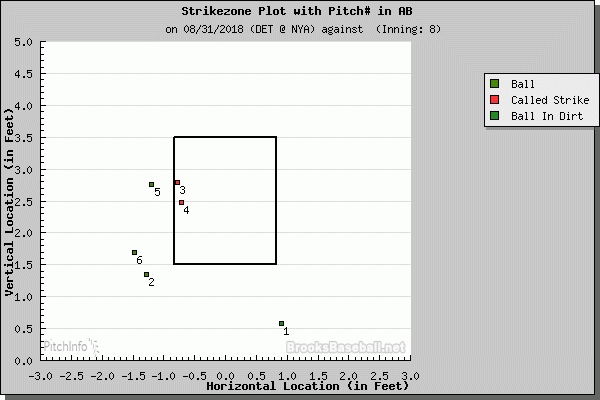 … and I have no idea how Hicks laid off it. In my head I mentally swung at that pitch. The two previous pitches were in a similar spot and I thought Hicks would have to protect with two strikes. Instead, the took the pitch off the plate to run the count full, then took another ball for the walk. Hicks is so, so good. The home run was his 23th of the season and he's up to .251/.366/.473 (129 wRC+) on the season. What a player.
(3) Luke Voit struck out in this at-bat. He checked his swing on the 3-2 slider and it looked like he went around when I was watching the game live. Replays showed he did go around. First base umpire Paul Nauert saw it differently, and said Voit checked his swing. Tigers manager Ron Gardenhire came out and gave Nauert the business and got ejected. First game in MLB this season in which both managers were ejected. On his way back to the dugout, the camera caught Gardenhire jokingly asking Voit if he went around. It was pretty funny. Rather than an inning-ending strike three, the inning continued and the bases were loaded. The Yankees got a break.
(4) Remember when Gleyber Torres was slumping a few weeks ago? That stunk. The slump is over though and has been for a while. Torres went into Friday's game 19-for-46 (.413) with three homers in his last 13 games. He was 4-for-10 with the bases loaded in his young big league career prior to that at-bat. He is now 5-for-11. Torres dunked a two-run go-ahead single in front of Mikie Mahtook in left field. Mahtook missed the ball on the dive and it bounced up and hit him right in the noggin, which kept the ball close by. Had it not hit him in the head, it might've rolled to the wall and gone for an inside-the-park grand slam. For real.
Bah. I hate that Mahtook guy. At least the Yankees won (and he's not hurt) and I can laugh at him for taking that ball to the forehead. It's the little things that make this game enjoyable.
(5) This was scored an infield single and whatever man. I don't care. Whatever it was, it got an insurance run in. Austin Romine hit a ground ball to shortstop Ronny Rodriguez, who kicked it around a bit, and everyone was safe. Voit scored to stretch the lead to 7-5. Given the state of the bullpen, the insurance run was appreciated. Especially since David Robertson allowed a leadoff single in the ninth and put runners on the corners with one out. Robertson struck out Nick Castellanos and Victor Reyes to end the game. He let out a nice little fist pump too. The Tigers stink, but this had that big game feel.
Leftovers
Seven hits for the Yankees, including two each by Gardner (homer, double) and Torres (two singles). Hicks (homer, walk) also reached base multiple times. Andujar had his homer and Romine had his infield single, and Stanton, Voit, and Neil Walker worked walks. Walker's was intentional. Three homers and 2-for-5 with runners in scoring position? The best of both worlds.
And finally, there were 41,026 fans in attendance Friday night, which is notable because it pushes the Yankees over the three million attendance mark for the 20th consecutive season. That is the longest such streak in baseball history. Pretty cool. Still eleven home games remaining too.
Box Score, WPA Graph & Standings
ESPN has the box score and updated standings, MLB has the video highlights, and we have a Bullpen Workload page. Here's the win probability graph:

Source: FanGraphs
Up Next
Andrew McCutchen's Yankees debut! And Gary Sanchez's return! Gonna be a fun day. Masahiro Tanaka and Daniel Norris are the scheduled starters for Saturday's game, which is a 4pm ET start. Norris will becoming off the disabled list to make that start. He's been out since April with groin surgery.