The game may not have meant anything in the standings, but that didn't make it any less fun. The Yankees picked up an 8-5 win over the Red Sox in the penultimate game of the regular season Saturday afternoon. They've won three straight games and nine of their last 12 games. At 100-61, the Yankees have their first 100-win season since their 103-59 championship season in 2009.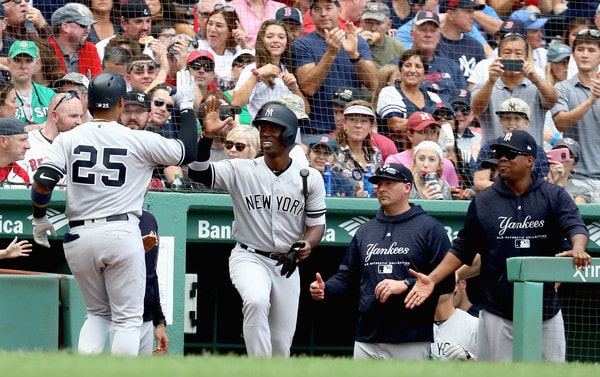 Two Rookies, Two Records
What a fun afternoon. Two records were broken Saturday and even more history was made on top of that. And the Yankees have their two standout rookies to thank. Let's go one at a time here.
1. A new MLB home run record. The Yankees went into Saturday's game having hit 30 home runs in their last 14 games (!), which moved them into a tie with the 1997 Mariners for the most home runs in a single season in baseball history. On Saturday, the Yankees broke the tie. Gleyber Torres, specifically. Torres swatted the team's 265th home run of the season in the fourth inning. To the action footage:
Giancarlo Stanton hit the team's 266th home run a little later on for good measure. The idiot fan who threw the ball back from the Green Monster seats hit Stanton on a hop as he rounded second base. Giancarlo laughed it off and actually made a tip of the cap motion to the fan. The fan was still ejected though. Folks, just give the ball to a kid. Don't throw it back. Anyway, here's the single-season home run leaderboard:
2018 Yankees: 266 (and counting)
1997 Mariners: 264
2005 Rangers: 260
2010 Blue Jays: 257
1996 Orioles: 257
Gleyber's home run gave the Yankees the single-season home run record and, to me, the craziest thing is the Yankees did it without someone having a monster season. The 1997 Mariners got 56 homers from Ken Griffey Jr. and 40 from Jay Buhner. Stanton leads the Yankees with 38 homers. No one else has more than 27. Earlier this month the Yankees became the first team in history with 12 double-digit homer guys. Their power is spread out.
How spread out? The Torres home run was the club's 20th home run by the No. 9 spot in the batting order. The Yankees are the first team in history to get 20 homers from every lineup spot. The list:
27
39
27
44
34
26
23
26
20
That blows my mind. Hitting 266 home runs is pretty insane. The Yankees have a chance to finish the year with 270 homers. But getting 20+ homers from all nine lineup spots? That is just absurd. The Yankees did all that even with Aaron Judge missing two months and Gary Sanchez missing two months and being mostly awful. Incredible. What a fun dinger filled season.
2. A new Yankees rookie doubles record. Torres and the Yankees made MLB history with his home run. Miguel Andujar made franchise history with his fifth inning double. One inning after Gleyber's home run, Andujar yanked a hard-hit ground ball into the left field corner for a two-run double. Andrew Benintendi kicked it around a bit to help the second run score. Here's the video:
That is double No. 45 for Andujar. Joe DiMaggio held the franchise rookie record with 44 doubles in 1936. Now Andujar holds the record. (He added his 46th double later in the game.) I can't wait for a bunch of those doubles to turn into home runs as he matures. Saturday doubles were hard-hit grounders, sure, but so many of those 46 doubles were rockets into the gap. In a year or two (or three) a few of those two-baggers will wind up over the fence rather than off the wall.
Also, Andujar definitely has a chance to at least tie the American League rookie record for doubles. Fred Lynn holds that. He had 47 in 1975. Andujar needs one double to match Lynn's record and he'll get to play Sunday's season finale in an extreme doubles ballpark. Andujar (probably) won't reach Johnny Frederick's big league rookie record of 52 doubles in 1929. Lynn's record is within reach.
3. Another new MLB record. This isn't a Yankees-specific record, but the Yankees did contribute to it, and it is pretty cool. For the first time in MLB history, there are three 100-win teams in one league. The Yankees have 100 wins, the Astros have 101 wins, and the Red Sox have 107 wins. There have been several seasons with three 100-win teams (the Astros, Dodgers, and Indians did it last year), but never before have there been three 100-win teams in one league. Three 100-win teams (Yankees, Astros, and Red Sox) and two 100-loss teams (Orioles, Royals). What a mess the AL is this year.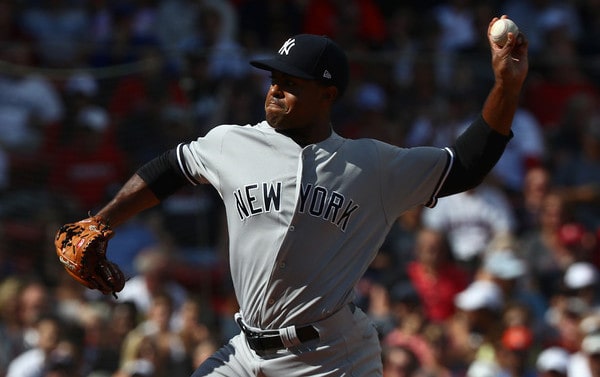 Audition Time
As expected, Saturday's game was chock full of pitching auditions. If the Yankees go with ten pitchers in the Wild Card Game like last year, with three of those spots going to starters, they have one open bullpen spot to figure out. For at least two pitchers, Saturday's game was clearly an audition for that final bullpen spot. Let's recap.
1. The lefty specialist? Aaron Boone said Stephen Tarpley is in the mix for a postseason bullpen spot and, on Saturday, he inherited runners on first and second with one out from Domingo German and it quickly became runners on second and third with one out after a double steal. Tarpley got Benintendi to fly out to center — Aaron Hicks held the runner at third with his arm — then he struck out Brock Holt to strand both runners. Good work. Lefties are now 1-for-13 (.077) with one walk and six strikeouts against Tarpley in his brief MLB career. My guess is we'll see him in another matchup spot Sunday to conclude the audition.
2. The long man? If the Yankees carry three starting pitchers on the Wild Card Game roster (they did that in 2015 and 2017), they won't need a true long man in the bullpen. They will need one should they advance to the ALDS though, and Lance Lynn got a chance to strut his stuff in relief Saturday. He allowed one run on a hard-hit double and a flare single in three otherwise effective innings. Lynn struck out four and got six swings and misses among his 50 pitches. He has six starts this season with no more than six swings and misses. The fastball seems to play up in relief. We'll see how the Yankees go with their postseason bullpen. Lynn certainly didn't hurt his cause Saturday.
3. The long shots? At this point, I have to think Sonny Gray and Tommy Kahnle are on the outside of the postseason bullpen looking in, and I don't think there was anything they could've possibly done Saturday to help their chances. Sonny Gray struck out three in two very good (and scoreless) innings. Kahnle loaded the bases with no outs in his inning (walk, single, walk) and fell behind in the count 3-0 on the fourth batter, though he did escape while allowing just one run on a grounder to second base. It was hit too slowly for a double play. Gray has to be behind Lynn on the rotation/long man depth chart and Kahnle has to be behind Tarpley on the short relief depth chart. If the Yankees get passed the Wild Card Game, I imagine at least Gray will travel with the Yankees in case he's needed as an injury replacement. I'm not sure Kahnle gets to do that much.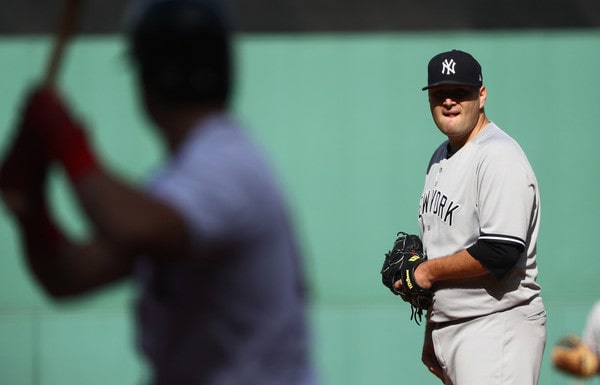 Leftovers
As for the game itself, the Yankees scored their eight runs on three run-scoring doubles (Stanton, Andujar, Greg Bird) and two home runs (Torres, Stanton). McCutchen had two hits, Andujar had two hits, and Bird had two hits. Stanton was a triple short of the cycle. He is 11-for-27 (.407) with three doubles and three homers in his last seven games, so he's heating up at exactly the right time. Also, Stanton owns a .371/.423/.700 line with six doubles and five homers against the Red Sox this year. He's crushed them.
German got the start and was shaky, allowing three hits and a walk in 1.1 innings. He was limited to 40-ish pitches in his recent minor league games after dealing with a nerve issue in his elbow, hence his 36-pitch outing Saturday. Jonathan Holder allowed a two-run home run in the ninth to make the game seem closer than it actually was. Aroldis Chapman recorded the final two outs. I'm curious to see whether he pitches again Sunday, even if it's only one batter. Do the Yankees want to see him pitch back-to-back before the postseason (he hasn't done it since coming back from the disabled list)? I guess we'll find out.
Box Score, WPA Graph & Standings
For the box score and updated standings, go to ESPN. For the video highlights, go to MLB. Here's our Bullpen Workload page and here's the win probability graph:

Source: FanGraphs
Up Next
The final regular season game of the 2018 season. The Yankees and Red Sox wrap up their seasons with another meaningless game Sunday afternoon. That's a 3pm ET start. Every game in the league starts at 3pm ET on the final day to maximize drama. Fortunately the Yankees have no drama to worry about. TBA and Rick Porcello are the scheduled starting pitchers for the season finale. The Yankees have scratched Luis Severino as they get their Wild Card Game pitching figured out.