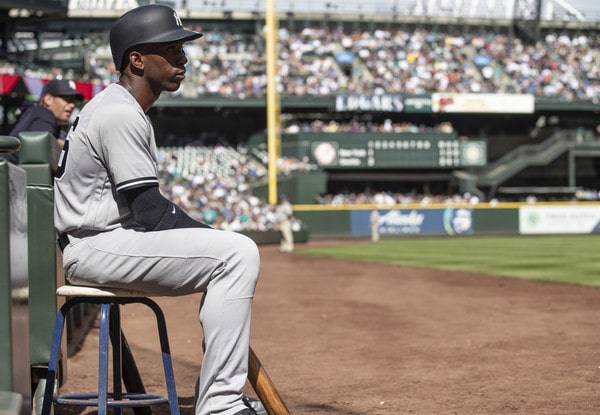 In a very short period of time, Andrew McCutchen has become an indispensable Yankee who has been a dominant force in the leadoff spot and given the lineup a real nice shot in the arm down the stretch. McCutchen is hitting .233/.424/.493 (154 wRC+) in 22 games as a Yankee and he's taken over as the everyday left fielder. He's been awesome.
According to Nick Cafardo, the Yankees would like to retain McCutchen beyond this season, assuming they can work out a reasonable contract. What's reasonable? Who knows. Predicting free agent contracts in this climate is a fool's errand. McCutchen is an impending free agent and he'll turn 32 in October, and his best years are behind him, so a massive payday doesn't figure to be on the horizon.
This year the Yankees very quickly went from having a glut of outfielders to, well, having to trade for McCutchen at the August 31st postseason-eligibility deadline. Injuries (Aaron Judge, Clint Frazier, Jacoby Ellsbury) and trades (Billy McKinney) thinned out the outfield depth chart. Does a reunion with McCutchen make sense? Let's talk it out.
1. The outfield picture is complicated. Going forward, we know two things about the outfield. One, Judge will be in right field. And two, Aaron Hicks will be in center field, for at least one more season. (Hicks will be a free agent after 2019.) Other than that? Things are really up in the air. Some outfield questions, in no particular order:
How much do the Yankees want to play Giancarlo Stanton in the outfield?
Will Frazier be healthy next year? If yes, where does he play?
Will Ellsbury be healthy next year? If yes, where does he fit in?
What happens with Brett Gardner?
At midseason, I thought the Yankees would exercise Gardner's option for next season and bring him back — it's a $12.5M option with a $2M buyout, so it's a net $10.5M decision — but that won't happen now. Gardner's had a terrible second half and has been displaced by McCutchen. He's still a heart and soul Yankee though. Would it be at all surprising if the Yankees decline the option and bring Gardner back on a smaller contract? Nah.
I think the Yankees are totally comfortable playing Stanton in left on an everyday basis, if necessary. He spent a lot of time at DH this year because he's been fighting that hamstring problem pretty much the entire second half. Frazier and Ellsbury? Really tough to count on those guys given their injuries. I don't think the Yankees could pencil either into the 2019 roster right now, even as a bench guy.
So yeah, the Yankees have some outfield decisions to make this winter. They can let Gardner walk and re-sign McCutchen, and roll with a three-man (Judge, Stanton, McCutchen) rotation in the corner outfield and DH spots, and that'd work well. What happens then with Frazier? And Ellsbury? I dunno. I know this much: The more good players, the better. The Yankees can make McCutchen fit.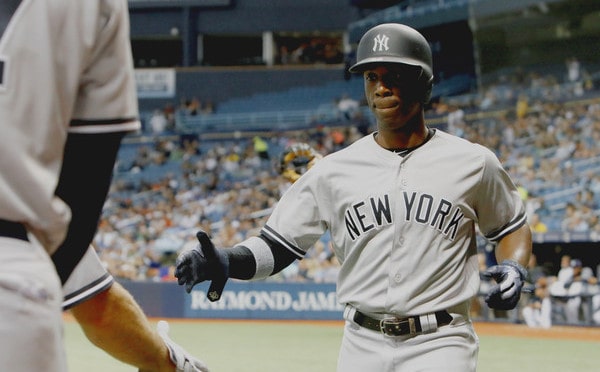 2. What is a reasonable contract, exactly? Three years ago McCutchen would've been a $150M player. Maybe even a $200M player. He was a perennial MVP caliber player from 2012-15 before slipping the last few years. McCutchen hasn't had an Andruw Jones collapse, but he's clearly no longer the player he was in his prime. He's still quite good though.
The free agent market right now is not the free agent market we watched the last 10-15 years. Things changed last offseason and teams shunned veterans, even good ones. Jay Bruce getting three years and $39M going into his age 31 season looks like a minor miracle right now. McCutchen will be going into his age 32 season. He certainly has the better track record, but:
McCutchen's contract year: .252/.367/.425 (120 wRC+) and +2.6 WAR
Bruce's contract year: .254/.324/.508 (118 wRC+) and +2.6 WAR
Prior to last offseason, McCutchen's contract comparables would've been guys like Ian Desmond (five years, $70M) and Lorenzo Cain (five years, $80M) and Dexter Fowler (five years, $82.5M). Does he even get $50M right now? Three years and $45M could end up being a pretty good deal for 32-year-old McCutchen, from his perspective.
McCutchen has a few things going for him that Bruce and others did not last offseason. One, this guy was a true star at one point, and that still has some appeal. Two, he remains a good on-base player with some pop who fights tooth and nail every at-bat. Three, he's healthy and durable. McCutchen has played 150+ games eight times in the last nine years, and the one time he didn't, he played 146.
And four, McCutchen has an excellent reputation within the game. He's a good player on the field, he's long been considered an excellent teammate in the clubhouse, and he has a squeaky clean image off the field. McCutchen's a great ambassador for baseball and he does a ton of work in the community. Teams want players like him in their organization. That could factor into his contract this offseason.
For the Yankees, money shouldn't be an issue this winter. By my quick count the Yankees are shedding about $55M in payroll after the season, so even if ownership says they can't go over the $206M luxury tax threshold next year, there's still money to spend. The Yankees can afford McCutchen. It's just a question of how they want to build their roster and what other moves they're considering, such as …
3. What about that Harper guy? At this point there is no sense in trying to forecast Bryce Harper's upcoming contract. It is going to be so convoluted with opt-outs and escalators and option years. All I know is it will be very rich. Harper turns only 26 in October and he's a generational talent — his "down" season is .246/.393/.498 (135 wRC+) — and anyone with half a brain would take his next three years over McCutchen's next three years.
If the Yankees decide to pursue Harper, then McCutchen gets put on the back-burner. Heck, the same applies to Manny Machado, because signing Machado could mean Miguel Andujar winds up in the outfield. It could be that McCutchen is Plan B for potential Harper suitors, and he'll have to wait for a contract. Or it could be that a team that knows it can't afford Harper will act quickly to sign McCutchen before the price potentially goes up.
We don't know whether the Yankees will pursue Harper. When CC Sabathia became a free agent, everyone knew the Yankees would go after him. When Jason Giambi and Mike Mussina became free agents, everyone knew the Yankees would go after them. I don't sense get that vibe with Harper. It's possible the Stanton trade took Harper off the table. Point is, if the Yankees are planning to make a run at Harper, McCutchen's probably out of the picture.
* * *
For what it's worth, McCutchen told Randy Miller it is "too early to say what's a first choice" when it comes to his next team, though he did praise the Yankees. "The class here is just different. There's just a different feel that you get when you are on this team. You feel like you're kind of part of that history, and just to be even mentioned in it is quite an honor honestly. I've enjoyed my time here," he said.
McCutchen's been awesome in his limited time as a Yankee and I get the feeling that, similar to Todd Frazier last year, there's going to be an ongoing "why haven't the Yankees re-signed him?" dialogue this winter. Well, what if Clint Frazier is next year's Miguel Andujar? What if the plan is to go all-in on Harper? McCutchen is awesome and if there's a way to bring him back that makes sense, great. Given their recent history, don't be surprised if the Yankees pass in favor of a younger player, however.