It is official: The 2018 AL Wild Card Game will be played in Yankee Stadium. The Yankees clinched the top wildcard spot and thus homefield advantage over the Athletics with an 11-6 win over the Red Sox in Friday night's series opener at Fenway Park. Third time in four years the AL Wild Card Game will be in the Bronx. Hopefully the 2018 game is more 2017 than 2015. The Yankees are 99-61 and on the verge of their first 100-win season since going 103-59 in 2009.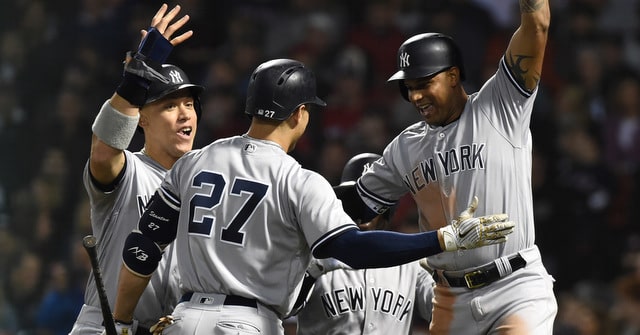 Another Big Early Lead
At one point spanning the ninth inning Wednesday through the fourth inning Friday, the Yankees scored 24 runs in 14 innings. They scored four runs in the failed ninth inning comeback Wednesday, a dozen runs in Thursday's win, and eight runs in the first four innings Friday. The offense is clicking.
Gary Sanchez gave the Yankees an early 1-0 lead with a long second inning home run over the Green Monster. Eight homers in 17 career games at Fenway Park for Sanchez. Later in that inning Aaron Judge worked a walk, Aaron Hicks grounded a single to left, and Giancarlo Stanton muscled a broken bat single to center to score another run. All that happened with two outs and gave the Yankees a 2-0 lead. Let's annotate the play-by-play for the six-run fourth inning: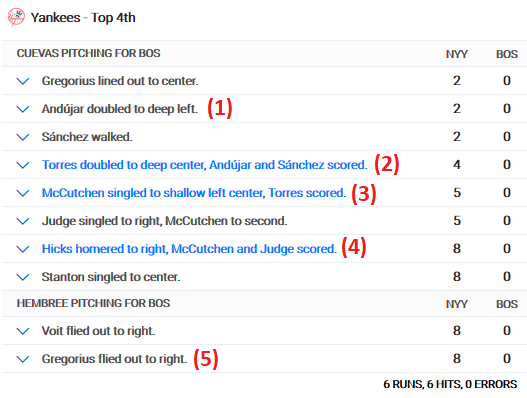 (1) A record-tying double, this was. Miguel Andujar hammered a ball off the Green Monster for his 44th double of the season, tying Joe DiMaggio's franchise rookie record. Fred Lynn holds the American League rookie record with 47 doubles in 1975. That is definitely within reach the next two days, especially at an extreme doubles park like Fenway. Johnny Frederick holds the MLB rookie record with 52 doubles in 1929. Can't see that happening. Tying DiMaggio is cool. Breaking DiMaggio's record would be even cooler. Breaking Lynn's record would be the coolest.
(2) There's a lot going on here. First, Gleyber Torres tomahawked an elevated fastball (it wasn't in the zone) to center field and I thought it was a home run off the bat. So did Torres. He casually flipped his bat aside and jogged out of the box. Then, when he realized it was going to stay in the park, he picked up the pace and slid into second base, and appeared to jam his left wrist. He was flexing it but did remain in the game.
And secondly, the double scored two runs, the second of which was Sanchez chugging around from first base. He didn't slide and was called safe because catcher Blake Swihart didn't hang on to the ball. It popped out of his glove as he attempted the swipe tag. (I'm not sure he ever tagged him with the glove anyway.) Sanchez was called safe, but Red Sox manager Alex Cora appealed to home thinking Gary did not actually touch home plate. It looks like his toe got the plate …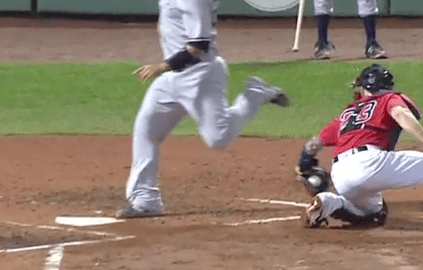 … but Cora appealed, and after home plate umpire Laz Daz signaled safe, the Red Sox challenged. The call stood. Sanchez was safe and the run scored. Catchers usually aren't the most graceful sliders to start with and Sanchez has been on the disabled list with groin trouble twice this season. I'm okay with the non-slide there. He did almost miss the plate though. That would've been bad. Also, Gleyber's slide at second base was completely unnecessary. The throw went home. Not the best inning on the bases for the youngsters. But, two runs scored, and it all worked out okay.
(3) Another bad slide. This one was necessary though. Andrew McCutchen plopped a single into shallow left — he fell behind in the count 0-2 and still saw six pitches — and Torres scored from second base on the play. He slid headfirst and reached around Swihart to touch the plate with his left hand. It was very similar to the slide that tore his elbow ligament and sent him for Tommy John surgery two years ago. Very similar. My heart skipped a beat. Fortunately Gleyber got up right away and was fine. Phew. Between the slide at second and slide at home, I am totally cool with Torres not sliding the rest of the regular season. The kid does a lot of things incredibly well. Sliding isn't one of them.
(4) This is one of my favorite home runs of the season. Not only did it give the Yankees a commanding 8-0 lead, but Hicks didn't even think he hit it out. He threw his bat in frustration and put his head down in disappointment out of the box. Then it carried into the bullpen and he laughed at himself as he trotted around first base. Here's the video. Watch it for Hicksie's reaction, if nothing else:
That was a 398 foot homer! Imagine being so convinced you didn't get enough of it that you throw your bat and look at the ground only to have the ball carry 398 feet. Pretty crazy. Thanks to the Yankee Stadium short porch, we've seen plenty of "damn I just missed it oh hey it carried out" homers over the years. Can't imagine it's happened often with home runs into the bullpens at Fenway Park though. Little League ballpark, joke dimensions, etc. etc.
(5) The final out of that six-run fourth inning was a Didi Gregorius fly ball to the warning track in right field. It was an out, sure, but it was solid contact. This was Didi's first game back from his wrist trouble and he hit the ball hard all night. He hit the ball hard and in the air four times in his five at-bats:
First at-bat: Grounder to second (no Statcast data)
Second at-bat: 93.3 mph exit velocity and 328 feet to center (caught)
Third at-bat: 88.3 mph exit velocity and 320 feet to right (caught)
Fourth at-bat: 93.5 mph exit velocity and 275 to left (single)
Fifth at-bat: 102.2 mph exit velocity and 368 feet to right (caught)
The grounder to second was a fairly routine play. Gregorius made good contact in his other four at-bats and he was on the pitches he should've been on. We'll see how Didi and his wrist feel when he wakes up Saturday. Hopefully good. Overall though, I thought his return to the lineup was very encouraging. Couldn't really tell he missed time with a wrist problem, even only a few days.
One Bad Inning Happ-ened
An excellent start turned into a meh start in a hurry for J.A. Happ. He retired the first nine batters he faced and allowed only a walk and a ground ball single through five scoreless innings. Only 67 pitches through five innings too. If the Yankees are basing the Wild Card Game starter decision on "who pitched the best most recently," Happ had put himself in position to be the frontrunner no questions asked. He had a big lead and he was cruising.
The Red Sox finally broke through in the sixth inning. Mookie Betts singled to left with one out and Andrew Benintendi doubled over Hicks' head in center. Hicks got turned around and let a catchable ball go over his head. The Red Sox had runners on second and third with one out. The Yankees still had an 8-0 lead. Happ got J.D. Martinez to pop up in foul territory wide of first base for the second out, which was a relief. Martinez is so damn good.
Two bad things happened after that. One, Happ walked Xander Bogaerts on four pitches to load the bases. Eight runs is a comfortable lead but not really in Fenway Park. Can't give 'em free baserunners. And two, wow did Happ groove a first pitch fastball to Steve Pearce. This is why you don't automatically take the first pitch after the pitcher walks the previous batter on four pitches: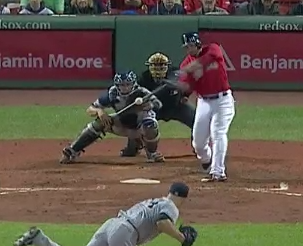 Middle-middle at 94 mph. The Yankees are up 8-0 and Happ just walked Bogaerts to load the bases. He doesn't want to start nibbling and give the Red Sox more free baserunners. So he threw the get-me-over fastball and Pearce hit it over the Green Monster for a grand slam. He is hitting .750/.890/2.459 against the Yankees this season, give or take. (Actually .281/.395/.719 going into this game.) Suddenly the 8-0 lead became an 8-4 lead. Harrumph.
Happ's final line: 6 IP, 4 H, 4 R, 4 ER, 2 BB, 7 K on 88 pitches. His line looked a lot better before that sixth inning. Hicks did Happ no favors on Benintendi's double. Happ did himself no favors with the walk to Bogaerts. Chad Green was warming in the sixth and I'm assuming that, had the score been closer, he would've been in the game to face Pearce (who then gets lifted for pinch-hitter Mitch Moreland?). With a big lead and Happ pitching well overall, Aaron Boone gave his a starter a chance to get through the inning. Happ doesn't get that chance in the postseason.
Home Run History
The Pearce grand slam cut the lead to 8-4 and, thankfully, the Yankees responded right away. American hero Luke Voit slugged an opposite field solo home run into the bullpens with one out in the top of the seventh to give the Yankees a 9-4 lead. It was also the team's 263rd homer of the season. Bogaerts let a Sanchez ground ball get through his legs later in the inning to let another run score. Should've been an inning-ending 6-4-3 double play. Instead, no outs recorded and a 10-4 lead.
Home run history was made in the top of the eighth. Judge socked a solo dinger to center against lefty Bobby Poyner to tie the 2018 Yankees with the 1997 Mariners for the most home runs in a single season in MLB history. It was No. 264 on the year. Here's the record-tying homer:
The Yankees fell off the home run record pace for a little bit while Judge was sidelined and Stanton went through his recent slump, but, including Friday, they've hit 30 home runs in their last 14 games (!) to tie the record. That is bananas. Still two games to go too! They might get to 270 homers before the end of the weekend. Here's the single-season home run leaderboard:
2018 Yankees: 264 and counting
1997 Mariners: 264
2005 Rangers: 260
2010 Blue Jays: 257
1996 Orioles: 257
More important than the home run record is the guy who hit it. The homer was Judge's first since returning from his wrist injury. Going into this game he was 7-for-34 (.206) in ten games back from the wrist injury and his average exit velocity was way down at 87.1 mph. That is very un-Judge-like. He did have a real good swing Thursday in Tampa that resulted in a fly ball to the warning track (video), and Friday night he went deep to the pull side of center, so hopefully that means Judge is regaining his timing. Hooray for homer history and hooray for Judge showing some pop. I was hoping he'd hit one out before the season ended, just to remind us he can.
Nine Outs To Clinch
With a six-run lead (and later a seven-run lead) and nine outs standing between the Yankees and homefield advantage in the Wild Card Game, Boone went to his best bullpeners rather than try to piece things together with September call-ups. And that is exactly what he should've done. Take care of business and get homefield advantage clinched. Everything that happens this weekend after clinching is meaningless.
Green was warming up in the sixth and he went through the bottom of the order 1-2-3 in the seventh. Boone went to Dellin Betances to face the top of the order in the eighth — Boone's been doing that regularly the last few weeks, using Betances against the other team's best hitters — and he ran into some problems. Two walks and two singles gave the Red Sox a run and trimmed the lead to 11-5. Torres made a nice lunging catch on Eduardo Nunez's line drive to leave the bases loaded and prevent further damage.
Zach Britton came in for the ninth inning and I thought it would be Aroldis Chapman only because he's pitched every other day since returning from the disabled list and he was lined up to pitch in this game. I wonder if the Yankees are planning to have Chapman pitch Saturday and Sunday just to give him a chance to throw back-to-back days before the postseason. Two days of rest before the back-to-backs then two days of rest after? Or maybe they're just staying away from him because he hasn't been good against the Red Sox (16 runs in 16 innings as a Yankee)? I doubt it's the latter.
Whatever it was, Chapman did not pitch the ninth inning (he eventually warmed up though). Britton came in and walked leadoff man Ian Kinsler on four pitches. Never easy, eh? Andujar then double clutched on Sam Travis' potential 5-4-3 double play ball and only record the out at second. Gregorius then bobbled a potential 6-4-3 double play ball and his hurried toss to second was wide of the bag. Not only was everyone safe, the runners also moved up to second and third. Like I said, never easy. An ALDS matchup between these two teams will be the death of me.
Britton walked pinch-hitter Christian Vazquez — the Red Sox were subbing out some of their regulars late in the game — to load the bases and walked Bogaerts to force in a run. Three walks in the inning for Britton after two walks in his previous 17.2 innings. At this point, two things had happened. One, eight of the last 13 Red Sox batters had reached base and that is capital-B Bad. Imagine if Boston hadn't gone 2-for-10 with runners in scoring position likely the unclutch chokers they are. (Or do we only do that for the Yankees?)
And two, Britton had gotten five outs in the inning. Two actual outs (Travis' fielder's choice at second and a Benintendi pop-up) and three hypothetical outs (the back-end of Travis' would-be 5-4-3 double play and the 6-4-3 double play Didi threw away). The sixth out came when Pearce grounded out to third with the bases loaded to end the game. It was not routine. Andujar has to lunge for it and make an off-balanced throw to first. Good grief. I will enjoy stress-free baseball the next two days.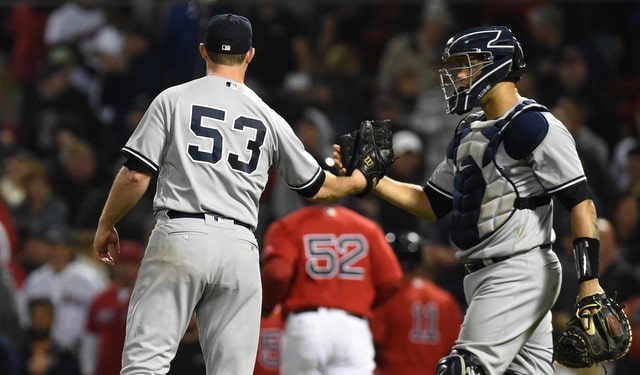 Leftovers
Everyone in the starting lineup had a hit. Judge (single, homer), Hicks (single, homer), Stanton (two singles), and Sanchez (homer, double) had two hits apiece. Voit (homer, walk) and Andujar (double, walk) reached base multiple times as well. As a team, the Yankees are hitting .263/.353/.535 in their last ten games. Seems good.
And finally, the Yankees have now clinched everything they can clinch. They'll be the home team in the Wild Card Game, the road team in the ALDS and ALCS, and the home team in the World Series. The rules say a wildcard team can't have homefield advantage in the LDS and LCS regardless of record. They can have homefield advantage in the World Series though, and the Yankees have clinched a better record than every National League team. Everything's in the bag. The only things left to do this weekend are set the single-season homer record and win that 100th game.
Box Score, WPA Graph & Standings
ESPN has the box score and updated standings, MLB has the video highlights, and we have a Bullpen Workload page. Here's the win probability graph:

Source: FanGraphs
Up Next
The second-to-last game of the regular season. The Yankees and Red Sox will back at it Saturday afternoon with the middle game of this three-game series. That's a 1:05pm ET start. Hooray for that. Lance Lynn and Nathan Eovaldi are the scheduled starting pitchers for that one.