The 2018 season ended far earlier than we all would've liked. Now that the season is over, it's time to begin our annual season review series, which kicks off today with Greg Bird. Aside from post a day Monday through Friday, there is no set schedule for these posts. We'll write about players when we feel like writing about them, so each day's review post will be a surprise (even to us!).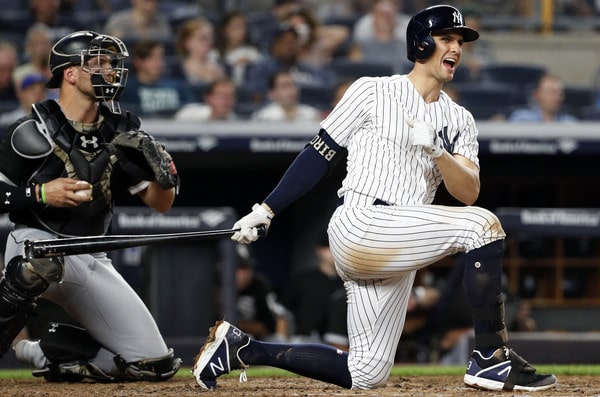 This was supposed to be the year. The year Greg Bird finally stayed healthy and took over as the Yankees' first baseman of the present and future. Injuries sabotaged him in 2016 (shoulder surgery) and 2017 (ankle surgery), though we did get a reminder of what Bird is capable of last October, when he hit .244/.426/.512 (151 wRC+) with three home runs and 12 walks in 13 postseason games.
Who can forget Bird's home run against Andrew Miller in ALDS Game Three last year? Aside from Didi Gregorius' three-run home run in the Wild Card Game, the Yankees didn't have a bigger hit all season.
Bird's postseason performance combined with the perpetual hope that This Is The Year Greg Bird Stays Healthy had everyone excited coming into this season. I'm not the biggest Greg Bird fan out there but he has Yankee Stadium friendly pull power plus military style plate discipline. The Yankees didn't need him to be their best (or second best, or third best, or even fourth best) hitter. He was expected to be a strong complementary piece.
Instead, for the third straight season, we were left disappointed. First it was another injury, then it was poor performance. Bird hit .199/.286/.386 (81 wRC+) with eleven home runs in (a career high!) 311 big league plate appearances in 2018. Not only did Luke Voit steal away the first base job in August, Bird didn't even get a spot on the postseason roster. The Yankees carried six bench players on the Wild Card Game roster. Bird was not one of them. He wasn't on the ALDS roster either. His potential to poke a ball into the short porch was deemed not necessary. Ouch.
Unfortunately, this year's Greg Bird season review is like the last two. He was hurt, he didn't live up to expectations, and we're left wondering what the future holds. And, moreso than at any point before, it seems Bird may no longer be in the Yankees' long-term plans. They love the guy, they've made it clear these last few years, but things don't always play out as hoped. Let's look back at Bird's season.
Another Year, Another Injury
Bird did not even make it out of Spring Training healthy. He finished last season and the postseason healthy, had his first normal offseason in several years, and then his ankle started acting up again. Bird was held out of a Grapefruit League game on March 24th with inflammation in his right foot and sent to see a specialist. Two days later, the Yankees announced he needed surgery to remove a bone spur. The recovery time: 6-8 weeks.
"He was really emotional the other day when he came out, when he was dealing with the pain. Because he knows, obviously, he hasn't gotten to put it together yet," said Aaron Boone after the surgery was announced. "And he understands in his mind what kind of player he is and what he thinks he can be. So there were a couple days of some real frustration: 'What's going on? What's the problem?' … (He) got some closure and feels like this could be the answer to the problem, even though it's going to cost him some weeks on the front end of the season."
The initial injury was fairly concerning because Bird had surgery on the ankle last year and there was no play that caused the new injury. He played a full nine-inning game at first base and had discomfort the next day. Those non-contact injuries are always the worst. The Yankees sent him for tests, which revealed the bone spur. A quick recap of Bird's surgeries:
2016: Missed entire season with right shoulder injury.
2017: Missed three and a half months with right ankle surgery.
2018: Missed roughly two months with right ankle surgery.
Bird had his surgery and was shut down six weeks before beginning a minor league rehab assignment. I remember being pretty stoked that he returned to game action on the low end of that 6-8 week rehab time frame. Bird hit .205/.367/.436 (132 wRC+) with three home runs in his 12 rehab games and rejoined the Yankees on May 26th, two months to the day after it was announced he needed surgery.
All things considered, Bird's injury and rehab went about as well as everyone could've hoped. The injury was unfortunate and the fact he needed surgery stunk, but Bird completed his rehab in six weeks and showed power and patience during his rehab assignment, and that was encouraging. I naively thought the ankle surgery would only be a bump in the road and not a season-derailer. Bottom line though, two surgeries on the same ankle within 12 months is bad news.
A Troubling Decline in Contact Quality
To Bird's credit, he initially played well after returning from the disabled list. He went 7-for-28 (.280) with two doubles and two homers in his first six games back, and he also had a two-homer game against the Red Sox on June 29th. During his best stretch of the season, from June 29th to July 29th, Bird hit .286/.357/.548 (138 wRC+) with six home runs in 23 games. Who knew? It happened though.
Once the calendar flipped to August, Bird's production cratered. He hit .135/.210/.260 (26 wRC+) the rest of the season and lost his first base job to Voit. The nosedive in graph form: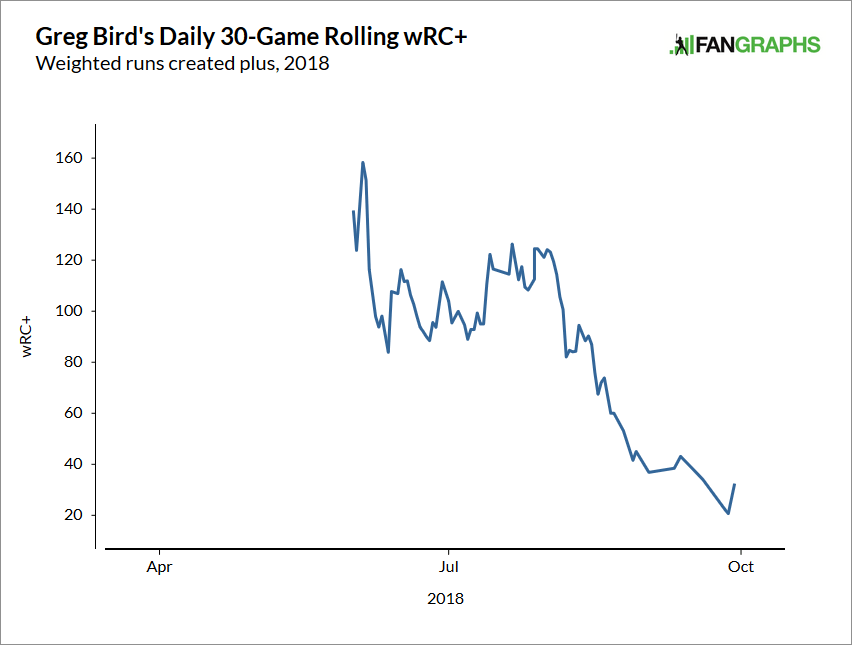 Bird started only three games in September — one of those three was the meaningless Game 161 after the Yankees clinched homefield advantage in the Wild Card Game — and appeared in only seven of the team's final 27 regular season games. He was healthy. He just stunk and didn't deserve a lineup spot. "It's frustrating. It sucks to suck," he said in August.
"Performance matters. The matchups matter," said Boone late in the season when asked about Bird being mostly glued to the bench. "(I'm) trying to keep both guys relevant and put both guys in positions to succeed as best we can. But I would say it's a fluid situation … If we can get (Bird) going in the right direction, I'm positive he can not only help us down the stretch, but, hopefully, if we get into the playoffs."
Watch enough baseball and you're bound to see a talented player struggle for a long stretch of time. Everyone falls into a rut now and then, you know? Bird's slump was beyond a normal baseball slump, however. He was struggling and he looked terrible while doing it. This wasn't one of those "eventually one of these hard-hit balls will fall in" slumps, you know? I keep going back to this GIF: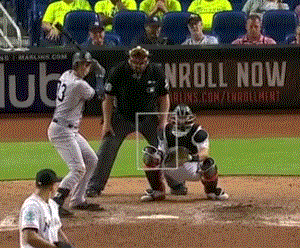 That is a middle-middle 90 mph fastball and Bird swung through it like it was 99 mph. He could not catch up to fastballs all season. Bird hit .175 with a .174 ISO against fastballs this season (.278 wOBA and .319 xwOBA). That is horrible. The league averages are .269 and .175 (.344 and .344), respectively. Bird couldn't handle even bad fastballs, opponents noticed, so they kept throwing him fastballs. MLB is unforgiving. Show a weakness and it will be attacked.
When he first broke into the big leagues, Bird was touted for his ability to hit the ball hard and get the ball in the air. He was a launch angle guy before launch angle was cool. The sample sizes are not big because of the injuries, but Bird's ability to drive the ball in the air is trending in the wrong direction:
Average Exit Velocity
2015: 93.0 mph
2016: Injured
2017: 89.7 mph
2018: 86.9 mph
Average Launch Angle
2015: 21.3°
2016: Injured
2017: 20.2°
2018: 18.9°
I should note that an 18.9° average exit velocity is pretty good. You want to average somewhere in the 10° to 25° range, the closer to 25° the better. Below 10° means too many grounders and above 25° means more fly balls and pop-ups than line drives. Bird is still in that ideal range, but his launch angle is trickling down, and his exit velocity is way down. He simply did not hit the ball hard this past season.
Remember Allen Craig? Craig put up a .312/.364/.500 (139 wRC+) batting line in nearly 1,300 plate appearances from 2011-13, then he suffered an ankle injury in 2014 and was just done. Like done done. Hasn't played in the big league since 2015 and didn't even hit in Triple-A pitching from 2015-17. Craig lost that explosiveness in his lower half after the injury and just couldn't hit any more. He didn't have a good base underneath him. His swing was all arms. I worry about that with Bird.
"I think he's over it and past it, but I think there's a level of building up that stamina and explosion and the fact that you're still recovering from a surgery," said Boone about Bird a few weeks ago. "I don't think there's any question that if he can stay healthy, a month from now, six months from now, it's better, it's more explosive. That's something that we kind of monitor, talk about and hopefully he can get through this while building up that stamina that makes him special when he's really on time and impacting the ball."
Bird has now had three surgeries in the last three years on two important body parts. His right shoulder had to be rebuild and his right ankle had to be repaired twice. That's his front shoulder and front ankle when hitting. That's the power shoulder and the weight transfer ankle. Pretty important! It's not like he tore a finger ligament or pulled a hamstring. These have been some very serious injuries.
We've seen Bird be an impact hitter. For very short stretches of time, but we've seen it. The natural talent is there and it's not like he's an older player. He turns 26 in November. He should be in his prime or just about to enter it. Can Bird still be an impact hitter, physically? Or have the shoulder and ankle trouble compromised him too much? I hope that's not the case, but it might be.
What's Next?
The Yankees went into the 2017 and 2018 seasons counting on Bird to be the man at first base. It was his job and he never even had to compete for it. That is not the case now. During his end-of-season press conference last week Boone was quick to note Voit had won the first base job and that, at best, Bird would get a chance to compete for it in Spring Training next year.
"(Voit) certainly came over here and was given that opportunity and took it and kicked the door in," said Boone. "I'm sure there will continue to be competition on all kinds of levels. The one thing with Greg that I never lost is we've seen him be an impact player at times in his career … This year, in a lot of ways, was a little bit of a lost season for him."
Believe it or not, Bird is arbitration-eligible this winter. He accrued service time while on the disabled list these last few years. Those injuries and the lack of production mean Bird's salary won't be exorbitant — for what it's worth, MLBTR projects Bird for $1.5M — so the Yankees won't non-tender him or anything like that. Bird has all three minor league options remaining. Technically, he was called up in 2015 and hasn't been sent down to the minors since. It's been rehab assignments only.
Point is, Bird is going to be (relatively) cheap and the Yankees will be able to send him to Triple-A next season. At this point, that's probably the best course of action. No more handing him a job, no more overvaluing a big Spring Training, nothing. Give Bird a look in Spring Training, send him to Triple-A and make him show he's healthy and productive, then call him back up. That'd be my plan.
When it comes to Greg Bird, nothing would surprise me at this point. I wouldn't be surprised if he showed up to camp next season, seized the first base job, and raked all summer. I wouldn't be surprised if he got hurt again and was a non-factor (again). I wouldn't be surprised if he did something in-between, which is kinda what happened in 2017. I wouldn't be surprised if the Yankees traded him either. This past season was another lost year for Bird, and time is starting to run out for him to carve out a role in the Bronx.