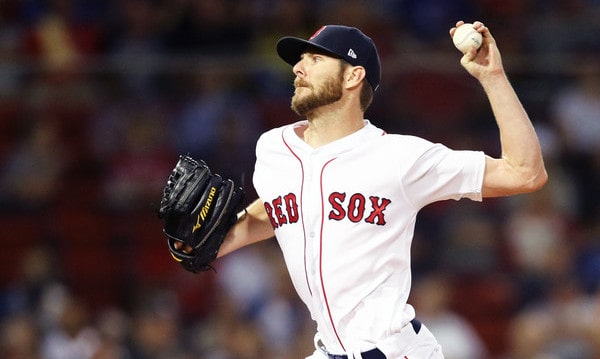 When the Yankees open the ALDS later tonight, they'll face Red Sox ace Chris Sale, who is inarguably one of the top pitchers in baseball. Sale threw 158 innings with a 2.11 ERA (1.98 FIP) and 237 strikeouts this season. He was so good he might win the AL Cy Young even while falling four innings short of qualifying for the ERA title. He was that dominant on a rate basis.
And yet, when the ALDS begins tonight, Sale will be something of an unknown for the Red Sox. Are they getting the dominant Cy Young caliber starter? Or are they getting something less than that? Shoulder inflammation sent Sale to the disabled list twice in the second half, and, while some conspiracy theorists believe the Red Sox were simply giving him rest down the stretch with a big division lead, that sure doesn't seem to be the case.
I say that because, since returning from his second stint on the disabled list, Sale's velocity has been down noticeably. It's not just down. It's down and continuing to trend down. Look at his start-by-start average velocity:
Sale's four-seamer averaged 90.2 mph in his final regular season start last week. That's his lowest average fastball velocity in any game in his big league career. In fact, last time out the Statcast algorithm classified a bunch of fastballs as changeups, and that's never a good sign. There is a clear downward trend in that graph.
Furthermore, as Ben Lindbergh notes, Sale's extension has been down as well, meaning he hasn't been releasing the ball as close to the plate as usual. Less extension and less velocity means hitters have that much more time to react. In his final regular season start, Sale allowed three runs and needed 92 pitches to get through 4.2 innings against the post-Manny Machado Orioles. Eek.
Sale made five starts and threw only 17 innings in the final nine weeks of the regular season. That's it. He hasn't completed five full innings in a start since August 11th and he hasn't completed six innings since July 27th. For what's it worth, Sale and the Red Sox blame his recent velocity (and extension) issues on bad mechanics, not injury. From David Schoenfield:
"I was able to get off the mound a couple of times and work on that," Sale said, "work on using my legs, driving a little bit more. Getting a little more rotational with my lower half and staying stronger with my top half. And just trying to sharpen the tools."
Sale last started last Wednesday. He's going into tonight's game on eight days rest and that is completely by design. The Red Sox lined him up in such a way that he would not only get extra rest before ALDS Game One, but also enough time to throw two bullpen sessions between starts to work on things, rather than the usual one.
Here, via Lindbergh's post, is a great clip of Sale from his final regular season start. This doesn't look like the usual Chris Sale. That explosiveness in his delivery isn't there. This is almost a get-me-over lob.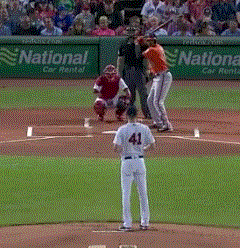 Was Sale holding back to protect his shoulder in a meaningless regular season start following two bouts of inflammation? Or are his mechanics that out of whack? Would it really surprise anyone if the regular explosive Chris Sale showed up on the mound tonight throwing 97-99 mph? I don't think so.
The fact of the matter is that Chris Sale, the explosive guy who is in the running for the Cy Young every year, hasn't been on an MLB mound since July. Shoulder woes sabotaged his August and September, and the fact his velocity has been trending down rather than up as he regains arm strength is a red flag. It is entirely possible he was playing possum and holding back. Still, if I were a Red Sox fan, I would've liked to have seen regular Chris Sale on the mound at some point. It didn't happen.
Sale is tall enough to be a Yankee (listed at 6-foot-6) but he is awfully slender, and he does have a history of wearing down late in the season. September has been his worst month throughout his career. Sale's numbers since becoming a full-time starting pitcher in 2012:
April: 2.67 ERA (2.84 FIP) and .255 wOBA
May: 2.59 ERA (2.57 FIP) and .238 wOBA
June: 2.60 ERA (2.47 FIP) and .252 wOBA
July: 2.47 ERA (2.47 FIP) and .274 wOBA
August: 3.37 ERA (2.99 FIP) and .286 wOBA
September: 3.84 ERA (3.84 FIP) and .327 wOBA
Sale has a history of wearing down and losing effectiveness late in the season and it's possible that now, at age 29 with nearly 1,500 big league innings on his arm, his durability issues are showing up as something more than simple fatigue. This year he dealt with shoulder inflammation that was bad enough to require 35 total days on the disabled list, plus his fastball is missing and his extension is reduced. Hmmm.
I don't know which Chris Sale will show up tonight. It could be the Cy Young caliber Chris Sale or it could be the diminished September version of Chris Sale. Neither would surprise me. I do know this much: If Sale is not his normal self, that is advantage Yankees. Sale is still good enough to win at 90-92 mph rather than 97-99 mph, sure, but man, this guy without his usual fastball (and extension) is a much different animal.