A backup catcher in New York has the popularity of a backup quarterback, particularly in the age of Gary Sanchez. Despite Austin Romine being one of the worst players in all of baseball in 2017, fans and columnists still pined for him to start games over Sanchez. All over a perceived ability to block balls in the dirt better, though Romine allowed a wild pitch in his one playoff start.
But 2018 was different in that Romine wasn't a complete negative. For the first time in his career, he produced positive WAR and was near league average with his bat while making his most plate appearances. Perhaps it was a fluke, but for one season, the 29-year-old catcher was a perfectly fine backup. Nothing flashy, nothing awful.
Starting Strong
In April 2017, Romine batted .314/.351/.471 with two home runs and a 115 wRC+. It was easily the best month of his career and made some think he deserved more starts. Those people were wrong. He had a -39 wRC+ (Negative, not a typo) that May and was well below average the rest of the year with no more dingers.
A year later and Romine was OK in April. He drew four walks to buoy his batting line while also producing three hits, including a tying single, against the Orioles on April 8.
May was a different story. In eight starts, he topped April 2017 with a dynamic month at the plate. He hit in each game and had an 11-game hitting streak from April 30 to June 4. He hit home runs in three out of four games and it wasn't all cheapies! His first homer of the year finished off a blowout win over the Royals and was to deep left-center in Kansas City.
Before Sanchez went on the disabled list on June 25, Romine was actually one of the Yankees' better hitters. He was hitting .305/.370/.524 and had 10 extra-base hits to his name in just 92 plate appearances.
Filling In
For over two months, Romine became the Yankees' primary catcher with Sanchez sidelined with hamstring issues. With Kyle Higashioka playing occasionally, Romine was tasked with the day-to-day work and stepped into a bigger role than he's ever filled, dating back to his rookie season in 2013.
It'd be a lie to say he held his own. The 29-year-old backstop wasn't nearly as good as he was earlier in the season and he went back to being a hole in the lineup more often than not. Teams ran on him with reckless abandon and were successful at a high rate. That being said, his July was his second-best month of the year, posting league-average marks and a .213 ISO before a weak August.
While Sanchez was out, Romine did give the Yankees a few memorable moments, the biggest being his Little League homer to beat the Indians just before the All Star break. It was a well-hit double to the gap. Then chaos ensued.
Romine homered three times in August, but he struck out in more than 30 percent of his plate appearances while losing 47 points off his OPS.
Poor Ending to a Good Season
After Sanchez came back, Romine played in just seven games with just six starts. He didn't play for 10 days at one point. He had just three hits over 22 at-bats and grounded into as many double plays as he scored runs. It was his worst month at the plate, but that has a lot to the infrequent playing time. Even while playing his MLB career as a backup, Romine still had to adjust from everyday starts to very little playing time in a short period.
For the season, Romine hit .244/.295/.417 (91 wRC+) with 10 homers, 12 doubles and 42 RBI, all of which were career-bests. He produced 1.4 bWAR and 0.8 fWAR. He tied for the fifth-highest wRC+ for a secondary catcher.
On the defensive end, Romine was good. I can't tell you how well he calls a game, but everyone involved with the Yankees raves about his talent there. Baseball Prospectus rated him as an above-average framer with 4.2 Framing Runs. After allowing 28 wild pitches and four passed balls in 2017, he gave up 17 WPs and 5 PBs. He even produced 2.2 Blocking Runs after being negative in that category before 2018. Overall, BP had him with 6.8 Fielding Runs Above Average.
Where Romine often receives criticism is for his poor throwing arm. After throwing out just three of 29 runners last year, he approached league average, nailing 16 of 61 attempted runners. That's 26 percent while the league caught 28 percent. Not great, but certainly manageable.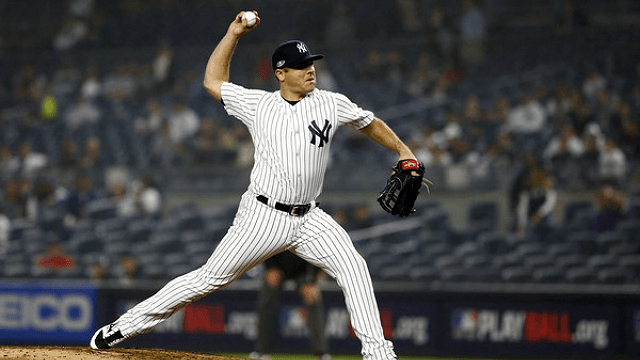 The Odd Life of Austin Romine
I just want to get to some of the weird moments in Romine's season outside of the Little League homer. It was a low-key peculiar season for the Yankees' backstop and we shouldn't forget the moments that made it so.
First up, he made one playoff appearance … and it was on the mound. We'd all like to forget ALDS Game 3, but Romine's appearance was as memorable as they get. Brock Holt homered off him for the cycle, but he wasn't the worst pitcher the Yankees threw out there that night. He hit 90 mph!
Beyond the mound, Romine was run over at the plate by Caleb Joseph on Aug. 1 and it was just a wonderful mess. Here's
the video
… and here's the aftermath.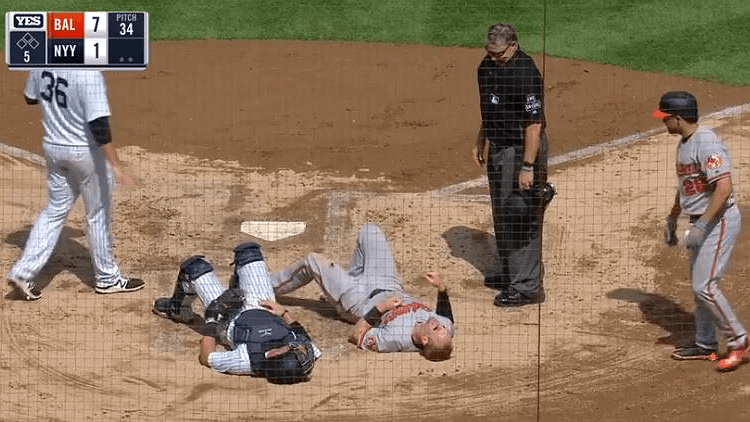 And finally, there's his brother punching him during the middle of a live baseball game. What a sport!
What's Next?
Romine will be arbitration-eligible for the third and final time in 2019 after turning 30 on Nov. 22. MLB Trade Rumors projects him to receive $2.0 million after earning $1.1 million last season. He'll be a free agent after the year.
Don't expect Romine to replicate his 2018 season next year. His tail-off in the second half portends a fall to Earth, though he seemed to legitimately improve at turning on pitches and showing off some power last year. That 10-homer power might just stick.
He also shouldn't get nearly the playing time he had last year. Sanchez is the starting catcher, plain and simple, and there's no way he should be as bad in 2019. If he is, then the Yankees need to acquire a catcher instead of turning to Romine. However, Romine can take over in a pinch when Sanchez is inevitably banged up.