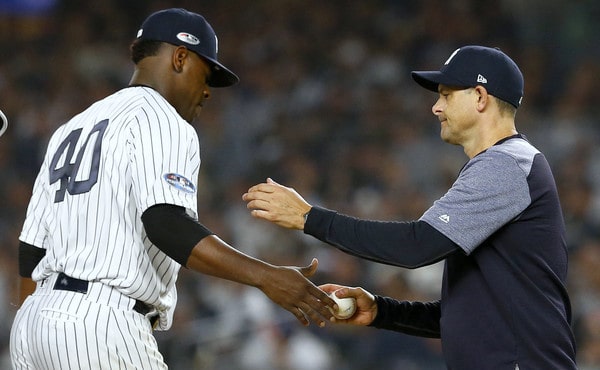 This is one of my least favorite times of the year. The Yankees have been eliminated but other teams are still playing baseball. Sucks. Anyway, here are some notes to check out.
Yankees believe Severino was tipping pitches
According to Jon Heyman, several people with the Yankees believe Luis Severino was tipping his pitches in Game Three of the ALDS earlier this week. "The Red Sox had his pitches," said one Yankees official. Heyman adds the Yankees heard "chatter" from Red Sox people about Severino tipping his pitches, presumably after the series. Ben Harris (subs. req'd) found evidence of the pitch-tipping. With a runner on second, Severino would pause to look at third base when throwing a fastball, even when there was no runner at third base to check. Huh.
There has been on-and-off speculation about Severino tipping his pitches for weeks now. Basically the entire second half. I usually shrug at this stuff because it seems every time a good pitcher struggles, the first explanation is "he must be tipping his pitches." It's possible Severino was tipping! I mean, Harris found evidence of it. That said, tipping pitches doesn't explain the decline in velocity, the crummy command, and the sudden lack of bite on his slider. Tipping pitches would be the best possible outcome here. That is an easy fix, theoretically. It seems to me something else was going on though.
Yankees expected to pursue Corbin
We can file this under no duh: The Yankees are expected to pursue free agent lefty Patrick Corbin this offseason, reports Heyman. They've been after him for a while — the Yankees tried to get him at the Winter Meetings last year — and Corbin is a native (upstate) New Yorker who has been pretty open about wanting to play for the Yankees. This isn't the first time we've heard the Yankees like Corbin and it won't be the last.
Corbin, 29, just wrapped up his best season in the big leagues. He threw 200 innings on the nose with a 3.15 ERA (2.47 FIP) and excellent strikeout (30.8%), walk (6.0%), and ground ball (48.5%) rates. His home run rate dropped from 1.30 HR/9 (16.6 HR/FB%) from 2016-17 to 0.68 HR/9 (11.1 HR/FB%) in 2019. Also, weirdly enough, Corbin was second in MLB in hard contact allowed. That's generally a bad thing. We're going to look at Corbin more in-depth at some point for sure. I think 2018 was likely his career year. I also think that he's very good, that he's the best starting pitcher on the free agent market, and that he would unquestionably make the Yankees better.
Kikuchi will be posted
The Seibu Lions in Japan will indeed post southpaw Yusei Kikuchi this offseason, report
Sankei Sports
and
Sports Hochi
. Kikuchi has not been posted yet. He can't be posted until after the World Series. Technically, he can only be posted between November 1st and December 5th. Once he's posted, he gets a 30-day window to negotiate with any and all MLB teams, and the signing team pays Seibu a release fee. Here's the new release fee system:
Contract worth $25M or less: 20% of total guarantee
Contract worth $25M and $50M: $5M plus 17.5% of amount over $25M
Contract worth $50M: $9.375M plus 15% of amount over $50M
The Yankees have reportedly been scouting Kikuchi. The 27-year-old threw 163.2 innings with a 3.08 ERA and a 23.4% strikeout rate this past season, and that's in a league with an 18.9% average strikeout rate. (The MLB strikeout rate was 22.3% in 2018.) Kikuchi has a history of arm problems and he's not considered a potential ace on par with Yu Darvish, Masahiro Tanaka, and Shohei Ohtani when they were posted. He is quite good though, and he is only 27, and the Yankees need starters. The Kikuchi situation will be something to watch this offseason.
Stanton among finalists for Hank Aaron Award
Earlier this month MLB announced each team's finalist for the 2018 Hank Aaron Award, which is given annually the top hitter in each league. Giancarlo Stanton is the Yankees' finalist. Here are all 30 finalists. The winner will be announced during the World Series and is selected through a combination of fan and media voting. (The fan voting closed already. Sorry I didn't pass along the link sooner.)
The Hank Aaron Award was introduced in 1999 and so far only two Yankees have won it: Derek Jeter (2006, 2009) and Alex Rodriguez (2007). Would've have guessed Jeter won it twice and A-Rod once, but here we are. Stanton won the Hank Aaron Award in 2014 and 2017 with the Marlins. The Hank Aaron Award tends to favor old school stats like hits and runs and batted in. My guess is J.D. Martinez or Mike Trout will win it in the American League.