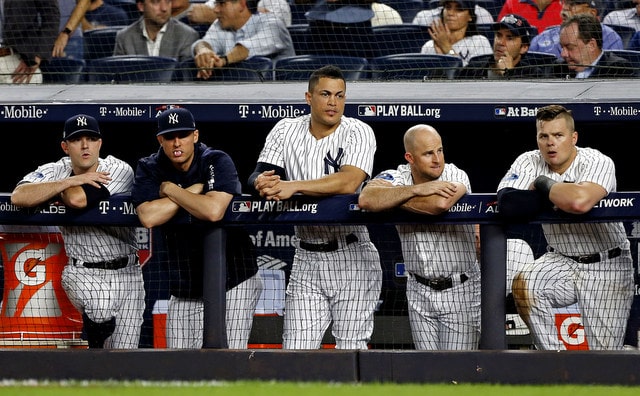 Welcome to Day Two of the offseason. The Yankees were bounced from the postseason two nights ago and now we're all kinda wondering what happens next. Aaron Boone and Brian Cashman will hold their end-of-season press conferences tomorrow (12pm ET) and those usually bring actual news. This coach is being let go, that guy needs surgery, stuff like that. We'll see what happens tomorrow. Here are some thoughts as we begin to shift into offseason mode.
1. I expected a flood of "actually, Giancarlo Stanton is bad" takes in the wake of the ALDS and I wasn't disappointed. They were everywhere yesterday and more are coming. It was as predictable as it gets. Stanton had a crummy series against the Red Sox and that at-bat against Craig Kimbrel two days ago was as bad as any at-bat you'll see. All he had to do was keep the bat on his shoulder and Kimbrel (probably) would've walked him! Instead, he struck out. It was bad. But the idea that the Yankees should trade Stanton is silly. Dude is a great player. His incredibly disappointing wow he's so bad down season was .266/.343/.509 (127 wRC+) with 38 home runs while playing basically the entire second half on a bad hamstring. Stanton is one of the game's top power hitters and he's right smack in the prime of his career, and he's on a contract that is going to be a great value once Manny Machado and Bryce Harper get paid this winter. I totally get being frustrated after the ALDS. Believe me, I feel the same way. But if you're basing your opinion of a player on five postseason games rather than his overall body of work, you are far behind the times. Maybe the Yankees can trade Stanton to the Dodgers, sign Harper, and we can all do this again next winter with Bryce.
2. Going forward, I think the Yankees have a clear need for another left-handed bat. The lineup was very imbalanced, especially late in the season after Andrew McCutchen and Luke Voit supplanted Brett Gardner and Greg Bird. The Yankees play in a ballpark that (heavily) favors lefty hitters and they had the ninth fewest plate appearances by left-handed batters during the regular season. That's not enough. Once Gardner faded, the Yankees came down the stretch with Didi Gregorius and the switch-hitting Aaron Hicks as their only lefty bats of note. Didi and Hicks are great, don't get me wrong, but two lefty bats ain't enough. I don't think it is a coincidence at all the hard-throwing Nathan Eovaldi chewed the Yankees up pretty much every time he faced them this season. Stanton, Aaron Judge, Gary Sanchez, Gleyber Torres, and Miguel Andujar aren't going anywhere. Or at least I don't think they are. That's already five lineup spots. Add in Gregorius and Hicks and the only remaining spots to add a left-handed bat are left field (or DH with Stanton playing left) and first base, barring an unforeseen trade. Harper is the big name out there among left-handed bats. I don't think the Yankees are going there though. If they spend huge, I think Manny Machado is the more likely target. A more realistic left-handed hitting free agent target may be Michael Brantley, who stayed healthy this season — he missed pretty much the entire 2016 with a pair of shoulder surgeries plus a bunch of time with ankle trouble in 2017 — and hit .309/.364/.468 (128 wRC+) with 17 homers and the second lowest strikeout rate (9.5%) in baseball. I'm not saying the Yankees should go all-in on Brantley. I haven't dug into the free agent class enough to find personal favorites yet. I'm just saying he's the kind of quality non-Harper lefty bat the Yankees could target to help balance out the lineup. The stacked righty lineup worked well this year. I think a little more balance is needed going forward.
3. Another need that has to be address this winter: Corner infield defense. It was a major weakness this season. The Yankees told us exactly what they think about Andujar's glovework when they pulled him for a defensive replacement in the sixth inning (!) in the postseason. And they weren't wrong to do that! Andujar's range is limited and his strong arm plays down because his transfer is slow. Defensive Runs Saved data goes back to 2003 and, since then, there have been 493 individual player seasons with at least 500 innings at third base. The bottom of the leaderboard:
489. Mark Teahen, 2005 Royals: -21 DRS
490. Miguel Andujar, 2018 Yankees: -25 DRS
491. Garrett Atkins, 2007 Rockies: -26 DRS
492. Nick Castellanos, 2014 Tigers: -30 DRS
493. Ryan Braun, 2007 Brewers: -32 DRS
Andujar is my dude. I've been pumping him up since he was in Single-A ball. But he's an atrocious defender at third base. Over at first, neither Bird nor Voit are standout glovemen, so for much of the season the Yankees were playing DHs at the two corner infield spots. That's something that has to be fixed. What do the Yankees do with Andujar? Does moving him to first base, the position involved in the most plays (by far), really limit the damage he does defensively? Or would he be better in the outfield, where he'd be further away from the plate and thus have more time to react to batted balls? Given what I saw this year, I think moving Andujar further away from the plate is the way to go. He's a good athlete. He runs pretty well and I think he'd be fine in the outfield once he gets enough experience. Plus his arm would go to waste at first base. Andujar's defensive home is going to be a very hot topic this winter. As for first base, man, I feel like any number of things could happen and none would surprise me. I wouldn't be surprised to see Bird start the 2019 season there. Or Voit. Or Andujar. Or some free agent or trade pickup. Maybe my opinion of what is and what is not good first base defense has been skewed after watching Mark Teixeira all those years. It sure seems to me the Yankees can improve that area though. Ditto (and especially so) third base.
4. I keep seeing articles (like these) and fans on social media saying CC Sabathia may not be back next season and I just don't buy it. Not at all. Sabathia wants to play next season and he keeps saying he's willing to sign with another team — to be fair, he keeps saying it because he keeps getting asked about it — because what else is he supposed to say? He has to do whatever he can to maintain negotiating leverage. Sabathia reportedly spoke the Blue Jays and Angels last winter and then he spent the entire summer saying he never really planned to leave on the R2C2 podcast. The Yankees have two starting pitchers in place next season: Luis Severino and Masahiro Tanaka. That's it. Sonny Gray is as good as gone and Jordan Montgomery is not due back from Tommy John surgery until midseason. The Yankees need starters and Sabathia is still more than capable of being a fifth starter on a contending team, even at his age and with his knee and with the general inability to take the ball deep into games. Sabathia threw 153 innings with a 3.65 ERA (4.16 FIP) this season and was again among the league leaders in limiting hard contact. He's averaged 160 innings with a 117 ERA+ the last three seasons. Where are you getting that kind of production on a one-year contract that won't break your budget with the advanced knowledge the dude is beloved in the clubhouse and won't wilt in the New York spotlight? Give Sabathia another one-year contract, pencil him in for 140 league average innings next season, and adjust as necessary during the season. I suspect this will play out like last offseason again. The Yankees will focus on more urgent matters early in the offseason, we'll hear reports that Sabathia is talking to some other teams (Indians? Athletics?), and then he'll re-sign somewhere around Christmas. How giving him another one-year deal is up for question makes no sense to me. The two sides are a perfect fit for each other.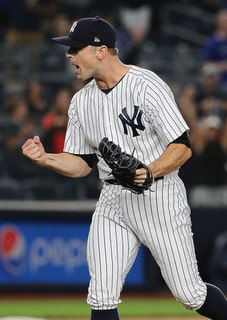 5. The Yankees have several notable impending free agents other than Sabathia and, to me, the easiest call among them is re-signing David Robertson. This is a no-brainer. He's excellent, he's versatile, he's postseason and New York battle-tested, and he's been durable throughout his career. (Robertson and Tyler Clippard are the only pitchers to make at least 60 appearances every season from 2010-18.) A deep and dominant bullpen is a necessity these days, not a luxury, and the Yankees quite clearly place a premium on having as many high strikeout relievers as possible. Even with his 34th birthday coming in April, Robertson fanned 32.2% of the batters he faced this season, and he can slot into any role. The Yankees did let him walk once before so they could replace him with Andrew Miller — there were some draft pick considerations there as well — but I don't think they should let him walk again. Robertson is too good and too flexible with his role. I'd take five of him in my bullpen if possible. In a perfect world the Yankees would retain him on a two-year deal worth something like $12M per season. That's better than Brandon Morrow money ($10.5M per season) and a notch below Wade Davis/Aroldis Chapman money ($17M per season). The free agent market was brutal last offseason, but relievers still got paid, and I wonder whether some team will come in and blow Roberson away with a three-year offer. That third year might be a problem for the Yankees. Point is, re-signing Robertson is an easy call to me. This is something I hope the Yankees can get done soon, as in before the start of free agency.
6. Alright, so which regular is going to get moved in a surprise trade this offseason? There seems to be one of those surprise trades every offseason. Last year it was Starlin Castro. There wasn't one two years ago, but three years ago it was Justin Wilson and John Ryan Murphy. The year before that it was Francisco Cervelli, Shane Greene, and Martin Prado. My guess at this winter's surprise offseason trade: Chad Green. That is nothing more than a guess. It doesn't seem to make sense that the Yankees would subtract a very good reliever when they so clearly value having a strong bullpen, but the same applied three years ago, and Wilson was still shipped out. Given his four years of control, the general volatility of bullpen arms, and the fact teams are paying well for quality relievers, I could see the Yankees cashing Green in as a trade chip to replenish the farm system a bit. They could then turn around and spend money to replace him with, uh, Adam Ottavino? Kelvin Herrera? Andrew Miller? I don't think a position player trade is out of the question. Would the Yankees sign Machado and deal Andujar for pitching? I wouldn't rule it out. What about trading Hicks one year before free agency with his value as high as it's going to get? Unlikely, but the entire point here is that these are surprise trades. I think we'll see another surprise trade (or two!) this winter only because we see a surprise trade most winters now.
7. You can never be sure with these things, but I don't foresee any changes to the coaching staff this offseason. Maybe bench coach Josh Bard or third base coach Phil Nevin gets a managerial interview and is hired away. Otherwise I don't see any changes coming. Larry Rothschild is highly regarded within baseball and the Yankees love the way he's able to blend analytics with hands-on work. I keep seeing "who has he fixed???" as a common criticism which a) is a weird way to evaluate a coach (how's pitcher whisperer Ray Searage doing these days?), and b) is kinda silly when the Yankees were, once again, one of the best park-adjusted run prevention teams in baseball. Fire Marcus Thames and hire a new hitting coach because OMG their approach? The Yankees are on their fourth hitting coach in the last five years now. How many hitting coaches are we going to cycle through here? Just keep hiring new hitting coaches until the Yankees win the World Series and then give that guy all the credit? Unless someone gets hired away and receives a promotion from another team, I don't expect any changes to the staff. This was only year one under this group and I don't believe the Yankees (mostly) overhauled the coaching staff last winter with the intention of making more changes now.